The Brennan Family
Always connecting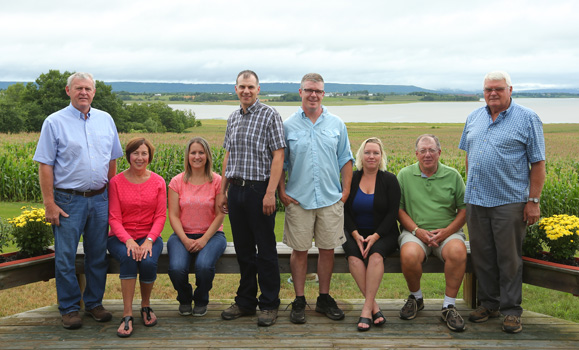 Connecting the classroom to real experience is one of the most unique and special parts of the AC. It's part of the reason why it was the right fit for Carol Brennan, and her son Dave. Today, the relationships that grew on campus and in the agriculture industry have helped make them successful.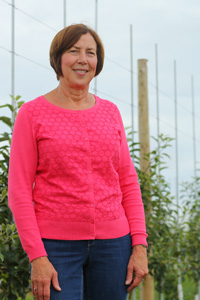 Long before Carol Brennan arrived at the then NSAC in the fall of 1975, she knew she wanted to pursue a career in agriculture. Growing up on a mixed farm in Nova Scotia's Annapolis Valley, she was exposed to agriculture at home and also through the 4H program at a young age. But it was at the AC that the Port Williams native was introduced to the vast possibilities in agriculture that has served her well in her career, presently as Operations Education Manager with Farm Credit Canada.
Carol recalls that at that time, the campus was a popular destination for students from Atlantic Canadian farms. After a conversation with her guidance counsellor in her final year of high school, Carol followed in the footsteps of her grandfather, uncles and her older brother, who had all attended the AC.
While her family connection helped influence her post-secondary decision, the biggest factor was the 4H program. Carol was involved with 4H as a teenager, when the program was heavily supported by the Nova Scotia Department of Agriculture. "It focused on helping rural youth gain leadership skills and independence," she says. "We would go to the AC for overnight camps and to the provincial exhibition. It became a comfortable and familiar place long before I enrolled there as a student."
While Carol studied agricultural economics, the big draw for her was the campus' reputation for providing a well-rounded and hands-on agricultural education. "The small class sizes and the ability to get to know our professors and fellow classmates really appealed to me".
Carol spent two years at NSAC before heading to the University of Maine to complete her degree in Agriculture and Resource economics.  The decision of where to study after AC was greatly aided by Professor John Tait. "John took a keen interest in his students and our successes," says Carol. "He was passionate about what he taught us, and that made us proud to be at the AC and interested in what we were learning."
Although Carol grew up on a farm, it wasn't until she attended the AC that she really appreciated the scope of agriculture. "Being exposed to all aspects of the industry - from the history to specific crop and livestock issues to global concerns- gave me a broader understanding of agriculture," she says.
Reflecting on her student days on campus, Carol points to the life-long friends and connections she made there—including her husband Joe, who also studied Economics, and whom she married in 1979. So perhaps it's no surprise that their son, Dave, also attended the AC.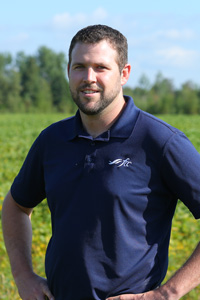 "I grew up on a farm, so I was exposed to agriculture at a young age," says Dave (Class of '07). "At the AC, I earned a bachelor of science degree in agricultural business with a minor in plant science. What I learned then ties in directly to the work I do now." In 2009, Dave joined Farm Credit Canada, a Crown corporation that provides lending services to people in the agriculture industry. As FCC's relationship manager based in Woodstock, N.B., Dave helps local farmers meet their financial goals and find lending solutions.
Although classroom work was important, the AC professors encouraged their students to think beyond textbooks and take a practical approach to agriculture. "Because the campus was small," says Dave, "the students and professors were part of a close-knit community that allowed us to build relationships, network and make life-long connections."
Dave believes that the importance of agriculture in Atlantic Canada will only continue to increase. "It feeds us, as well as our economy," he says. "We're going to have to find a way to distinguish ourselves as a region to ensure that we're going to get fair prices for our products."
Every industry has its challenges, and agriculture is no different. But Dave is optimistic about the future. "I feel that with the advances in technology and management practices, farming is in a good position," he says. "There are a lot of bright minds in the industry today, and the younger farmers are bringing new skills to the table. It's an exciting time."