OSCII Activity B.16
Impact of green and organic fertilizers on the yield and safety of organic carrots grown in muck soil

Activity summary
Although carrots represent a large part of Canada's organic vegetable production, a significant amount of this product is still imported into the country (see OACC, 2011). However, little information is available on organic carrot production systems that can ensure profitability and quality, especially in muck soils where rotation is generally more limited. This project proposes a multidisciplinary approach aimed at identifying the impact of green and organic fertilizers on microbial communities and microbiological activity in the soil and their impact on the yield and quality of harvests, soil supply and plant absorption of nitrogen, potassium and micronutrients, and product safety. It is quite well known that agricultural practices can influence the availability of nutrients, as well as competition between soil microflora and microorganisms that are pathogenic to humans and plants.
Plots will be created at the Organic Farming Innovation Platform in St-Bruno-de-Montarville (Québec). These will consist of nine treatments repeated three times in a split-plot arrangement, with green manure (none, cereal and legume) in main plots and the fertilization mode in sub-plots (no fertilizer, pelletized poultry manure and composted cow dung). The variables measured are presented below.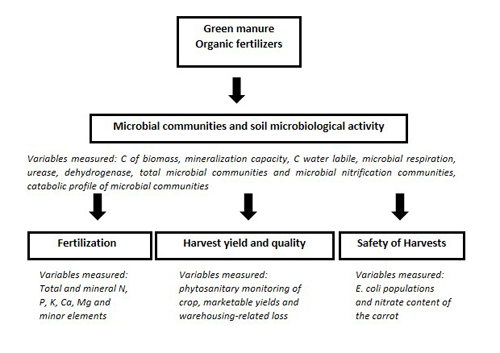 The proposed project will enable us to present agricultural producers with production scenarios that lead to profitable management systems that take into account the quality and safety of harvests, which are preconditions for the marketing of fruits and vegetables. Profitability analysis will allow a comparison of the different management systems in terms of their profit margins for the producer. Sensitivity analysis will also allow stakeholders to evaluate the feasibility of all of the methods under different input and product price scenarios. Results from this study will be useful to other types of production in muck soils, particularly in terms of microbial communities, microbiological activity and nutrient availability in the soil.
Materials and results to date

Contributing partners
Le Fermes R&R et Fils inc.