News
»
Go to news main
Females leading the Truro Campus Engineering Student Society
Posted by
stephanie Rogers
on March 15, 2023 in
News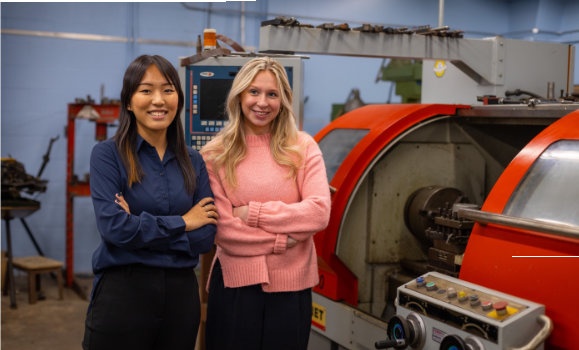 Engineers Canada has set a goal to increase the percentage of female engineers to 30 per cent by 2030. The Engineering program on the Truro campus is currently 26 per cent female. At the forefront of the change on campus is Georgie Gunn and Sarina Lund.
Sarina and Georgie are the Engineering student society co-presidents.  They work to engage students in the department in extra-curricular activities. Sarina decided to study engineering because of math and physics but wanted something more applied. Georgie followed her father's advice to look for an education that would make her easily employable.  Both chose to start on the Truro campus because of the small town and supportive campus community.
"I chose the Truro campus of Dalhousie University so I could know my professors and they could know me," explained Sarina.  "With the small class sizes, I can have a friendly relationship with almost everyone in the Engineering Department.  From high school in Rothesay, New Brunswick, I was used to being in small classes and I knew I would have a better learning experience here. There is a lot to worry about when transitioning from high school science courses to undergraduate level engineering classes, and not having to worry about being overwhelmed in a classroom of over 100 students is one less thing to think about," she added.
The multidisciplinary engineering Truro cohort is tightknit. During the first year, all courses are taken together. For Sarina and Georgie this was time for their friendship to bond to grow. When the opportunity to be more involved in the society and to take a lead role in the development of the culture of the department, Sarina and Georgie decided to take the role on together.
Acclaimed as co-presidents of the Engineering Society in the Fall of 2022, they have worked together on creating networking opportunities, fostering a collaborative competition among enrolled students, and worked to build relationships between students and faculty.
While leading the charge in the planning of these events and being the voice of engineering students, they have both taken on a full courseload, and other extracurricular activities, participating in rugby, volleyball and as an executive on the Dalhousie Agricultural Students' Association.
"One piece of advice I cannot emphasize enough is to get involved in extracurriculars on campus, said Georgie."  "Whether it is student government, athletics, or a club you are interested in. You will meet so many interesting people on this campus if you take time to get involved. Engineering is a demanding program, so it is important to have an outlet where you can take a break from the academic side of the university and participate in the community side," she added.
In their second year of study, they will soon complete their degrees on the Halifax campus. Georgie is studying Environmental Engineering while Sarina is a Chemical Engineering student.  They plan on living together while studying at the Faculty of Engineering. Both have plans to continue extracurricular involvement on the Sexton campus and to serve the profession in the future.
Sarina and Georgie plan to make sure people know, this is what an engineer looks like.