News
»
Go to news main
Jeans, a button‑up and mineral engineering!
Posted by
stephanie Rogers
on November 8, 2022 in
News
Jocelyn Manley, ( Class of '19)
Jocelyn Manley graduated from Dalhousie in 2019 with her Bachelor of Engineering. Originally from Sydney Forks, Nova Scotia, Jocelyn started the first two years of her degree at Dalhousie's Truro campus, before transitioning to Halifax for her third and final years.  
Jocelyn chose to focus her studies on Mineral Resource Engineering because she had a passion for geology and enjoyed the industrial nature of the workplace. "I've never seen myself in a suit every day going to an office. I fit better in jeans and a button-up on a work site for sure," she says.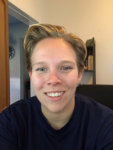 "I chose Dal because it was the option in Atlantic Canada that had Mineral Resource Engineering. I went to the Agricultural campus first to play rugby and to benefit from the small classes in the first-year courses."
Jocelyn currently works as an engineer in training in southeastern British Columbia in a mine just outside of a small ski town. She was offered a position with Teck Resources upon finishing her co-op term with the company.
"During my rotations in Teck I have been exposed to many different disciplines within mining. I have successfully completed roles in short range planning, long range planning, design, and drill and blast. I'm in the process of filing my P.Eng paperwork in BC which is an exciting step in my career as an engineer."
When asked what advice Jocelyn would give to prospective students, she says, "Build a support system. Both in Truro and Halifax I had amazing friends in my program who were so important – they helped me finish my degree. Your profs office hours are great but a friend in the lounge with you at 11pm working on an assignment is priceless."
Some of Jocelyn's fondest memories come from her time spent at the Agricultural Campus in Truro, where she played rugby. "The time spent on the rugby pitch with the Rams will always be special to me. I loved being able to play my sport while I went to school."
"The faculty also made a huge impact on me, from Dr. Jin Yue and his Pi Day celebrations to Dr. Peter Havard's lectures in Design and the instructors like Chris Nelson and Scott Read in the labs. I loved the Banting Building [in Truro] and everyone who taught there. Of course I can't forget the famous Mandi who is the face of the department along with the voice of reason to stressed students," she says