News
»
Go to news main
Making the Connection From the Netherlands to the Cliffs of Fundy Geopark
Posted by
stephanie Rogers
on September 14, 2022 in
News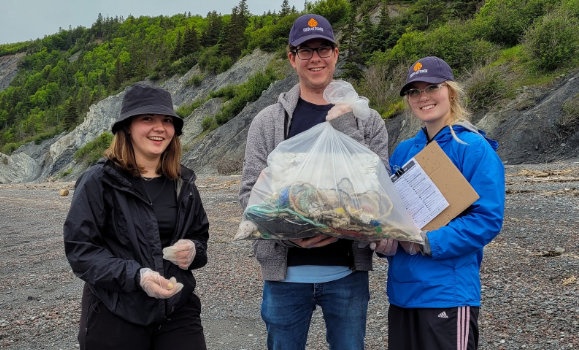 Marc Schreuder is a third-year student from the Netherlands studying International Food Business (IFB) at the Faculty of Agriculture. The IFB program is a partnership beween Aeres University of Applied Sciences, Netherlands and Dalhousie University Faculty of Agriculture, Canada.
In the spring of 2022, the Cliffs of Fundy Geopark attended the annual AggieWIL Internship/Career Fair looking for summer student employees. One of the projects they had been wanting to move forward was a brand for environmentally friendly food businesses in the UNESCO Global Geoparks.  As a not for profit, the funding was difficult to come by.
"As I was speaking with the Cliffs of Fundy Geopark representative, I realized the GEOfood project would be a perfect fit for one of our IFB students," said Joy Galloway-Jones, Senior Instructor and Manager of Work Integrated Learning.  Additionally, there were funds available from the RBC Agricultural Internship Program.  
"We would not only be supporting our student intern, but we could also support a local treasure and the UN Sustainability Goals," she added.  
Marc's position was as a GEOfood Officer. He was tasked with contacting local food businesses in the Geopark and providing information to them if they were interested in joining the GEOfood label. As a result, he needed to assist the food businesses by designing a GEOfood logo and writing a story about the company's geo-heritage and location in the Geopark.
Marc and his coworkers also organized the Fundy Food Trail, which was one of Geopark's most popular events this summer. The idea behind this event was to dine your way down the Cliffs of Fundy coast to discover local eateries. Furthermore, the participants are local food businesses, such as restaurants, or product producers, such as maple syrup, wild blueberries, or Gouda cheese within the Geopark boundary.
The majority of participants prepared a special for the Fundy Food Trail, such as blueberry cake or a special price on their products.
Marc created brochures and contacted food businesses to participate in the Fundy Food Trail. He and his coworkers were also involved in the Shoreline Cleanup, assisted in various Geopark tours and created a hiking trail guide for the Geopark.
"I learned a lot during this summer internship that will help me in my future career," said Marc. "Furthermore, my main goal was to experience and learn more about Canadian culture.  As a result of this internship, I learned a lot about the Mi'kmaq people, legends and how they survived 11,000 years ago."