News
»
Go to news main
For Earth, for Life ‑ Kubota Canada
Posted by
stephanie Rogers
on June 27, 2022 in
News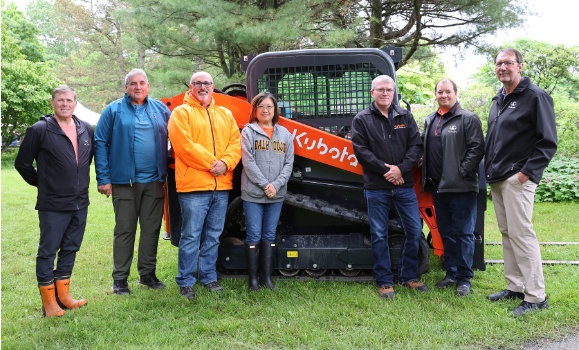 On the Dalhousie Agricultural Campus, the entire campus is a classroom.
To be workplace ready and industry relevant, student learning must move beyond the physical walls of the classroom and into the gardens, fields, barns, tanks, and clinics across campus.
Such is the idea behind a new partnership with Kubota Canada who has generously provided the Faculty of Agriculture with the use of six pieces of landscape and grounds maintenance equipment for a three-year period.  This leading- edge equipment and technology will support managed landscapes programs and campus operations.
"The educational experience of students in the Managed Landscapes program will be enhanced with access to leading-edge equipment and technology," explained Dean David Gray.  "Kubota's commitment to high quality, performance-driven products make them a perfect industry partner."
Valued at over $20,000 per year, this three-year commitment from Kubota Canada and local retailer Central Equipment, provides an opportunity to renew for an additional three-year period, with rolling annual commitments.
Students will have the opportunity to gain experience with industry-leading equipment and technology. Integration of equipment into coursework and research means students will gain exposure and training with Kubota's innovative product line, better preparing them for careers in managed landscapes.
"I am blessed to be working for Kubota Canada Ltd and to be able to partner with Dalhousie University and the Faculty of Agriculture to provide equipment exposure to the next generation of students and industry people in the horticulture, landscaping and agricultural communities," said Regional Sales Manager of Kubota Canada, Larry Mailman.  "I feel the driving forces behind Kubota and the Faculty of Agriculture have many similarities and the next generation of students will go on to accomplish world changing things for the good of humanity and our environment."
From a research perspective, Kubota equipment is very precise, offering great value in preparing research plots. Plots are often small, with limited space and precision and specific turning abilities allows for multiple research plots studying varying criteria, all within a specific land area.

"We often say that our alumni are our greatest champions," added Dean Gray.  "We want to recognize two special alumni who have made this gift possible. Larry Mailman, Class of 1982, who was instrumental in creating this partnership and Chad Bower, Class of 2000, owner of Central Equipment who has been critical in facilitating this gift and will be a crucial partner in servicing and maintaining this product line."