News
»
Go to news main
2021 DPMG Award for outstanding achievement ‑ Queena Crooker‑Smith
Posted by
stephanie rogers
on June 28, 2021 in
News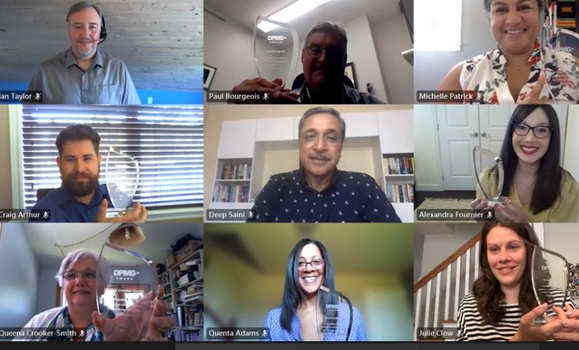 This award recognizes outstanding contribution from members of the Dalhousie Professional and Managerial Group.
Queena Crooker-Smith joined the Faculty of Agriculture in 2017 as Faculty Administrator, one year shy of a major campus crisis – a devastating fire in the main academic building, Cox Institute, in 2018.
A previous fire in the Ruminant Animal Centre, coupled with a global pandemic and the tragic loss of life resulting from a mass shooting in the local community, has made it a difficult period for everyone.
"Queena's thoughts throughout these crises has always been for our people," explained Dean David Gray.
Queena planned immediate opportunities to visit each unit to ascertain what was needed and how to provide help and support to those who needed it most.  She became the first point of contact for people when they felt overwhelmed or didn't know where to turn.
During this period Queena actively rejuvenated and renewed our campus Health and Wellness Committee which, through her leadership as Chair, was able to allocate resource to offering support sessions across campus, opportunities for colleagues to get together for social activities and heal together where possible.
Her leadership through the current pandemic and our campus response also deserves special mention.
"The successful approach on our campus and our ability to continue to function and operate at a high level has been due to Queena's ability to consider and implement new approaches and initiatives often in high pressure situations within short timeframes," added Dean Gray.
The Cox fire on June 20th, 2018 rendered all the large first-year teaching laboratories and classroom space unusable.  To be ready to teach in September and to avoid having to delay the start of the academic year, alternative space was needed quickly. Queena worked with colleagues in Facilities Management to coordinate the Faculty side of this mass undertaking.
Space was found in the Truro Shopping Mall and in three months was completely renovated to include a lecture theatre, a teaching laboratory, two research laboratories, 20 faculty offices, graduate student office space, washroom facilities and a lunchroom. Queena also worked with a local bus company to develop a bus schedule to transport students to and from the Mall for their classes on an hourly basis.
One year later, Cox Institute was not ready for occupancy and a decision was made to move from the facilities at the mall back to alternative space on campus.  Once again Queena worked with Facilities Management to make this happen, smoothly and efficiently.
With these significant, additional responsibilities throughout these crises, Queena's 'day-to-day' activities within her administrative role job did not suffer. Not a single deadline was missed.
"Queena is an exemplar of everything it means to be part of the Faculty of Agriculture and the Dalhousie University community," added Dean Gray.  "She puts others ahead of herself, her work ethic is second to none and she is dependable, competent, loyal and true. It is both a pleasure and a privilege to work alongside her as part of our team."
Congratulations Queena.