News
»
Go to news main
2021 Staff Award for Excellence in Service‑ Marilyn Roberts
Posted by
stephanie rogers
on May 26, 2021 in
News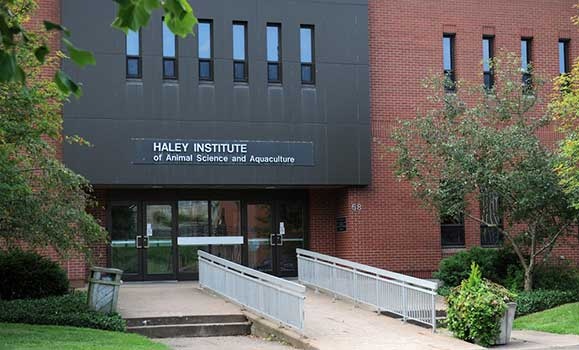 It is a well-known fact on campus.  If you need something done and done well, just ask Marilyn Roberts in the Department of Animal Science and Aquaculture in Haley Institute.
Marilyn Roberts has been the key 'go-to' person in Haley Institute for students, faculty, and staff for decades.  She provides reception services, helps with IT issues, schedules appointments, provides guidance on administrative/HR/financial processes to faculty and staff, provides guidance and referrals to students on a broad range of student life matters, supports the academic scheduling process and classroom assignment, organizes departmental events, helps with travel arrangements, updates the Faculty website, supports the Department Chair and a hundred other things.
As noted in her nomination package, "Marilyn's knowledge of the department and faculty is unparalleled. She seems to be a working encyclopedia of knowledge when it comes to supporting staff, and she loves to help anyone who needs help."  
Marilyn's service focus was on full display over the past two years as the Cox fire resulted in additional classes, researchers and staff being relocated to Haley Institute. She welcomed and supported the displaced students, researchers, and staff, and helped them get settled in their new temporary home. In addition, despite her heavy departmental work-load Marilyn somehow found time to serve for many years as the campus Chair of our United Way Colchester County committee.
Here are a few quotes from Marilyn's colleagues that help demonstrate her impact on both the Department of Animal Science and Aquaculture and the overall Faculty of Agriculture:
"Marilyn consistently finds ways to help her colleagues. Her willingness to assist others and her commitment to serving the Faculty of Agriculture is unequaled."
"Marilyn is thorough in her job, provides detail and help about the subject matter, and she consistently follows up to ensure our department is in a good shape. She is quick to respond to requests for additional information by other team members and is thorough in ensuring all loose ends are completed. She is also very disciplined, hardworking, and resilient."
"Marilyn is the face of our institution to those coming for a variety of services including students ranging from fresh undergrads to veteran graduate students. She always has their best interest at heart and is often going out of her way to ensure students' needs are attended to in a prompt and meaningful manner. During the regular school year, you will often find students gathered around Marilyn's desk knowing they can come to her anytime to ask for help with anything they may encounter."
Marilyn impactful contributions to the Faculty of Agriculture are most worthy of the 2021 Staff Award for Excellence in Service.
Congratulations Marilyn!