News
»
Go to news main
CASE IH providing students with the latest in equipment technology
Posted by
stephanie rogers
on April 7, 2021 in
News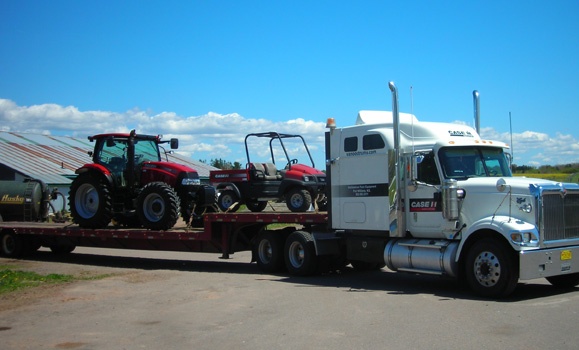 A casual conversation in 2009 with Robert Meier, territory sales manager for CASE IH, a global leader in agricultural equipment, put the wheels in motion for a tremendous opportunity and successful partnership between CASE IH and Dalhousie's Faculty of Agriculture.
On that day, Robert shared his vision on what could be mutually beneficial to the Faculty of Agriculture and CASE IH - two parties committed to providing the best educational and experiential learning for students, supporting agricultural research and providing an advanced fleet of tractors and equipment for farm operations.
Less than one-year later, May 2010, the Faculty of Agriculture farm received its first two units. A truck rolled in delivering a Scout utility vehicle and a Maxxum 140 tractor.
This was just the beginning. On May 6, 2015, CASE IH and Dalhousie's Faculty of Agriculture entered a formal ten-year agreement, valued at almost $2 million. "We are so proud and honoured to have formed an ongoing relationship with our friends at CASE IH through this partnership agreement," said Dean, Faculty of Agriculture, Dr. David Gray. "Our partners at CASE IH are innovative and forward thinking and are an essential component in the future development of our students as they enter the modern age of agriculture."
Since then, CASE IH has provided over 100 units including tractors and equipment equipped with the latest technology and features.
Every spring and fall, another truck rolls in, representing every series including Farmall, Puma, Maxxum and Magnum. This CASE IH lineup provides an excellent cross section of utility tractors to the larger, higher horse-power tractors required to do the heavy lifting. You will see CASE IH tractors in action across campus from student instruction and training, farm operations, field research, campus gardens to snow removal. In addition to tractors, CASE IH has also provided skid steers, mowers and round balers at different points throughout the program.
The success of the partnership would not be possible without the support of Tidal Tractor (formerly VanOostrum Farm Equipment Ltd), with locations in Port Williams, and Truro, N.S. Specifically, President, Patrick Vanoostrum and Sales Manager, Gary Maddison (Class of '83), have valued the arrangement from the beginning and witnessed, firsthand, its benefits.  
As an alum, Gary can't help but feel connected to campus and appreciates how a program like this can enrich students' experience.
"It's a great display of industry cooperating with university to further the quality of education for students now and into the future," explained Gary. "Being a graduate of NSAC, it personally gives me great pride in giving back to an institution that offered me an education in the field I continue to work in today."
As Jean Lynds (Class of '90), operations manager for the campus farm reflects on the past ten years, she is beyond grateful for the opportunity this partnership has meant for the Faculty of Agriculture.
"This partnership has exceeded our expectations. Our students, researchers and staff have the unique opportunity to work with a broad range of tractors offering the latest features and technology available. Donors like CASE IH and Tidal Tractor and the people that make it happen are making a difference at Dalhousie University's Faculty of Agriculture."