News
»
Go to news main
From small‑town Truro to big dreams in Britain
Posted by
stephanie rogers
on March 29, 2021 in
News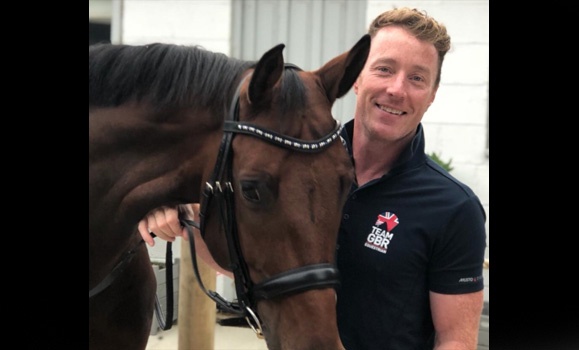 Robert Oulton (Class of '98) always wanted to be a veterinarian.

"I had all kinds of animals growing up and wanted to be able to look after them and know what to do if one was sick," he explained.  "I really wanted to be a farmer AND a vet when I was little!  I realized just one of those jobs was enough as I got older."
Robert is one of a long line of alumni from the Dalhousie Agricultural Campus including his great grandfather, grandfather, father and one uncle, his three older siblings and four cousins.  
"It seemed like the right place - especially as I was hoping to practice as a large animal vet if I could get into vet school," he added.
Robert was not only accepted into the Atlantic Veterinary College in Prince Edward Island; he is now a senior veterinary surgeon in the United Kingdom.
"When I was in vet school, I took every opportunity to get out and see large specialized practices throughout the summers," said Robert.  "I worked in Illinois, Alberta and Wisconsin during my summers, and visited practices in Kentucky, Florida, Ohio and Texas," he added.
After graduation Robert accepted a position in Kentucky in a 40-vet equine practice.  Part of his role was to accompany horses to other countries on flights, mainly to France, Ireland, and the UK.  
"I would spend a day or two in the UK each time and then fly back with other horses to the US. This led to me taking a job in the UK and I have now been here 14 years."
While in the UK, Robert acquired a dressage horse and while he didn't compete himself, he became involved with British Dressage, providing lectures to local riders.  Eventually a position within the National Youth Dressage Team became available in 2014 and Robert hasn't looked back.
Initially, Robert advised on the management of competition horses throughout the year, eventually leading a British Team to the Federation Equestrian International European Dressage Championships each summer across many countries in Europe.
"From this experience I was asked if I would be interested in working with the British Equestrian Federation, advising riders along with a diverse team of experts on an individual's path to championship teams representing Great Britain with the end goal being Olympic Games," explained Robert.
Robert began working with Eventing and Para-Dressage Teams in 2017 and is now the Senior Team Vet for the British Paralympic Dressage Team and will accompany the horses on their journey to Tokyo next year.  
Alongside these commitments Robert still works day-to-day in equine practice with a team of five vets he mentors.
There is no typical day for Robert.  If he is working with one of the teams at training sessions, he helps to evaluate a horse's progress alongside farriers, physiotherapists, saddlers, trainers and other specialists making suggestions on how to optimize a horse's athletic ability and performance in a particular sport.
"If I am traveling with horses', it involves daily assessments of each horse in the morning, watching them train or compete and dealing with any hiccups along the way," he explained.
He also evaluates horses in his practice for lameness or other treatments and is mainly involved when horses are having issues with performance or may be traveling to examine horses prior to purchase.
"Horses are horses no matter their function or value and all need to be treated equally," stressed Robert. The biggest challenges are getting to the root of very subtle issues with horses, particularly when the cause could be behavioural rather than just physical.  The best part is working with horses of such a high calibre and working within a sport at a level I would never have achieved as a rider."
And speaking of high calibre horses, Robert also had the chance to assist with some Royal horses as he briefly worked for the Queen's personal vet.
"I have assisted with the Queen's horses both at Buckingham Palace and when they were at Windsor Castle," he said.  "This was for her personal riding horses and carriage horses.  It was certainly quite exciting seeing behind-the-scenes at both amazing stables! "
His advice for those considering a career in veterinary medicine?
"Go for it!  Visit as many places and people as you can to see what you like and what you don't.  I started applying to vet school expecting to be a dairy vet but ended up only doing horses my entire career.  
In the meantime Robert has his eyes on the prize next summer at the Paralympic games in Tokyo in August.