News
»
Go to news main
Dal AC student studies apple genomics in New Zealand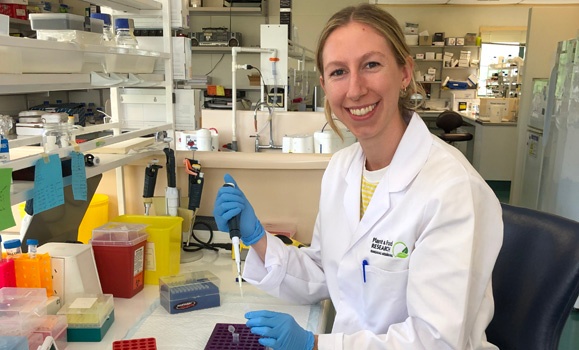 In mid-January, Sophie Watts (Class of '20) set off to Auckland, New Zealand on the adventure of a lifetime. But she wasn't jetting off to the other side of the world for a vacation.
Sophie, a PhD student studying the Apple Biodiversity Collection with Dr. Sean Myles, was awarded a fellowship from the Natural Science and Engineering Research Council of Canada (NSERC) to travel to New Zealand for six months to learn about apple genomics.
"I'm going to the New Zealand Institute of Plant and Food Research in Auckland to work with researchers involved in horticultural crop breeding," Sophie explains. "The research group I'm visiting is working on developing and testing gene-editing tools to transform different crops, such as the apple."
Sophie will spend six months in Auckland learning new skills and broadening her lab experience. She will get to see some of the apple varieties grown in Auckland and learn more about the research taking place at the Institute of Plant and Food Research.
"This opportunity to learn from this group of researchers is exciting and will hopefully allow me to translate the research findings from my graduate research into real-world impacts," Sophie says.
During her time in Auckland, Sophie will learn more about a powerful new gene editing tool called CRISPR. Sophie is hoping to learn more about CRISPR so that she can work to improve apple crops back home.
"The future of plant breeding arguably lies in the direct genetic transformation of plants for improved traits via gene editing like CRISPR," Sophie explains. "CRISPR has been used to successfully transform many agricultural crops, including higher yielding rice varieties and wheat with improved disease resistance. The possibility of transforming apple using CRISPR is an encouraging tool to improve fruit quality and speed up the traditionally long and labour-intensive process of developing new apple varieties."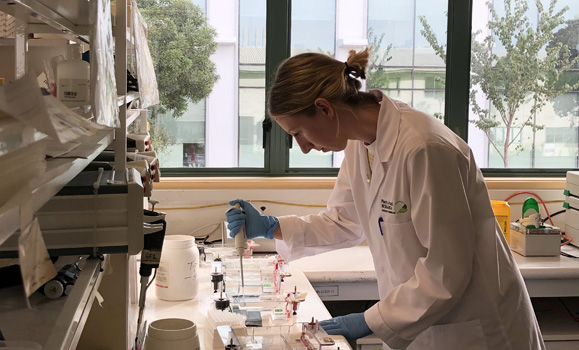 Sophie's ultimate goal is to use her newfound knowledge to create apple varieties with improved qualities.
"My goal is to learn the skills involved in gene editing and how they can be applied to apple," she says. "I hope to develop gene-editing targets for genes controlling texture, colour and storability. I want to become equipped with the skills necessary to implement findings from my research to create apples with improved quality, performance, and sustainability.
Sophie began her research of apple genomics at Dalhousie University Faculty of Agriculture during her Master's research. She studied the Apple Biodiversity Collection, measuring apple traits like sweetness, firmness, storability, juiciness, acidity, and frost damage susceptibility to name a few. She measured these traits from apples in the Apple Biodiversity Collection to pinpoint which traits may want to be incorporated into varieties to help improve apples.
The Apple Biodiversity Collection (ABC) is recognized as one of the most diverse collection of apples in the world. Located in Kentville, N.S., the ABC is a collaboration between Agriculture and Agri-Food Canada and Dalhousie University. It is home to over 1,000 apple varieties, including dessert and cider apples, heirloom varieties, and apples from as far as the forests of Central Asia. The ABC looks to efficiently breed new apple varieties that are delicious and require less chemical input to grow.
"The Apple Biodiversity Collection is one of the largest, most diverse apple collections in the world!" Sophie explains. "It makes researching this orchard a great opportunity that is also very unique. My supervisor, Dr. Sean Myles, and post-doc colleague, Dr. Zoe Migicosvky, are very supportive and knowledgeable."
Originally from Halifax, N.S., Sophie completed her Bachelor of Science in Agriculture degree through the University of Guelph in Ontario. It was Sophie's passion for food and agriculture that led her to Dal's Faculty of Agriculture to complete her Masters degree. Prompted by the reputable research program and high-quality labs, Sophie began her graduate studies in September 2018. Through her research, she not only hopes to improve apple varieties, she also hopes to increase the overall understanding of apple biology.
"By working with such a diverse collection of apples, I hope to raise awareness of how important biodiversity is in agriculture and emphasize that we need to use that diversity in order to improve our agricultural crops."
Adds Sophie, "I really love food and care about how we grow food and will continue to do so in the future with challenges from climate change. I saw this research as a way to work on one of Canada's most important food crops and figure out how we can create apples that are tastier and more sustainable. I will continue working on my project and hopefully uncover valuable insights about apples and how we can improve them."