News
»
Go to news main
Faculty of Agriculture welcomes new Student Success Advisor
Posted by
Stephanie Rogers
on September 19, 2018 in
News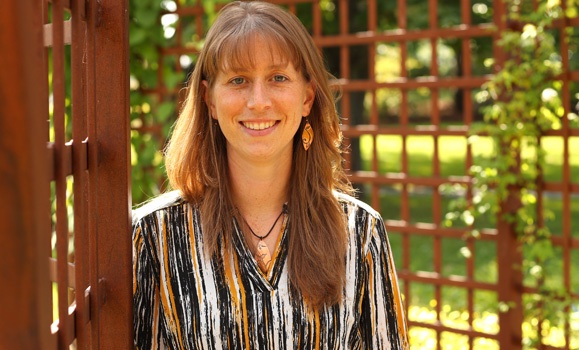 By Emma Geldart

While Gillian Hatch (Class of '13) began a new role as Student Success Advisor with Dalhousie University Faculty of Agriculture, she is certainly no stranger to the campus.
Moving from a position in recruitment with the Registrar's office to her new role as Student Success Advisor at Dal AC, Gillian looks forward to building and maintaining relationships with as many of the students as possible on campus.
"I'm really looking forward to getting to know more of the students on campus," Gillian smiles. "When I worked with recruitment, I would get to meet students on the road but I rarely got to maintain those relationships throughout the academic year, as I often travelled through the fall semester."
As Student Success Advisor, Gillian will be available to support students throughout their university career, alongside the rest of the team at the Student Success Centre. A key part of her role is to help first year students with course selection. Her role is certainly not limited to first year students though- Gillian will always be available to help any student on campus, whether it be career goals, degree planning and more.
"I'm here for students, whatever it is they may need," she explains. "If I'm not the best person to talk to, I can help them connect with someone better able to assist."
With her experience in recruitment, the transition to the new role was smooth for Gillian. Her experience assisting students considering future studies at Dal AC translates to the new role in helping students consider their course load and career paths. Personally, the shift was a reasonable career move for her and allows her to pursue her passion of helping students.
"I look at my new role as the next logical step, moving from assisting students with the admissions process to helping them lay a strong foundation in their first year so that they are successful in university," she says.
Gillian has been in her role for less than a month but she already has set her sights on establishing strong relationships with incoming students.
"My goal is to meet every incoming first year student, or to have been in contact with them at some point during their first academic year," Gillian says confidently. "Whether it is to help with course selection or even if they just stop by my office to say hi and introduce themselves, I hope I can meet all of them."
Not only did Gillian work at Dal AC, she was also a student at the Ag Campus. Growing up on a hobby farm in West Quoddy, a rural community on the Eastern Shore, she always had an interest in animals and biology. With her interest in animals and farming, Gillian's plan was to go to vet school. In her grade 12 year, Gillian surprised herself by not even applying to Dal AC.
"I changed my mind and went to another university for astrophysics, of all things," Gillian laughs.
The campus and program didn't quite fit so she transferred to Dal AC. During her time at Dal AC, she later figured out that vet school wasn't really her calling. In 2013, she graduated with a Bachelor of Science (Agriculture) with a major in Animal Science and Animal Welfare. After graduating from Dal AC, Gillian completed a Master's of Science degree through the University of Guelph.
Despite not following the path she had originally set for herself, Gillian has been able to apply her degree in less obvious ways throughout her career. It's her personal experience with creating her own path that makes Gillian excited to help other students do the same.
"A university education isn't just about what you learn in the class room, it's about new experiences and growing as a person," Gillian says,  "I want to help students grow outside the classroom and help them achieve their goals, whether that's becoming more involved on campus or finding a career that they will truly enjoy."
Not only is she passionate about helping students succeed, Gillian truly feels at home on the Ag Campus. As a student, she valued the hands-on experience both in and out of the classroom. Now, as a member of the Student Success Centre team, she recognizes the sense of community.
"Everyone on campus is so welcoming to new or returning staff and students!" Gillian says. "They genuinely care about the students on campus. I chose to study at the AC because it seemed like the perfect fit for me, it was a smaller campus and a close knit community, which felt like home to me than a school in the city. I'm glad I can continue my career on this beautiful campus. The most exciting part is welcoming the new students to their new home, hoping that I can help them find their place in the world."
Students can drop by and visit Gillian at her office in the lower level of the Dairy Building or via e-mail, gillian.hatch@dal.ca.