News
»
Go to news main
A new place to call home for Scott Withrow
Posted by
Stephanie Rogers
on May 24, 2018 in
News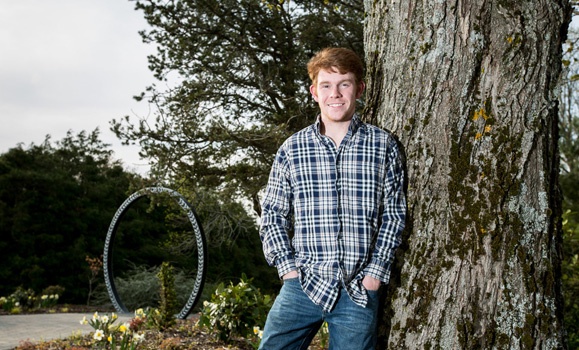 by Emma Geldart

It may have taken him a bit of extra time but Scott Withrow has finally found where he truly belongs- the Faculty of Agriculture on the Agricultural Campus. Although the third year student and incoming president of the Dalhousie Agricultural Students' Association didn't realize it at first, it seems the remarkable campus was right in front of him the entire time.
"When I originally started university, I was at Acadia University studying Kinesiology," Scott explains. "I quickly began to realize that what I was doing wasn't what I wanted to be doing for the rest of my life."
Growing up on his fifth generation family beef farm in Centre Rawdon, Scott had been to Dal AC numerous times growing up. He would often visit his two older brothers during their time at Dal AC (then known as the Nova Scotia Agricultural College). As an active member in 4-H, Scott would also spend a weekend on campus each May for the annual 4-H weekend. It wasn't until he was studying at Acadia University and listening to stories of Dal AC from his family that the realization came to him.
"There is a lot of alumni support in my family for the AC," Scott explains. "It wasn't until I was at Acadia and listening to my family talk about how great of a school it is that I finally decided it was the place for me!"
Following his heart, Scott made the switch to Dal AC. After some discussion with his brothers and his sister-in-law, he learned about the Integrated Environmental Management (IEM) course. IEM provides students with training in green science and technology. The program focuses on four pillars of technology, energy, water and waste. Students of the IEM program learn to create immediate sustainable solutions and address national and global resource management and food production needs.
"After learning a bit about the program from them, I started looking into it myself and realized how much of the content in the program piqued my interest," Scott says. "I decided to switch universities and my life direction and landed myself at the AC taking a program that I find more interesting with every new course."
Scott's passion for Dal AC is unmistakable. His love for the campus has led him to be involved in many different campus activities. During his second year as a Dal AC student, Scott was House President for Chapman House, a residence on campus, and was the Representative for Townhouse, the off-campus student body. During his first two years on campus and continuing into his third year, Scott was also an active member of the Woodsmen Team, earning himself numerous competition wins and championship titles. With encouragement from his friends, Scott most recently ran and was elected as president of the Dalhousie Agricultural Students' Association. Being elected as president is something he is extremely excited about.
"I'm really looking forward to having the opportunity to represent the student body and learn more about the wants of the students and hopefully be as accommodating as I can be to everyone," Scott says. "It felt great when I found out I was elected. When I got voted in, it made me realize that I was making the right choice and that the student body wants me to represent them."
As the new face of DASA, Scott has set his sights on the changes he hopes to implement during his presidency. As president, Scott will act as the face of the student body for any major events that take place during the school year. He will also act as the in-between person for the student body and the faculty and will help to sort out any student issues. He will assist in the planning, organizing, and execution of campus events and much more. Most importantly to Scott, he hopes to increase student involvement.
"I want to get the student involvement in activities to an all-time high," Scott explains enthusiastically. "I want to do this by starting new programs and events that will attract a wider variety and larger number of students on campus. This is hopefully going to start on day one of the new school year during Welcome Week and will continue throughout the entire school year."
With big plans in mind, Scott looks forward to welcoming new students to campus in September. His advice to those considering Dal AC echo the words of many students and alumni- if you want to be recognized by professors then Dal AC is the school for you. The small class sizes, hands-on learning and stunning campus make for an incredible leaning experience.
"You can hardly go anywhere on campus where you aren't greeted by a smiling face," Scott says with a smile.
For Scott, the excitement builds as he heads a new era on the Agricultural Campus. And while he looks forward to making the most of his time as president, he also plans to make a lasting impression on the school that has captured his heart.
"As DASA president, I am going to strive to leave a lasting mark on the AC for years to come so I can give back to this amazing school as much as it has given me and so many others that have had the chance to call this place home."