News
»
Go to news main
Contribution to Student Life Recognized at Faculty of Agriculture Graduation Banquet
Posted by
Stephanie Rogers
on May 16, 2018 in
News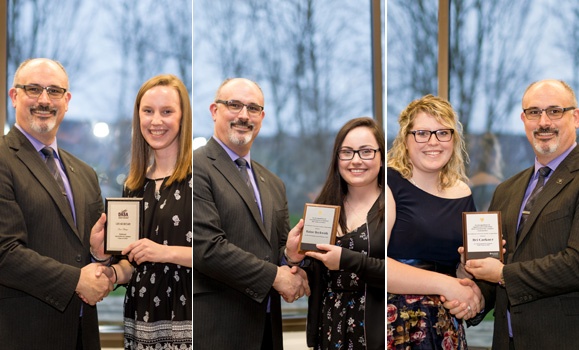 The Dalhousie Faculty of Agriculture Graduation Banquet is an event as unique to the campus as it is to its graduates.   
The Class of 2018 Graduation Banquet, organized by Rebecca McSwain and Katie McCallum, honours the contributions of graduating students to student life and was held last Thursday, May 10th.   
The banquet a highlight of graduation celebrations provides an opportunity for members of the graduating class to be recognized with Distinguished Graduate Awards. 

Distinguished Graduate Awards were presented to Cora Sharp, Sussex NB and Bri Carkner of Ontario.   
Distinguished Graduate Awards are designed to express the Faculty's acknowledgment and appreciation to graduating students, who have, through their time, energy, talent and leadership enriched the campus community during their studies without neglecting academic pursuits. Recipients are recognized for contributions made through their involvement over time in multiple activities, including, but not limited to, student government, campus activities, community service, sport and recreation, internationalization, or other campus programs.
The Noel Enman Memorial Award, instituted in 1984, is presented annually to a technician or technology graduate whose personality and fellowship has contributed to student life and activities thereby gaining the respect of students and faculty. This award was presented to Raine Beckwith of Salisbury, NB.
"Cora, Bri and Raine have brought amazing energy and enthusiasm to the Agricultural Campus," said Assistant Dean Students Keltie Jones.  "We are very proud of their accomplishments and can't wait to see what they will be accomplishing in the future."
Katie McCallum, Janine Gray and Rebecca McSwain

Every year, the Dalhousie Agricultural Students' Association, along with the graduating class, selects a faculty or staff member to receive the Student Appreciation Award. The 2018 recipient was Dr. Janine Gray.  Dr. Gray has had a huge impact on students' lives.  She keeps the interests of all her students in mind in lectures, labs and around campus. She is very involved with students and participates and attends student functions and fundraisers.
One student remarked "she's always there when you need clarification or help with concepts being taught and she has helped to improve campus by teaching new courses."
Dr. Gray is held in high regard by all students and makes a big difference in many of the Animal Science courses while making an outstanding contribution to student life.
Congratulations to all.