News
»
Go to news main
Dal AC to offer PhD program in Agricultural Sciences, first of its kind in Atlantic Canada
Posted by
Stephanie Rogers
on April 9, 2018 in
News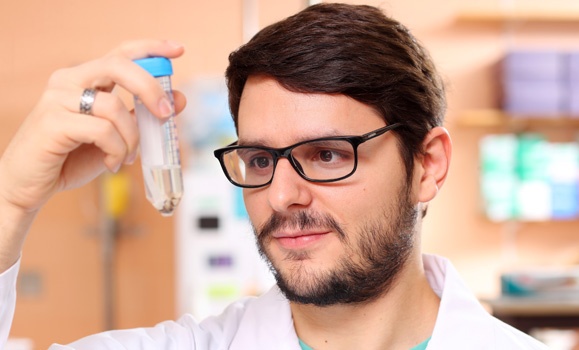 Dalhousie University's Faculty of Agriculture will soon be offering a doctoral degree in Agriculture Sciences- the first degree of its kind in Atlantic Canada. A program of this nature is expected to create many opportunities for Dal AC and its students and is ambitiously aiming to start accepting students as early as May.
Department of Plant, Food, and Environmental Sciences Professor and Associate Dean of Research and Graduate Studies, Dr. Chris Cutler, played a part in developing the program and is thrilled over what this program will mean for Dal AC.
"Production of PhD students is a key metric in terms of measuring the quality and output of any university," Dr. Cutler explains. "This is a tremendous opportunity that will enhance the teaching and research at Dal AC."
The PhD program will allow students to pursue advanced-level knowledge in agriculture and undertake independent research to generate new knowledge, both of which are imperative to the future of sustainable farming. With agriculture currently representing seven percent of Canada's gross domestic product, the need for high-level research of farming, food production, and agricultural sustainability is at an all-time high.
"Feeding the planet is going to be a massive challenge in the years to come," Cutler explains. "The provincial and federal governments have both recognized that agriculture is a critical component of the Canadian economy, with great potential for growth from coast to coast. Introduction of a PhD program in agriculture at Dalhousie will help ensure our region stays at the forefront of delivery of top-notch agricultural knowledge, innovation, and personnel."
One of the ultimate goals of the PhD program is to attract and train high quality students. Dal AC hopes to build upon its current graduate program and draw PhD students who are looking to dig deep and address more complex issues around the environment and sustainability, food systems production, economics, or policy development. The program will focus on advanced studies in Animal Science, Plant Science, Soil Science, Agricultural Economics, Agribusiness, Agricultural Technology, and Food and Environment. Along with producing high quality students, the PhD program will enhance the reputation of the university.
"The development of this program is a natural part of the evolution of our faculty," Cutler explains. "Dal AC is widely recognized for our Bachelor, Diploma, and Masters programs, and this is a natural step to the next level of expertise. Establishment of a PhD program at Dal-AC will strengthen the reputation of the Faculty of Agriculture, which will in turn should help with attracting and retaining research dollars and high calibre faculty members and students."
Although it is a new program to Dal AC, the Faculty of Agriculture is no stranger to hosting PhD students. Faculty members have been serving as senior advisors for PhD students for over two decades. There are currently 15-20 PhD students on campus registered through other departments, and even other universities, but Dal-AC serves as their 'home' and core training facility. With a beautiful, functional, modern campus, Dal AC and its facilities are well-equipped for PhD student research. By way of the new PhD program, Dal AC hopes to attract 50 or so PhD students and see the overall number of graduate students on campus double to around 150 within the next ten years.
"We want to attract the best in the world," Cutler explains. "We have a lot of excellent students already studying at Dal AC, but we hope that our PhD program, which is unique to the region, will really make exceptional students from far and wide take notice and consider our campus for their doctoral degree."
Although program implementation is on the horizon, the journey to developing the program was a long one. The process began a few years ago with the notion to finally offer a PhD program unique to the Faculty of Agriculture. Individuals from different departments and disciplines across Dalhousie University came together to form various committees to see the project through. Substantial documents had to be created, then refined, trimmed, revised, and reviewed. Cutler notes that while it was important to assure there would be adequate instruction, demand, expertise, and funding for the program, they also had to ensure that there would be no competition within Dalhousie's other faculties. 
"Agriculture is a multifaceted discipline so we had to look at the risk of taking away from other faculties," he explains. "Agriculture covers so many areas- engineering, biology, environment, public policy, so we looked to create a program that focuses on our strengths in agricultural sciences."
With the program approved by both the Senate and the Board of Governors, the last and final step is approval from the Maritime Provinces Higher Education Commission. It is the hopes that this final approval will be received this semester and the program can begin accepting students in May.