News
»
Go to news main
Dal AC Judging Team Takes Home Victory
Posted by
Stephanie Rogers
on January 23, 2018 in
News
Nine students from the Dalhousie Faculty of Agriculture Judging Team recently travelled to Quebec City to compete at Université Laval's Judging Competition as a part of their 43rd Week of Agriculture, Food and Consumer Studies. The team faced competitors from Université Laval, McGill University and Guelph University during the competition.
The event consisted of livestock and crop categories with livestock classes of: Beef EPD's, Dairy cows, Egg ID, Poultry, Swine, Wool and a livestock quiz. The crops portion included: Automotive Fluid ID, Hedging/Commodity Markets, Maple Syrup, Potatoes, Seeds, TMR and a crops quiz.
The competition proved to be a valuable experience for everyone to improve their judging skills, including for five members new to the team this year. Several individual judges from Dal placed in the top three for a variety of classes and both Dalhousie teams placed in the top three for several team categories.
Thank you to Université Laval for hosting this competition, and congratulations to the Dal AC Judging Team on succeeding and representing Atlantic Canada's aggies so well!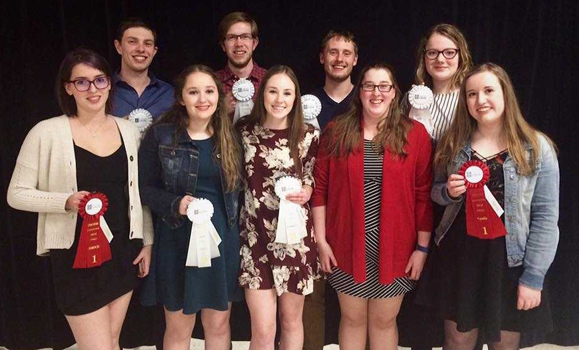 (From front left: Andrea Hayes, Karlie Lewis, Hannah Facey, Ashley Eason, Madalyn Nielsen. Back row, from left: Alex Surette, Robert Larsen, Sam Dykeman, Julian Albring)
Competition results are as follows:
3rd place overall Oral Reasons - Madalyn Nielsen
1st place Poultry - Madalyn Nielsen
1st place Seeds - Andrea Hayes
3rd place Hedging - Madalyn Nielsen
3rd place Maple Syrup - Julian Albring
3rd place Potatoes - Andrea Hayes
3rd place Swine - Madalyn Nielsen
3rd place TMR - Robert Larsen
2nd place Hedging team - Dal 1 (Julian Albring, Karlie Lewis, Madalyn Nielsen, and Alex Surette)
2nd place Potatoes team - Dal 2 (Sam Dykeman, Hannah Facey, Andrea Hayes and Robert Larsen)
2nd place Poultry team - Dal 1
2nd place Seeds team - Dal 2
3rd place Maple Syrup team - Dal 2