News
»
Go to news main
Peter Havard celebrates 40 years on the Agricultural Campus
Posted by
Stephanie Rogers
on September 13, 2017 in
News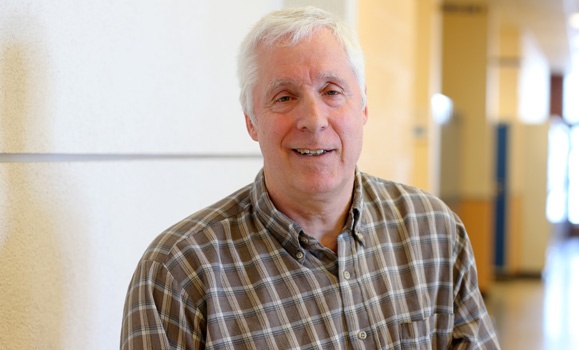 It will be 40 years this month since Peter Havard first arrived on the Agricultural Campus. Peter is currently the Department Chair and Associate Professor in the Engineering Department located in Banting Building.
We sat down with Peter to find out a bit more on what the last 40 years have been like for him.
What were you doing when you first came to the NSAC?  How did you end up here?
I came to the NSAC straight out of Macdonald College near where I grew I up on the west island of Montreal.  I was close to finishing my Masters and saw the ad posted in our Grad Student area and it sounded interesting, though I didn't know where Truro was. 
I put my name in and thought I would never hear back.  To my surprise I got an interview.  After hearing nothing for a month, I wrote a letter thanking them for the chance but that I was taking another job.  Two days later I got a phone call saying the job was mine and my wife Ann, the dog and I moved to the Annex house behind Banting building.
The Banting Annex is a small white house located between Pictou road and the Banting Building.  When I first came it was being rented to new staff members while they located a home.  I didn't move too fast as I didn't move out until six years later.  It was so convenient to walk 50 feet to work.  Later my office was in there for nearly 20 years.
Did you ever imagine you would stay for the next 40 years?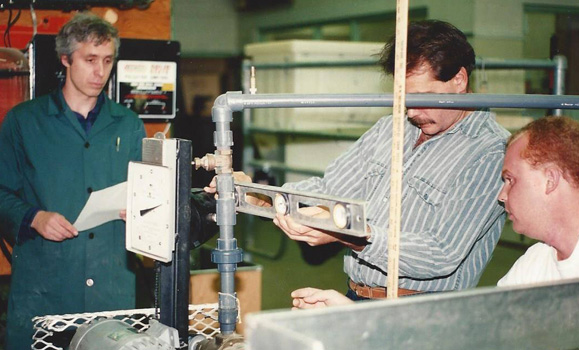 I've been Department Chair and an Associate Professor over the past 40 years.  Both have helped me grow and I've enjoyed the journey.  I couldn't have imagined staying this long but I always enjoyed the area and the work so it has never felt like a long time.  It was hard being so far from our families and we quickly got to know most parts of the road to Montreal on our family visits.
What are some of the most notable changes that come to mind?
There are so many but the biggest change over all these years has been the growth of a very capable College to a Faculty of Agriculture as part of Dalhousie University.  It has happened due to the amazing efforts of lot of people over many years.  I remember in my interview, Dale Ells (Dean of Technical and Vocational Education) commenting that they hoped one day they would have degree-granting status (which occurred in 1982) and a Graduate Studies program which back then I was hoping I might see as well.
I started under Dr. Herb MacRae and had the privilege of working with and under six others.  The MacRae Library has grown from basically a classroom in Cox Institute to the building we have today which is again being renovated.  Both the Cox addition, Langille Athletic Centre and Haley Institute were also built around that time. The wave of retirements now is from the group hired during the 1980s.  Jenkins Dining Hall is where the Principal's residence was located.  I remember the RAC being built and was always impressed with its modern feel, now it too is being upgraded. I don't remember the Sheep Barn being built but next to it was where the Swine Unit existed for a long time.  The Fur Unit was big addition.
I have been here for virtually every program on campus as when I started we were only two year programs in degree stream or technician.  Everything has been revamped and extended including the Graduate Program. 
What do you like most about campus? Favorite spots?
I love the Rock Garden with its ever-changing scenes but by far the most fun for me is the Langille Athletic Centre where I've played sports with several generations of young people and those young at heart.  You really know your age when you hear college students saying their parents had played sports with me when they were college students.  
The noon time basketball started about a year before I came here in Cumming Hall where the Alumni Theater is now.  The year after I came the Athletic Centre opened and I've been a regular ever since.   
Favorite memories you'd like to share?
I have been so lucky to have shared time with so many students and to really learn a lot from our FAFU students.   My favorite moments by far are those times a student returns and says I made a difference whether it be with a career choice or simply a life lesson.  This is a humbling place where we are challenged to learn and serve at higher levels every year.  My co-workers have always been special and when I started almost half of them had served in World War II so the coffee room stories were amazing.

It does make me feel old realizing how much time has gone by but every September there is a new group of students so in many ways it feels like time has stood still!