News
»
Go to news main
Contribution to Student Life Recognized at Faculty of Agriculture Graduation Banquet
Posted by
Stephanie Rogers
on May 15, 2017 in
News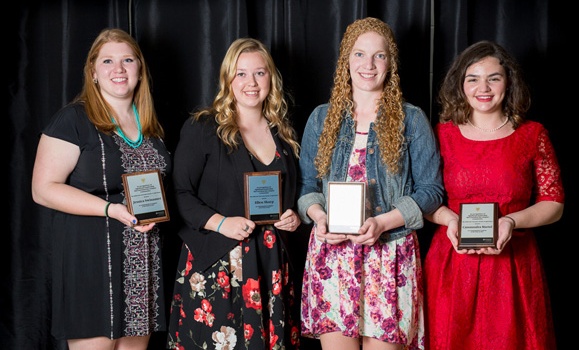 Dalhousie University's Faculty of Agriculture celebrated its annual Convocation ceremony Friday, May 12th although celebrations began Thursday evening with a Commemorative Tree planting ceremony in the Alumni Gardens followed by a Graduation Banquet. 
The banquet is a highlight of graduation celebrations and provides an opportunity for members of the graduating class to be recognized with Distinguished Graduate Awards.  

This year, Distinguished Graduate Awards were presented to Jessie Swinamer, Ellen Sharp, Alana Bent and Cassie Martel.
The Distinguished Graduate Award is designed to express the Faculty's acknowledgment and appreciation to graduating students, who have, through their time, energy, talent and leadership enriched the campus community during their studies without neglecting academic pursuits. Recipients are recognized for contributions made through their involvement over time in multiple activities, including, but not limited to, student government, campus activities, community service, sport and recreation, internationalization, or other campus programs.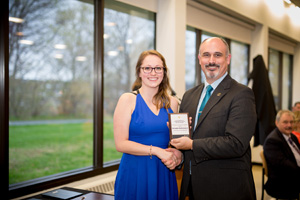 The Noel Enman Memorial Award, instituted in 1984, is presented annually to a technician or technology graduate whose personality and fellowship has contributed to student life and activities thereby gaining the respect of students and faculty. This award was presented to Brenda Mulrooney.

The Dr. Gerry W. Friars Undergraduate Research award was presented to Laura O'Quinn.  The award is presented annually to a student who is judged to have completed the best written research report as part of his or her Research Methods course.  Dr. Friars, an NSAC alumnus from 1948, was introduced to a career in research through an undergraduate research project.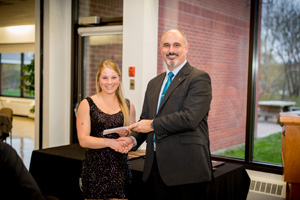 The Life Executive of the Class of 2017 were also acknowledged at the banquet. The Life Executive will represent the Class and their interests through the Faculty of Agriculture Alumni Association.  Valdictorian Holly Fisher, Life President, Ellen Sharp and Life Secretary, Mark Trenholm.
"Every year I am amazed by the accomplishments of our students," said Assistant Dean Students, Keltie Jones.   "They have contributed so much to our campus community and I am confident they will continue to make a difference in the world around them. I wish them all the best and look forward to hearing about what they will do next."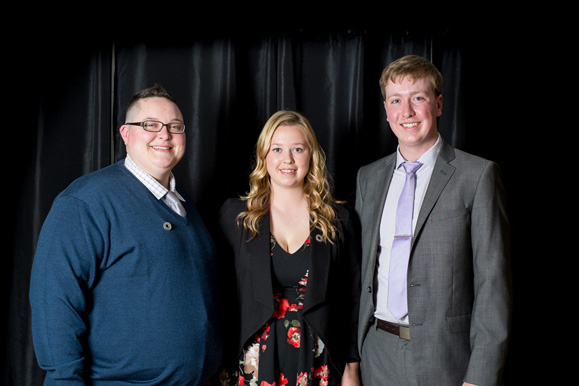 (L to R) Holly Fisher, Ellen Sharp and Mark Trenholme

The Class of 2017 also presented the traditional Class Composite to the Faculty during the banquet.