News
»
Go to news main
Barley rings symbolize new chapter for Dal AC Class of '17 grads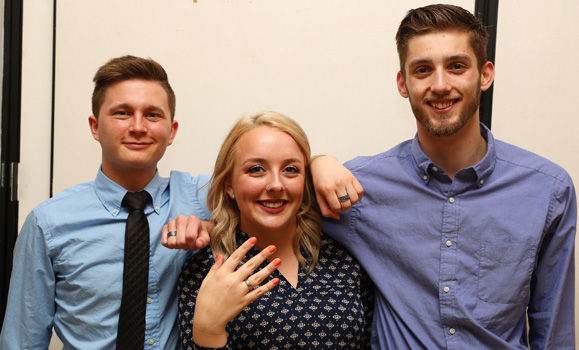 For some Dal AC grads, the most exciting moment of graduation is walking across the stage to receive their degree or diploma. But for others, there's one event that is arguably more highly anticipated than convocation- the Barley Party.
Established in 2010, the Barley Party is the annual celebration for students who have purchased a barley ring- Dal AC's widely recognized graduation ring. Held in Jenkins Hall on campus on Friday evening, students attending the Barley Party enjoyed a meal prepared by Chartwell's staff and one-by-one were called to the front of the room to accept their barley ring. Students were welcomed to the Agriculture Alumni Association by Audrie-Jo McConkey, Chair of the Alumni Association and Colette Wyllie, board member of the Alumni Association, and were presented their rings by Dr. Claude Caldwell, Associate Dean, Academic. Dr. David Gray, Dean, was unable to attend this year's Barley Party but sent his congratulations to students through a pre-recorded video.
"Since the barley ring was launched in 2010, over 900 barley rings are proudly worn by alumni around the world," Audrie-Jo McConkey explains. "Each year, this event, the Barley Party, continues to grow. This event has become one of the most anticipated events of the year for graduates. The vibe in the room says it all!"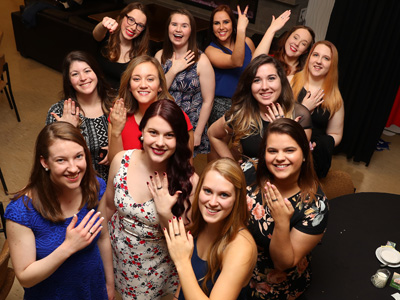 Unveiled seven years ago, the Barley ring is the official graduation ring of the Agricultural Campus. Since its launch in 2010, it has become a highly recognized symbol of the Faculty of Agriculture.  Now with over 900 rings worn by alumni around the world, the Barley ring is a proud symbol of the Faculty of Agriculture and the Dalhousie Agricultural Campus. The textured design features a pattern of barley around the band of the rings and each ring is handmade by local jeweler, Donna Hiebert. This year, 135 barley rings were given out at the Barley Party.
While the Barley Party is most popular among graduating students, it has become increasingly popular among past alumni as well. This year, two mother-daughter duos accepted their barley rings together- Ann Hamilton (Class of '88) and daughter Andrea Hamilton (Class of '17), and Shari Allan (Class of '79) and her daughter Kasadee Allen (Class of '17).
"My mom and I have always been very close and getting our rings together just felt like the right thing to do," Andrea says. "She's one of my biggest role models and I'm so proud to be able to receive my barley ring with her. It was my idea to attend the Barley Party together, she wasn't so sure about going but I really wanted to have her there with me."
In addition to honoring graduating students who have purchased a ring, the Alumni Association also allows for an honorary ring to be presented each year.
"Honorary rings are awarded to individuals who do not meet the criteria to be eligible for a barley ring but who are extremely deserving of the honour," explains Colette Wyllie (Class of '10). "These individuals are ambassadors and supporters of the institution. They have made outstanding contributions to the Agricultural Campus community and truly depict the characteristics of an AC alumnus. Simply put, there are few people who fit that description more accurately than our 2017 honorary ring recipient."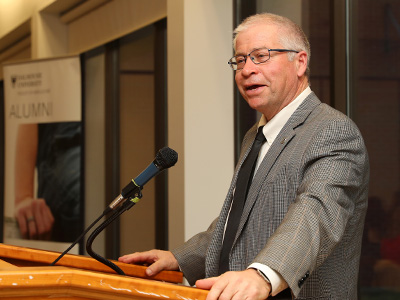 Dr. Claude Caldwell, Associate Dean, Academic, is this year's honorary ring recipient. After 33 years on the Dal AC campus, Dr. Caldwell will be retiring at the end of June. His presence will be missed by all students, staff and faculty on campus. Every September, Dr. Caldwell is one of the first instructors that degree students encounter. His first-year course, Agricultural Ecosystems, is required for all students pursing a BSc. (Agr.). It is common to hear from students that Agricultural Ecosystems with Dr. Caldwell was their most memorable first-year course, if not of their entire undergrad.
In addition to his full-time teaching and research position, Dr. Caldwell spent six years as men's varsity soccer coach and 10 years as women's varsity soccer coach.  He was well-respected, easy to listen to, and the kind of coach you didn't want to let down. He guided his teams to regional championships on a regular basis and to a national championship on at least one occasion.
Dr. Caldwell's greatest legacy is arguably his international work. He has more than 15 years of extensive international experience and is largely responsible for the immensely successful 2+2 articulation agreement between the Faculty of Agriculture and the Fujian Agriculture and Forestry University is Fuzhou, China. He travels to China yearly to deliver courses on the FAFU campus.
"Dr. Caldwell is a true Aggie- fiercely loyal to NSAC and its history while dedicated to ensuring the Faculty of Agriculture lives up to its fullest potential going into the future," Colette Wyllie says. "It is more than appropriate that he wear a barley ring on his finger to denote him as such."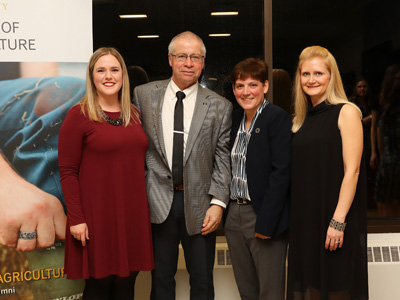 As Dr. Caldwell was called to the podium to receive his honorary barley ring, he received a standing ovation from the staff and students in the room.
"The awarding of the honorary barley ring by the students of the class of 2017 was an overwhelming experience," Dr. Caldwell says. "When Colette mentioned that the award was going to someone with 33 years of experience on our campus, it hit me that I was to be the recipient that evening.
"I was deeply moved to the point of not being able to properly thank the students verbally," he continues. "I hope they understood the depth of my gratitude and how much the honor means to me; at the time, I could only bow to acknowledge the ovation. I know these students and to have them stand to acknowledge me is a highlight of my career not to be soon forgotten."
As excited students filed from Jenkins Hall after the ceremony, each flaunted their new addition to their finger. Beaming smiles and excited chatter about what their futures hold filled the room. To some, the Barley Party is more exciting the convocation but to all, a new door opens once the barley ring is on their finger.