News
»
Go to news main
Cultiv8's second annual Pitch Ag an overwhelming success
Posted by
Stephanie Rogers
on April 4, 2017 in
News
Thirteen teams comprised of thirty Dal AC students and one high school student pitched their unique business ideas to a packed Riverview Room last Tuesday. The students were competing in Pitch Ag, a business pitching competition. There was standing room only as fellow Dal AC students, faculty, staff, and business mentors from the community took in the competition.
Pitch Ag was hosted by Cultiv8, a collaborative program that is offered to both Dalhousie and Acadia students, that offers students access to business mentors and entrepreneurial resources. Through Cultiv8, students are given the opportunity to learn entrepreneurship through programs, mentoring and interactive programming. It is a student space where ideas are explored, entrepreneurial skills are developed and opportunities are realized. For the second year in a row, their entrepreneurial skills were put to the test through the year-end pitching competition.
"I love this time of year," shares Jolene MacEachern, Cultiv8 coordinator. "It is such an important part of the entrepreneurial process to put yourself out there and pitch your idea, and these students never disappoint! I am so proud."
Students were competing for a spot in the top three which would lead to a share of the cash prize and the experience gained from pitching their ideas to an audience. While the competition aims to create excitement around the variety of ideas that can be born of agriculture, it also provides an opportunity for students to perfect their pitches. Students are judged on the quality of their pitch and their business model. Judges look for pitches that demonstrate insight to a problem, a convincing solution, customer feedback, exploration of the business case, achievable next steps, and what they've learned throughout the process of developing their idea. Knowledgeable entrepreneurs and business mentors Colin Deacon, Gillian McRae, and Danny Small judged the competition.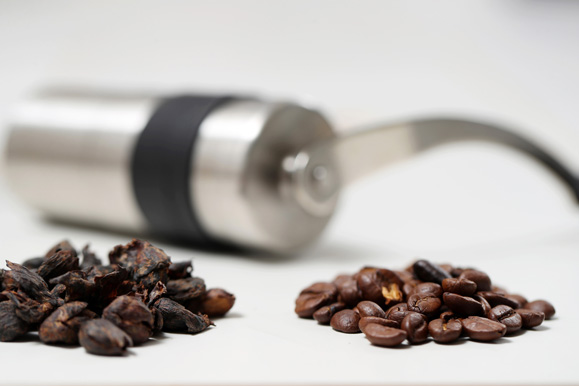 Cascara used in Cascara Ventures

A cash prize pot of $10,000 was generously donated by a local business person in the community. Top prize went to Jeremy Stroud and Rebekah Bailey and their business Cascara Ventures. Second prize went to Joecy Peters who was pitching her business idea, Equine Acu-ezze. Finally, third prize was awarded to a team of four- Morgan McNeil, Brandon Simmons, Tyler Jollimore, and Ian Henderson, and their business idea, Plentiful Pomace Co.
Meeting every week with Cultiv8, students worked tirelessly in the weeks leading up to Pitch Ag to perfect their business ideas. Cultiv8 hosted guest speakers and pitch training and encouraged students to get out and validate their ideas with potential customers.
"Cultiv8 offered brainstorming sessions, problem solving methodology, real-world entrepreneurial talks and mentor-based pitch training events to all interested teams since the beginning of September," says Jeremy Stroud whose team placed first in the competition. "The club has been an incredible resource for my team over the course of the year."
Although the majority of students participating in Pitch Ag were Dal AC students, one high school student participated in the competition. Joecy Peters, a student at Cobequid Educational Centre (CEC), became interested in Cultiv8 when Cultiv8 attempted to initiate a Cultiv8 Club at CEC. Although work-to-rule restricted the Cultiv8 Club at CEC, Joecy made an effort to attend weekly Cultiv8 meetings on the Agricultural Campus. Her dedication earned her second place in Pitch Ag.
While not all students took home a prize, none walked away empty handed. Students gained valuable pitching experience and feedback from judges. Armed with experience and a better understanding of the art of pitching, students look forward to pitching at the next competition.
See below for a full list of Pitch Ag competitors and descriptions of their business ventures.
Team

Members

Description

Plentiful Pomace Co.

Morgan McNeil, Brandon Simmons, Tyler Jollimore, Ian Henderson

Plentiful Pomace Co. is a manufacturing company that takes waste apple pomace from Bulwark Ciders (New Ross, NS) and manufactures it into horse and dog treats, reducing waste food items in the process.  Treats are made by combining molasses, oats and pomace (with seeds removed) and baking in the oven.  Pomace sliders are a fresh baked treat, with limited shelf life.

MHM: Mental Health Monitor

Clara Bullock & Holly Fisher

A mental health watch that keeps track of mental health and body patterns, keeping support team available and collecting data for doctors.  

STEMgirl

Jennifer Lapido

Encouraging young girls from K-12 in Science, Technology, Engineering and Mathematics through creative literature and fun apparel.

Quad Bog

Alex Place

A durable and versatile wetland demonstration apparatus that can be used in simulating actual wetland ground water and the effects of contamination.

Cascara Ventures

Jeremy Stroud & Rebekah Bailey

Our idea is to utilize the fruit from raw coffee beans, known as Cascara. We create healthy, high-antioxidant goods using this natural by-product.

Farm Safe

Alec McOnie & team

An innovative system, operating through an app, to promote safety and maintenance on farms

One of a Kind Landscaping

Mitchell Watt

One of a Kind Landscape Servicing specializes in creating unique yards, planters, and custom arrangements. We oversee the job from start to finish, beginning with a design and finishing with the execution of the plan. Due to increasing depend we are looking into expanding the operation.

Equine Acu-ezze

Joecy Peters

Using acupressure points for equine saddle pads

Horse Manure Heat

Patrick Wells, Shreesha Sanjaya, Travis Mercer, Jennifer Ladipo, John Yool, Will Bekkers

The project is in partnership with the Truro Raceway. Our goal is to reduce their heating costs and their waste removal costs by converting horse manure to heat. 

Mithra

Mitesh Patel

Working with local seniors to create works of art

East Coast Hemp Co.

Katie McNeil & Morgan Priske

A company that provides education and support for farmers transitioning to hemp or young farmers entering the industry for the first time. We also provide access to global hemp markets for these farmers and provide marketing and logistics services. 

Everyday Change

Lauren Pattison & Debbie Ost

Everyday Change is a business focusing on reducing food waste and making consumers more aware of their carbon foot print. We create new and innovative menu items using the resources accessible to us in each given area. 

Bay's End Brewing

Nathaniel King & Coleman Porter

 

We would like to make craft beer and other alcoholic blueberry products.