News
»
Go to news main
Top Spot for Determined Aggies at Annual Rick Russell Woodsmen Competition
Posted by
Stephanie Rogers
on February 15, 2017 in
News
It was a day the Dal AC Woodsmen teams had been tirelessly training for -  eagerly awaiting their time to shine on home turf in front of their peers and biggest fans after months of competition on February 11th, 2017
For more than three decades, Dalhousie's Faculty of Agriculture has hosted the Rick Russell Memorial Woodsmen Competition. A much anticipated event on campus, the Competition sees more than 20 teams from six institutions from across Canada and New England gather in Truro to compete in the final Canadian Intercollegiate Lumberjacking Association (CILA) competition of the season.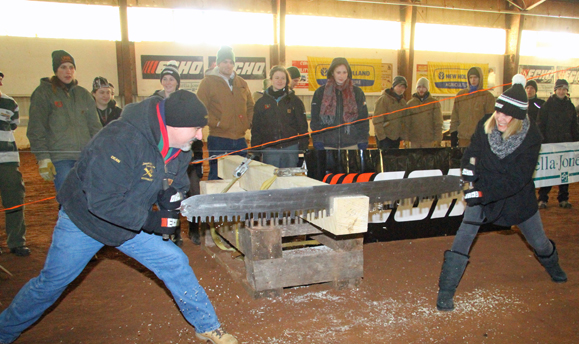 Dean David Gray and Laurie Workman – National Marketing Manager ECHO Canada make the first cut.

Every competition in the CILA offers four team events, three doubles events and six singles events. Team events include team swede sawing, team crosscut sawing, log decking and pulp throw. Doubles events include vertical chop, underhand chop and quarter split. Singles events include pole climb, chain saw, water boil, single buck, super swede and axe throw.
Twenty-six students make up four Dal AC Woodsmen teams- two men's teams and two women's teams. All teams practice and train for months, preparing themselves for four competitions throughout the season. This season, competitions were hosted in Fredericton, N.B. (UNB), Lindsay, Ont.(SSFC), Ste-Anne-de-Bellevue, Que. (Macdonald Campus of McGill) and finally, the Rick Russell Woodsmen Competition at home in Truro, NS.
Teams come from across Eastern Canada for the Rick Russell competition. Schools from Nova Scotia, New Brunswick, Ontario and Quebec compete as well as teams from Maine, USA.
For Dal AC students, the annual competition takes months of careful planning. Nearly as much work goes into planning and promoting the competition as it does training for the competition. For the second year in a row, Jessie Swinamer, co-chair of the organizing committee and team captain of the Ladies A team co chaired the event with fellow AC student Connor Morse.
"It takes us about five months to prepare for this event." Jessie says. "We start in the fall with ordering wood, booking facilities and staff and sending sponsorship letters. I find it easier planning this year as it is our second year as co-chairs. We have a better idea of our deadlines for getting tasks done and how much sponsorship funding we will need. We also focused a bit more on promotion and marketing opportunities like reaching out to more newspapers, radio and television reporters and creating more promotional videos for the event."
The competition honors Rick Russell, a coach of the woodsmen team for 24 years.  In 2004, Russell lost his battle with cancer and the event was re-named to honor the passion and dedication he demonstrated to the sport and his students.
"Competing away is not as exciting as competing at home," says Jessie "The other competitions don't draw as large of a crowd from the general public. The Rick Russell competition is my favorite time of year. Our team has so many fans cheering for us in the stands that it gives you butterflies when you're getting ready to start an event. It's such a warm feeling to be able to look up into the crowd and have spectators waving and cheering your name all day long."
Again this year, the Dal AC Woodsmen did not disappoint on their home turf.
The women's A team placed third in the Rick Russell competition and third overall within the CILA standings. The ladies placed first in all four team events and received second place in the single buck (Jessie Swinamer) and in chainsaw (Megan Wynn) and third in vertical chop (Jessie Swinamer & Kamryn Findlay).

The ladies B team earned a fourth place finish at the Rick Russell competition. Ladies B also earned a fifth place in the CILA standings, a first in pole climb (Mel Porter), second in super swede (Jillian Bent) and third in team swede saw.

The men's A team placed first overall in the Rick Russell competition and earned first place in CILA   standings for the second year in a row.  The men also saw a first place in all four team events and log burling (Brad Elliot). Second place finishes were notable in both the pole climb (Kyle Corsten) and chain saw (Dan McCallum). Finally, the men saw third place finishes in standing block (Dan McCallum and Brad Elliot) and single buck (Marco Levac).

The men's B team took home fifth place overall at the home competition. They also earned themselves a first place in axe throw (Jordan Bauchman) and chain saw (Jon Omvlee) with a second place in log burling (Scott Withrow).  The men's B team finished 4th in final CILA Standings.
The Dal AC Woodsmen are thrilled to have pulled off yet another successful Rick Russell Woodsmen Competition and are already looking forward to next year.