News
»
Go to news main
Faculty of Agriculture student wins Excellence Award based on modern farming experience
Posted by
Stephanie Rogers
on July 16, 2015 in
News
By Emma Geldart
Robyn McCallum (Class of 13) knows exactly what it's like to be a young, modern farmer. A graduate student at Dalhousie University Faculty of Agriculture, Robyn's farming experiences prompted her to enter an essay contest for an Excellence Award for Agricultural Students.
Her essay, entered in the form of a blog, earned third place out of all of the participants in Canada.
Farm Management Canada (FMC) partnered with the Canadian Association of Diploma in Agriculture Programs (CADAP) to offer the contest. The contest encourages agricultural students to enhance their communication skills and raise awareness of the importance of farm business management. Three winners are selected from entries across Canada and are awarded money towards their agricultural education.
"It really is an honor to have even placed," Robyn explains. "The question that was asked was something that I am passionate about, so I entered without even thinking I would place."

For the contest, students are required to answer a question based on agriculture. This year's question asked, "how can the agricultural industry best support young farmers looking to succeed in an ever-competitive and complex global marketplace?" Participants could be creative and submit their answer in the form of an essay, video or blog. Robyn chose to submit a blog.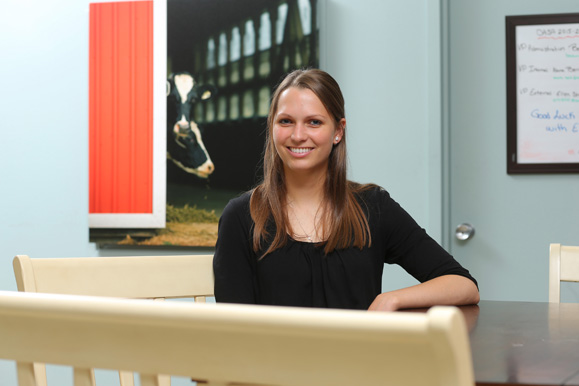 In her blog, Robyn writes about three main points that she believes are key for the agricultural industry to support young farmers- skills support, trust and de-stigmatization.
"We can no longer farm like the generations before us." Robyn writes about skills support. "Young farmers must be at the ready to change crops and business practices to meet markets and customer demands….We need to educate young farmers and provide lifelong learning opportunities. Not only agricultural knowledge, but communications and technology."
Robyn also emphasizes that the industry needs to trust young farmers.
"Too often talented, intelligent young farmers are kept under the thumb of the older generation," she writes. "Imagine the growth and success of our industry if we embraced new ideas, switched up our practices and made more money?...We need to empower our younger generation. That involves trust and emotional support."
Her final point stresses the importance of de-stigmatizing young farmers.
"It's not that young farmers don't work as hard- they do," Robyn writes. "But they have adapted in numerous other ways to make their lives more enriching and efficient. They have embraced technology. They have accessed invaluable accounting and banking services to make sure their farm is at peak efficiency. They pay themselves, schedule vacations and plan for retirement…. We as young farmers must be energized to make a difference. That's where de-stigmatizing our image as 'modern farmers' comes into play."
A young farmer herself, Robyn's opinions and suggestions come from direct, personal experience. The success of young farmers is something she is very passionate about. She hopes that the blog will shed some light on these issues and start a debate.
"Young farmers have different ideas and that is sometimes thought of as wrong," Robyn explains. "I'd like to change that perception. I'd like for young farmers to feel comfortable to strive for a decent salary and have vacation time. I understand that not everyone agrees with this viewpoint, but I think it's important that we talk about this obstacle in agriculture."
Growing up in Tabusintac, NB, Robyn grew up on her parent's farm. Farming together with her family, they raised beef cattle, grew strawberries, raspberries and a number of vegetables in greenhouses. With three other siblings, there was never a dull moment growing up in her household. With farming always in her blood, Robyn and her partner, Ryan, have taken it upon themselves to start a farm of their own.
"Five years ago we grew a quarter acre of sweet corn," Robyn explains. "We were successful and that got us thinking that maybe we could make our dream of farming a reality."
Now, Robyn and Ryan are farming 550 acres which includes their own crops of corn, soybeans and wheat as well as custom farming for other producers. Their success is based on their determination and their modern perspective on farming. They have managed to keep their costs down by renting their farm land and by doing much of the labour themselves. Robyn explains that they are grateful to have the help and support from their friends and family who have helped them out during peak times of the season, such as planting and harvesting.
"Ryan is a mechanic so he is able to fix our equipment," Robyn explains. "And where we both have a background in farming, we are able to make everything work. We are living the young farmer experience and it's been an amazing and successful journey so far."
In addition to their farm, Robyn is working on her PhD on the Dalhousie Agricultural Campus. Her research looks at how farming systems and agro-eco systems can be enhanced and improved for pollinators and natural enemies. She is carrying out her research in wild blueberries and is hoping to complete her research by December 2016.
If that isn't enough, for two years, Robyn has been the face of the Dalhousie Agricultural Students Association (DASA).  She also served as VP Internal Affairs for 3 years and is now entering her third year as president of DASA. Despite all that she has on her plate, she couldn't be more excited.
"Being involved in DASA has been one of the best things that has happened to me on this campus," Robyn explains. "I came here six years ago and was very shy and didn't know anyone. DASA has been amazing for my communications skills, connecting and meeting people, and really making a difference on campus."
In the little spare time that she has, Robyn and her partner show draft horses. They currently have two Belgian horses that they show locally in New Brunswick. With everything she has going on, Robyn explains that it's important for her to find a work-life balance.
"I'm working on balancing work and life," she says. "I'm not perfect at everything I talked about in my blog but I'm working on it. I try not to check my emails on evening and weekends and I try to take some time off on weekends to focus on my family and enjoy it. It's little things like that. This has definitely been a learning curve."
Despite the challenges of being a young, modern farmer, Robyn's success is evident through her academic and personal accomplishments. As her farm grows, she is always changing, adapting, and adjusting to the needs of her customers and the industry- something that she hopes all young farmers will continue to do.