News
»
Go to news main
Creating Opportunity with the P Y Hamilton Scholarships
Peter Hamilton (Class of '44) knows what it's like to struggle as a student. He looks back with fondness and a knowing chuckle as he relates his schoolboy days, working odd jobs to help pay his way. While attending the Nova Scotia Agricultural College, Peter and his classmates were put to work harvesting vegetables before classes started. Peter often found himself on turnip duty. While attending the University of Maine, he was in high demand as a caponizer for local producers, specializing in the extraction of reproductive organs of roosters. He was so skilled in this area that is wasn't uncommon for him to caponize 1,000 birds a day. Perhaps his most fortuitous job came about when a friend's violin case fell open and a mouth organ fell out. Peter picked it up, started playing, and a new band was formed. They played nights and weekends to earn enough to keep their tuition and living costs paid.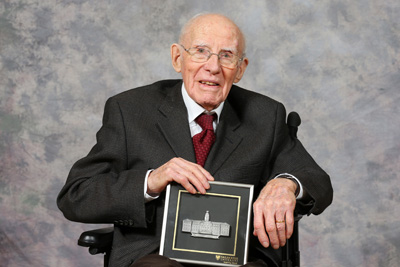 Peter was recently inducted into the Dalhousie Heritage Society, and recognized at the Faculty of Agriculture Scholarship Banquet for his generous legacy gift. In 2013, Peter established the P Y Hamilton Scholarships with a planned gift he began decades ago. On the suggestion of a colleague, he began to invest in an insurance policy to benefit the Nova Scotia Agricultural College. He started early, and put aside a little bit at a time. Years later, his gift is now worth close to $100,000, and will support three $3,000 awards per year. Open to degree and diploma students on a renewable basis, he hopes that the scholarships will help students all the way through their program. Peter finds great joy in knowing that students will be helped in such a significant way, and great comfort knowing that their financial burden will be eased to allow them to focus on academic challenges.
Peter is no stranger to the benefits of earning an education. After graduating from NSAC Peter attended Macdonald College (Class of '47) to complete his Bachelor of Science degree in Animal Science, and then to the University of Maine (Class of '52) for his Masters degree, also specializing in Animal Science. Before returning to Macdonald College as a professor, Peter hosted Country Calendar on CBC radio, the precursor to Country Canada. For four years Peter's voice could be heard in living rooms across Atlantic Canada, celebrating the men and women contributing to agriculture in this region.
Sharing these success stories was a rewarding experience, but Peter's interest drew him back to academia. After teaching at Macdonald, Peter's first alma mater called him back to Nova Scotia, where he began teaching chemistry and animal science at NSAC. Peter, affectionately called PY by his students and colleagues, became Registrar, serving the college for 10 years in this capacity. At 89 years of age, Peter still attends alumni receptions and the scholarship banquet, where he reconnects with former students and colleagues eager to bring him greetings.
During his many years of teaching, Peter forged a special bond with his students. He cared, he listened. He made them feel like they were the only one in the room. It is this special connection and love for teaching that motivated Peter to give back. He believes that students can do so much for the world if they are given the opportunity. With thoughtful planning and a generous heart, Peter has established a legacy that will help many students achieve their goals.
Peter feels fortunate to have had the opportunity to learn, to succeed and to pass along his love of agriculture to the next generation. He hopes that his scholarship will do the same for others. We know it will.