The Program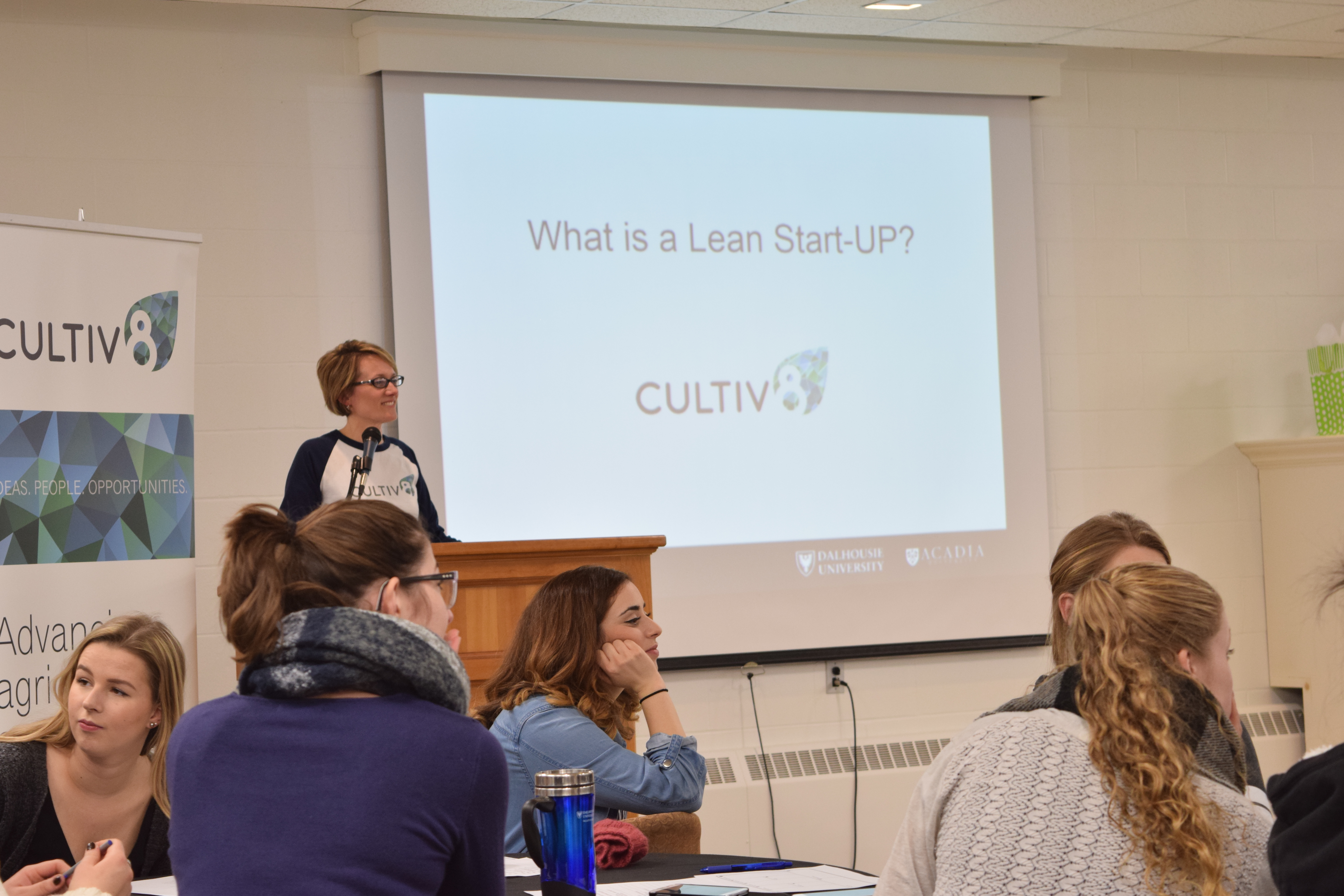 2017 Winter Program 
The winter Cultiv8 program is full of opportunities to validate your ideas, gain skills in business model development and learn more about innovation and entrepreneurship. Attendance is voluntary (unless required by specific courses) and drop-ins are welcomed!
Events are held on the Dalhousie Agricultural Campus unless otherwise stated, and are open for all students and faculty. Most times, community members are welcome as well.
Check the Cultiv8 calendar tab for specific event details. 
Topic  
Description  
Date
Details  
Winter Welcome
Drop in anytime from 4-5 pm to check out our programming for the winter. Treats and giveaways are planned!

Tuesday, Jan. 10

4 pm, Cultiv8

Open to all

Ideas & Opportunities
Be part of a lively panel discussion on the opportunities for agriculture in food, tourism and technology. Maybe you will leave with your best idea yet!

Tuesday, Jan.17

4 pm, 

Cox Rm 262

Idea Validation

Test your developing idea by attendng our validation workshop. Work on your own or join a team to spend 24 hours crafting a value propostion and reaching  for customer feedback. You will be introduced to the Business Model Canvas and the Lean Start Up methodology that has taken the entrepreneurial world by storm.

Limited capacity, registration required. Get your tickets here. 


Fri/Sat, Jan 20 & 21

Starts 5 pm Friday, Riverview Room, Dal AC 

Limited community spots- registration required. Check website for details.

Blocks to Building the Business Model 

Join us every Tuesday from Jan 25 to March 15th as we break down and explore the key elements of developing a business around your idea. Don't have an idea? Don't worry! Work with others, or just listen and learn for valuable skill development. Check our event calendar for weekly topic updates.
Tues, Jan. 24 – March 15
4 pm, McRae library, upstairs. Open to all.
Foodcamp
Spend the day with the food product specialists from Perennia as they walk us through the process of taking your new food product to market. 40 spots available, registration required. Contact jmaceachern@dal.ca.
Monday, Feb 27

9-4:30, Perennia Innovation Centre,

Students only

Pitch Training
Get ready for PitchAg 2017! Pitching is a skill that can be learned. Guest entrepreneurs will teach the tricks so we can gather support for our awesome ideas! 

Tues, March 21
4 pm, McRae library, upstairs, open to all
PitchAg 2017
Pitch your business model for a chance to win some cash and support to help further your idea. The event cumulates with our Cultiv8 year-end party!

Tues, March 28

4- 6 pm, Riverview Room

Competition open to teams with at least one Cultiv8 student member
External Events
Cultiv8 occasionally provides financial support to students who attend external events relative to entrepreneurship. Financial support deicions are made on a per-case basis.
| | | | |
| --- | --- | --- | --- |
| Topic | Description | Date   | Details |
| Bridging the Gap: Farm Succession | This workshop welcomes farm families to work with renowned industry experts to address issues that are preventing or hindering succession planning on the farm. Check out the event information here. | Feb 9 & 10 | Best Western Glengarry |
| Innovate for Value Chain Development | By understanding what customer value is, and its importance along the supply chain, you can identify areas in your farm business to innovate and grow. More information about the Dal AC event for those interested in attending | Feb 10 & 11 | Dal AC |
| Starting Point Student Entrepreneurship Conference | Join other like-minded students from across Canada to explore and learn more about how to be a successful entrepreneur. Learn more about the conference at Saint Mary's website. Contact Jolene if you are interested in this opportunity. Limited spots available. | Feb 21-23 | St. Mary's University |
| Rise Up Seminar Series: Building Your Team | The second in our provincial seminar series, this workshop will teach you how to attract and retain the right talent required for business success. | March 3 &4  | St. Mary's University |