Sherry Porter
Always building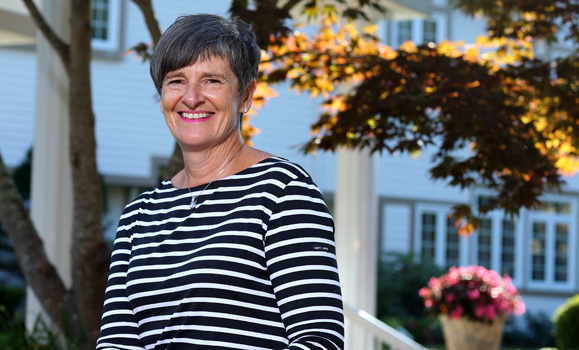 Our roots are always a part of us. No one knows this better than Sherry Porter, who once felt like a career within the agriculture industry wasn't the right fit for her. But the professional foundation from the AC helped her build a long, successful career worth celebrating.
After growing up on a dairy farm, as a young woman Sherry Porter wanted to leave her agricultural roots. She had plans to move away from farming and study economics, but at her family's insistence she started at the then NSAC in 1973. Today, she calls it the best decision she ever made.
"People don't realize the doors that agriculture can open," says Sherry. "Going to the AC and then working for a few years in agriculture, I was able to learn and understand the entire food chain. I was exposed to everything from primary production, through manufacturing, and finally the wholesale distribution and retail network."
In 1975, she received her associate degree in agricultural economics from NSAC, followed by a bachelor of science in agriculture and resource economics at the University of Maine. Since graduating, her career has been diverse, but she credits the AC for equipping her with the business savvy and hands-on problem solving skills to tackle every role and position.
"Today, more than ever, there are so many opportunities connected to the food chain," she says. "The research and partnerships that come with being a part of Dalhousie are especially exciting to me. Students today have so much to experience."
Starting her career with the Nova Scotia Department of Agriculture and Marketing, Sherry helped market Nova Scotia-grown products like blueberries, apples, dairy, beef and chicken across the country.
"I promoted wild blueberries to the restaurant and food service industry through trade shows regionally and nationally", she explained. "I worked on plans with Oxford Foods, and manufacturers like Sarsfield and McCain Foods who used wild blueberries in their products. I have visions of myself wearing blueberry coloured blazers talking about blueberries to anyone who would listen!"
All of this exposure to producers and the manufacturing world came in handy as Sherry entered the corporate world years later. "My career took me to several places where I used this knowledge in a very practical way. The general business skill sets can then take you anywhere."
The skills Sherry gained at the Agricultural Campus and through working in the agricultural industry helped her build success in every new job she tackled. Her most recent positions include Director of Public Affairs for Sobeys Inc., Vice President, Public Affairs and Marketing for Nova Scotia Power Inc., Vice President Corporate and Government Affairs for Shoppers Drug Mart Limited, and President and CEO of the Canadian Association of Chain Drug Stores.
Her commitment to her community is equally impressive. Sherry has dedicated her time to organizations like the NSAC Foundation, Symphony Nova Scotia, the Canadian Breast Cancer Foundation, the QEII Foundation and the Pier 21 Society. Today she sits on the Board of Governors for Dalhousie University and is still deeply connected to the Agricultural Campus.
"I care very much about the future of the AC," says Sherry. "It's helped me become who I am, and I'll always maintain my connections there."