Mason MacDonald
Always inventive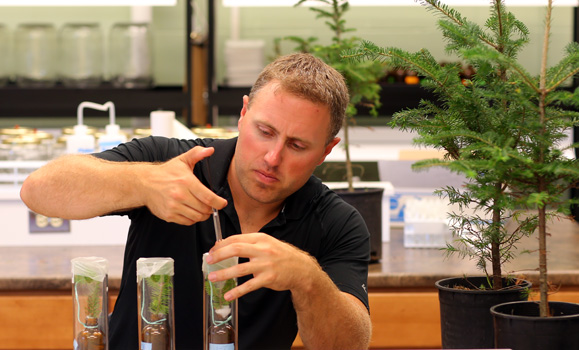 Research is a key part of agriculture, whether it's in the field or in the lab. Mason MacDonald is helping to revolutionize one of Nova Scotia's most important crops: the Christmas tree. And he's seeing his work lead to real benefits across the region. Mason's undergraduate degree in environmental sciences carved out the right path for him to pursue his research interests. Learn more about the environmental sciences degree here. 

Mason MacDonald didn't set out to work in agriculture. In fact, he had medicine on his mind when he started his undergraduate degree in environmental sciences in 2000. But after a year at NSAC, he realized that he had a passion for research—or, more specifically, for focusing his research efforts on tackling real-world problems. By the end of his four-year degree, Mason found himself working directly with the local agricultural industry and seeing tangible results.

"The research I was doing had an immediate impact, and that was hugely exciting" says Mason. "We went beyond the textbooks and learned by getting in the field and doing. There's nothing more rewarding than seeing your work yield real results for real people."
This hands-on mentality continues to shape Mason's work today. His PhD research, a project led by his mentor and current supervisor, Dr. Raj Lada, tackles a crucial industry issue for Christmas tree farms across Nova Scotia: needle loss in balsam firs.  "My thesis work focused on helping prove that a plant hormone called ethylene was a factor in needle loss post-harvest," he says. "Once we determined this, I knew that I needed to continue on with a post-doc. I was lucky to have a mentor in Dr. Lada, who encouraged me to stick with science. We figured out what was causing the needle-loss problem, but I also wanted to help find a solution."
As a post-doctoral fellow at the Faculty of Agriculture, Mason continues to do research that he hopes will one day directly improve practices for Canadian Christmas tree farmers. The industry is worth approximately $50 million in Atlantic Canada alone, employing thousands of producers and exporters. His current studies investigate what causes ethylene to be triggered by examining the harvest process and environmental conditions that result in needle loss.
Looking ahead, Mason sees many opportunities for further innovations. "As part of Dr. Lada's team at the Christmas Tree Research Centre, we've examined different species of Christmas trees that are thriving in other areas and regions," he says. "We're hoping to develop a smarter, sturdier type of balsam."