Dale Ells
Always committed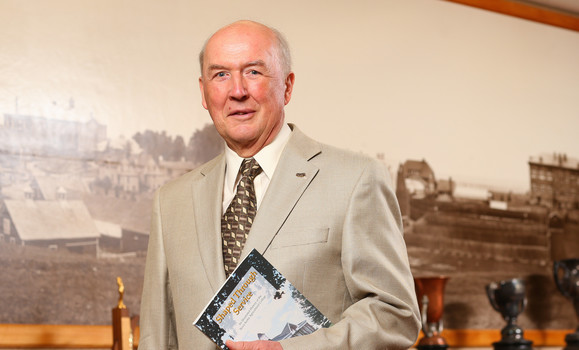 Dalhousie's Faculty of Agriculture is a cornerstone of Atlantic Canada's agricultural landscape, and has been for generations. Dale Ells' commitment to helping this community thrive is an example that all students, professors, alumni and partners can follow.

No one knows the Agricultural Campus better than Dale Ells. Graduating in 1959 from NSAC's degree diploma program with high honours, he returned to the campus in 1966 as the Dean of Vocational and Technical Education, a position he held for nearly three decades. Throughout that time Dale made a significant impact, not only at NSAC but also across the broader industry. He was instrumental in expanding the college and establishing it as a Canadian leader, ensuring that as the industry changed, new and innovative programming was created, facilities were expanded and enrolment grew.
Although he has been retired for 20 years, Dale remains connected to the AC. His book, Shaped Through Service, a research project completed in 1998, is a comprehensive history of the NSAC and a valuable resource for students and faculty. As the campus celebrates its 110th anniversary throughout 2015, we asked Dale to share some highlights both from his career and the AC's remarkable past. He is quick to emphasize the Faculty of Agriculture's commitment to serving and strengthening the agricultural community as a common thread throughout the institution's history.
"Right from the start, NSAC was focused on education and related research that students could use as professionals or as preparation for farming in their home communities," says Dale. "From the early days, when the college concentrated on education in agricultural sciences and the practical knowledge of farm work and management, any research conducted on campus was to address a real-world farm problem. They didn't do research to be published in peer-reviewed journals—they were focused on what would help people on the farms."
One example dates back to the Second World War, when efforts were made to improve the work environments on local farms, where women were performing more physical labour because so many men were fighting overseas. In 1944, agricultural engineers who worked both as extension specialists and professors at NSAC, addressed the challenge of improving the difficult and unpleasant task of de-feathering chickens by inventing a poultry-plucking machine.
"The poultry plucker was hugely successful because it could be built from standard farm materials at a low cost, since it used pieces of garden hose and other recyclable materials," says Dale. "The goal was to make it accessible so anyone who needed it could purchase a copy of the plans for 25 cents." The plans proved to be so useful that by 1945, dozens of requests were coming in from women across Canada, the United States, Australia and several European countries.
This strong connection to the agricultural industry and the people it serves remains evident in the work taking place at the Agricultural Campus today. Since the NSAC merged with Dalhousie in 2012, there are more opportunities than ever to develop industry partnerships, both regionally and internationally. It's an achievement of which Dale is particularly proud. 
"Near the end of my time at the AC, there was both a need and an opportunity to develop international programming," says Dale. "We set up a Centre for International Development on campus, to help with hosting international students and to facilitate partnerships with agricultural institutions and services in other countries. Our first overseas development partnership was with Gambia College's School of Agriculture in West Africa."
The Gambia College program continued for 10 years and was extremely important. Since 75 per cent of the Gambian population depends on crops and livestock for their livelihood, the country's economy relies on a healthy agricultural industry. Through Dale's leadership, the AC hosted several faculty and students from Gambia College and sent replacement staff to help with work there. The Faculty of Agriculture remains dedicated to pursuing other international programming today.
Looking to the future of the quickly changing agri-food and agriculture sector, Dale believes that adopting an international perspective is vital for developing economically and environmentally sustainable agricultural systems. "The structure within the Dalhousie system has no borders," he says. "With the increased internationalization of educational programs at the AC, there will be new opportunities for internationalizing related research through partners and sponsors in other countries. It's an exciting time to be at the AC."