Burns Family
Always planning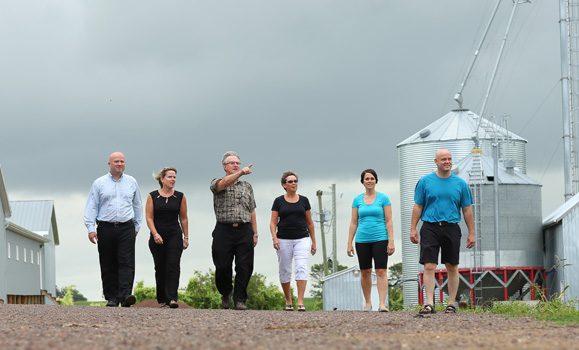 Learning and change are natural parts of agriculture, and so is planning for the future. The Burns family approaches everything in life with an eye to learning more.

Nathan Burns and his wife, Wendy, met in the late 1990s while they were attending the then NSAC. Nathan (Class of '99) studied agricultural engineering and animal nutrition, and they both took surveying. "What we learned in university has been beyond practical in helping us manage and expand our poultry farm," says Wendy (Class of '97) who studied environmental biology and pest management. "We've built several things and have been able to use the skills we were taught, like being able to understand our contractor's blueprints. It's practical uses like those that go a long way."
The Burns Poultry Farm in Freetown, PEI, has been in the family for seven generations. Nathan and Wendy bought the farm from Nathan's parents, Donald and Lorna, in 2001. Both Nathan and Wendy grew up on farms: Nathan on his family's and Wendy on a small hobby farm outside Moncton.
Even though they came from farming families, the AC taught the Burns about agriculture, plus a whole lot more. "We learned how to learn," says Wendy. "We learned the importance of questioning everything, of researching and of how to read something critically."
Nathan and Wendy, who have been farming and involved in the agriculture industry in Atlantic Canada for a couple of decades, are starting to witness positive growth and change. "We see more food being produced here, and people are becoming more aware of how their food is being produced," says Wendy. "We hope this trend will continue. We want people to become even more conscious about the food they're buying and consuming."
Nathan isn't the only Burns sibling to have attended the AC: brother Nigel (Class of '95), who is the director of the Economics, Statistics and Federal Fiscal Relations Division of PEI's Department of Finance, studied agricultural economics there, while sister Natalie (Class of '92) earned a BSc and also studied agricultural economics. "I wanted to study science and business, and the AC gave me the best of both worlds," she says.
Now a financial advisor with Sunlife Financial, Natalie's agriculture education helps her connect with her many clients who work in the farming community. "I can understand their unique needs and challenges from an investment insurance point of view," she says. "I also help them with farm transfers and estate and financial planning. Because my family has gone through it from one generation to the next, I understand succession planning."
Natalie credits her father, Donald, for instilling an interest in the campus in his children. "He really held it in high regard as a great institution," she says. Donald (Class of '62) studied general farming at the AC, and throughout his career he worked in several sectors of the industry. After graduating, he was hired by the provincial Department of Agriculture, Langley Fruit Packers in Montague, Bicks of Canada and Jiffy Foods in Ontario. He has done everything from production and processing to soil analysis and plant and farm management.
When Donald's father passed away in 1969, he returned to PEI to take over the family chick hatchery and breeding farm. Since then, he has helped the farm successfully evolve to focus on producing table eggs. He couldn't have been more proud when Nathan and his family stepped in to run the show in 2001.
"We really are a farming family," says Donald. "We've always had an entrepreneurial spirit and the desire to continue learning. Graduating from the AC opened doors for all of us. The options coming out of the campus are limitless."