Rapid Point of Care HIV Testing
A Pilot Study
Team: Dr. Jacqueline Gahagan (Principal Investigator), Dr. Todd Hatchette (Site Investigator), Cindy MacIsaac, Michelle Proctor-Simms, John Fraser, Maria MacIntosh, Patti Melanson, Gaynor Watson-Creed, Frank Atherton, Ian Davis, Nathaniel Lewis, Jacqueline Atkinson
Background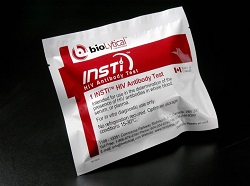 According to the Public Health Agency of Canada (2012), it is estimated that approximately 25% of HIV positive people in Canada do not know their HIV status. This fact suggests the need to improve access to and ease of HIV testing as an important element of HIV treatment and prevention strategies. Access to HIV testing in Nova Scotia is generally sought through a health care provider or through 1 of 2 anonymous HIV testing sites (one in Halifax and the other in Sydney). Rapid point-of-care (POC) HIV testing, although not currently available in Nova Scotia, has become a means of increasing HIV testing uptake rates in communities that are often least likely to come forward for conventional HIV testing and related clinically-based interventions (Bolu et al, 2004; Gahagan, Fuller, Proctor-Simms, Hatchette & Baxter, 2011; Lewis, Gahagan & Stein, 2013; Schakman et al, 2013; Swenson et al, 2011; Viorst Gwadaz et al, 2010). POC HV testing allows health care providers (HCP) to give immediate HIV test results in a variety of fixed community and outreach settings thereby reducing loss to follow up and expediting timely access to care and support services among those found to be HIV positive.

The final report from this pilot project can be found here.
Purpose of this Pilot Project
The purpose of this 8 month rapid point of care HIV testing pilot project is to determine:
Acceptability and testing uptake rates using POC testing, and
Prevalence of HIV among vulnerable, hard-to-access populations in Halifax who may be street involved, currently using injection drugs and/or in methadone maintenance therapy.

Team Composition
The nursing team consists of health care providers (HCP) affiliated with the North End Community Health Center (NECHC), Direction 180, Bailey Bus, Mainline and Mobile Outreach for Street Health (MOSH). These individuals will be responsible for interacting with potential participants, offering and administering both conventional HIV tests and POC HIV tests, conducting the consent process to become part of this pilot program, conducting pre- and post-test counseling, collecting blood samples and completing the  participant information form. The nursing team will also be responsible for ensuring that the laboratory team receives all collected blood samples, and for providing individuals who test either reactive or positive for HIV with contact information for the community outreach team. Individual members of the nursing team are also referred to as 'health care provider' (HCP) throughout this document.
The research team will be responsible for the analysis of data obtained through the participant information forms, preparing reports for dissemination or publication, organizing educational events for other team members, organizing meetings, and supporting correspondence and information sharing between the other teams.

The laboratory team consists of the individuals listed as being affiliated with the Capital District Health Authority (CDHA). These individuals will be responsible for processing all blood-draw samples, ensuring quality assurance of the POC test kits and procedures.

The community team consists of those individuals listed as being affiliated with the Nova Scotia Advisory Commission on AIDS (NSACA) and the AIDS Coalition of Nova Scotia (ACNS). The community team, in collaboration with the nursing team, will be responsible for providing ongoing support to individuals who receive either reactive or positive tests results. This will include connecting positive individuals with counseling services, and assisting them in obtaining treatment and care.
Funded by the Nova Scotia Advisory Commission on AIDS.

HIV Point-of-Care Testing (POCT) in Canada: Action Plan 2015-2020