The Importance of Patient Engagement and Collaboration in Improving LGBTQ Health in Nova Scotia
Jacqueline Gahagan (PI), Brenda Merritt, Matthew Numer, John O'Keefe & Cybelle Rieber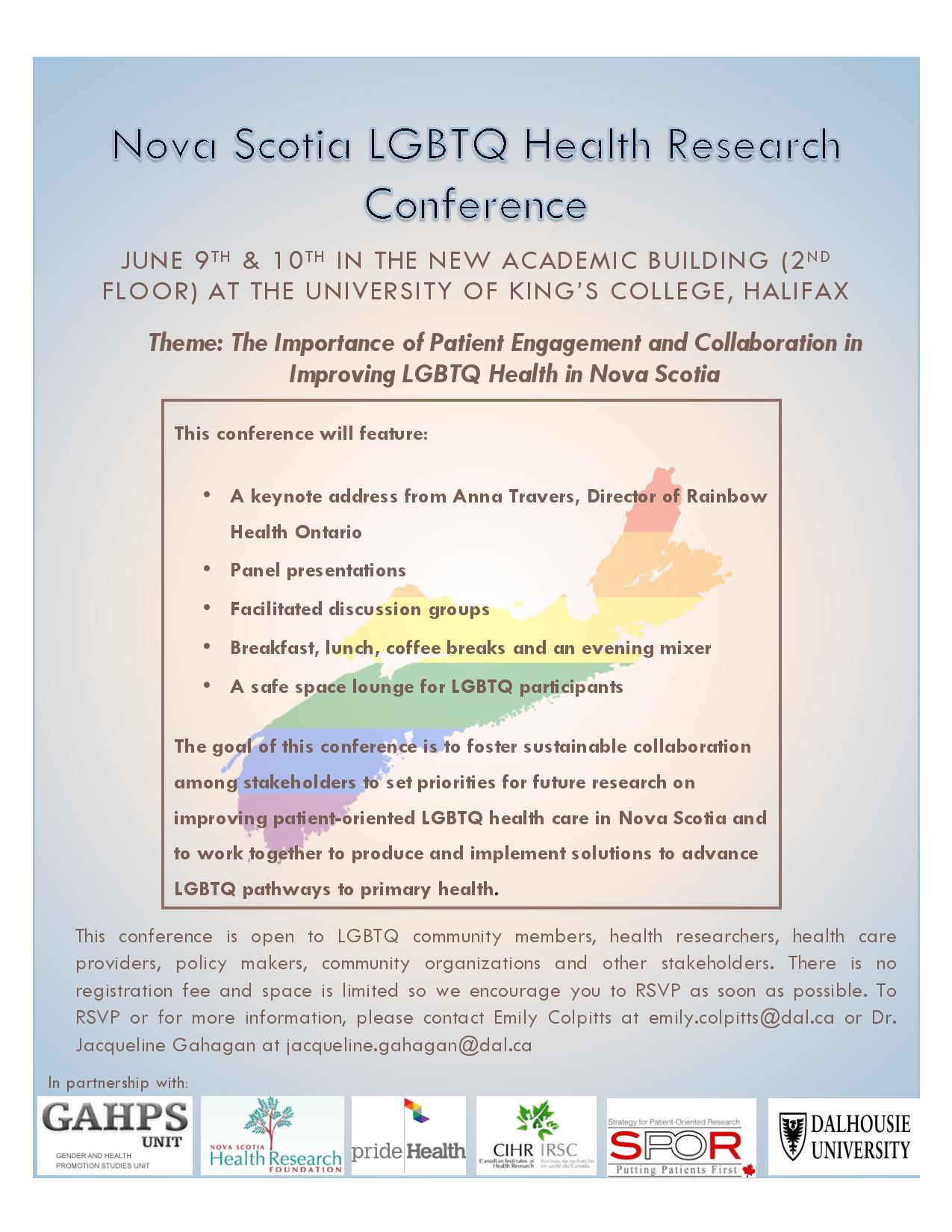 The purpose of this CIHR Strategy for Patient-Oriented Research (SPOR) Patient Engagement- Collaboration grant is to: 1) collaborate with LGBTQ populations, health care providers, policy decision-makers, health researchers and other relevant stakeholders across Nova Scotia to foster health research that focuses on priorities and outcomes that are important to LGBTQ patients, and 2) use this evidence base to help inform LGBTQ culturally competent health policies, practices, and standards.
The overarching rationale for this proposed grant is to address current gaps in knowledge in order to improve the quality of health care for LGBTQ populations in Nova Scotia. Specifically, this grant will allow us to share the findings of our research conducted to date on LGBTQ health with a wide range of stakeholders and from there, determine strategic provincial directions on improving pathways to primary health among LGBTQ populations.
Our goal in conducting this work and sharing the findings is to develop sustainable collaborations with diverse stakeholders to set priorities for future research on improving patient- oriented LGBTQ health care in Nova Scotia and to work together to produce and implement solutions to advance pathways to primary health.
Specifically, we will: 
Identify and involve citizens and patients in methods that promote consensus-building for research priority setting and embedded knowledge translation. We propose to do this by hosting the first provincial LGBTQ Patient-Oriented Health Research Conference. 
Design an engagement plan to advance LGBTQ health in Nova Scotia based on the proceedings emerging from the proposed conference and the findings of our research on LGBTQ pathways to health in Nova Scotia;
Design additional LGBTQ patient engagement methods to overcome barriers among rural and remote residents in Nova Scotia;
Develop LGBTQ patient engagement research roles within the research team;
Develop educational materials to prepare LGBTQ patients and others for their involvement in the project; and
Develop peer-reviewed publications for publishing in open-access journals.
This conference is open to LGBTQ community members, health researchers, healthcare providers, policy makers, community organizations and other stakeholders. TThere is no registration fee and space is limited so we encourage you to 
RSVP by registering online
 as soon as possible.
For more information, please contact Emily Colpitts at
emily.colpitts@dal.ca
or Dr. Jacqueline Gahagan at
jacqueline.gahagan@dal.ca
.
Funding provided by: Canadian Institutes of Health Research (CIHR) Strategy for Patient-Oriented Research: Patient Engagement-Collaboration Grant ($30,000) [In partnership with the Nova Scotia Health Research Foundation] (March 2015-February 2016)