News
»
Go to news main
HSH Prince Albert II of Monaco Tours the CERC.OCEAN Labratory
Posted by
Dariia Atamanchuk and Liz Kerrigan
on May 22, 2018 in
News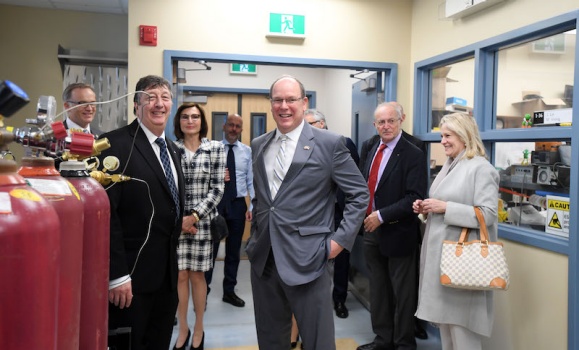 On May 8, 2018 His Serene Highness Prince Albert II of Monaco visited the Ocean Frontier Institute (OFI) and Dalhousie University. Prince Albert II has shown global leadership in addressing environmental issues and promoting sustainable development, especially as it relates to the ocean.
During his day at Dalhousie, Prince Albert II had the opportunity to meet with President Florizone, was briefed on the OFI and the centre of ocean excellence being established at Dalhousie, learned about Dr. Boris Worm's Ocean School, took a tour of the Aquatron, and participated in a round table discussion, open to the entire Halifax community.
In amidst his jam-packed schedule, Prince Albert II was also able to tour the CERC Lab and mobile laboratory containers, lead by Dr. Wallace. This was an opportunity for him to see first hand the varied work taking place in the CERC lab, and to get to meet and interact with students, post-doctoral researchers, and research assistants.
Inside the mobile laboratory container (which was packed for the next research cruise to the Labrador Sea, leaving two days after this visit) Lin Cheng, a masters student, explained a little about his instrument, which measures DIC-d13C in water samples, an important variable for understanding CO2 dynamics in the ocean. Lin was also able to talk to Prince Albert II about the benefits of using a mobile laboratory on a research cruise, and the benefits of conducting research at sea.
Mike Vining, CERC's own field technician, introduced HSH to the intricate details of the SeaCycler operation and how the mechanical excellence of the SeaCycler design has helped the platform endure a year-long deployment in the Labrador Sea. Our research scientist, Dariia Atamanchuk explained why the Labrador Sea is known as the 'hot-spot' of the North West Atlantic and why researchers all over the world study this important region of the global ocean. Dariia shared the unique data that the SeaCycler platform has provided over its last deployment in 2016-2017, showing the knowledge gap in understanding the real uptake of CO2 and, especially, O2 in the Labrador Sea.
At the end of the visit, Prince Albert II thanked the CERC group for the warm welcome and wished the scientists joining the cruise to the Labrador Sea later this month good luck.