News
»
Go to news main
Setting Sail: The Celtic Explorer leaves St. John's en route to Ireland
Posted by
Liz Kerrigan
on May 1, 2017 in
News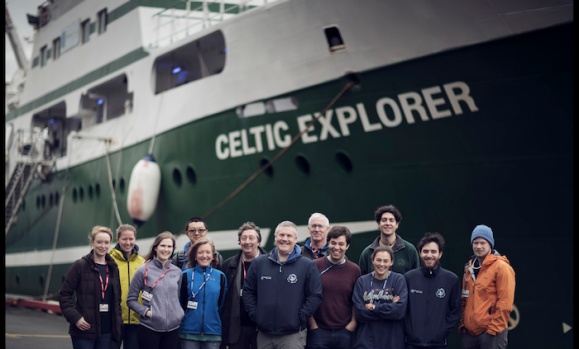 The RV Celtic Explorer departed St. John's on April 27th, 2017, heading across the North Atlantic Ocean, before it will arrive in Galway, Ireland on May 23rd. Transatlantic crossings don't typically last for 27 days, but they do when they are filled with an international team made up of 10 universities and research institutes from 6 different countries (Canada, Denmark, Germany, Ireland, United Kingdom, United States), and 19 scientists of 11 nationalities onboard, all working together to measure long-term changes in the ocean.
This cruise, CE17007, is classified a GO-SHIP, or Global Ocean Ship-Based Hydrographic Investigations Program, cruise and its purpose is to re-sample the A02 line, from Newfoundland to the shelf edge of Ireland, last surveyed 20 years ago. GO-SHIP coordinates 39 different "sections" that crisscross the ocean, with the goal of re-sampling these lines every decade. Work performed on the A02 line 20 years ago found a clear impact of anthropogenic carbon on the ocean, with this area taking up CO2 from fossil fuels more rapidly than most other areas of the globe. Because of this, we assume this signal will be even more distinct during this survey, some 20-years later. In addition to measuring CO2 and CFCs (chlorofluorocarbons), that tell us about anthropogenic CO2 content in these waters, we are also measuring nutrients, d13C, oxygen, salinity, heat, and a number of other factors that can tell us about the current health of the ocean.
The departure of the RV Celtic Explorer on this transatlantic mission garnered the attention of many news outlets, dignitaries, and scientists. The Irish ambassador to Canada stopped by to visit this Irish ship in Canadian waters, an illustration of the collaboration across the Atlantic, and a clear example of the Galway agreement, signed in May 2013 by the EU, Canada, and the U.S.A, where all 3 parties recognized the mutual benefits of Atlantic Ocean Cooperation.
Dalhousie University's 5 scientists are very happy to be joining this international team and we're excited to see the data that comes out of this mission by the time they reach land on the other side of the Atlantic Ocean. 
The CERC.OCEAN Team's five members onboard are: