News
»
Go to news main
SeaCycler Team onboard the Maria S. Merian is overjoyed with its preliminary success
Posted by
Liz Kerrigan
on May 31, 2016 in
News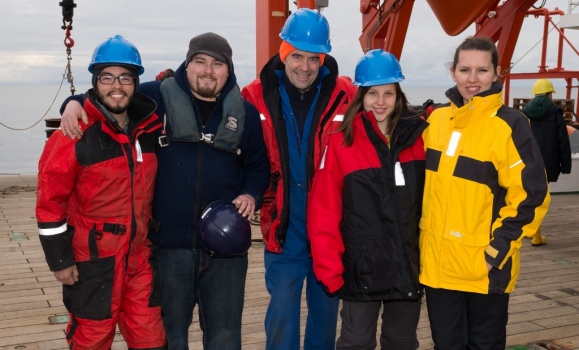 Following the successful deployment of the SeaCycler mooring in the Labrador Sea, the team is overjoyed and preliminary data has begun to be collected. Roughly 15 profiles, taken every 20 hours, have been collected, and a website with these data will be available in the coming weeks. 
In addition to the SeaCycler, a number of oxygen-optodes and loggers were deployed to capture the oxygen transport out of the Labrador Sea in the Labrador Slope Water (LSW) water mass. 
The SeaCycler project is a cooperation with DFO, Scripps Institution of Oceanography, GEOMAR and the VITALS program. Thank you to everyone involved, and be sure to follow SeaCycler's year-long deployment!
The science team onboard Maria S. Merian. Chief Scientist, Johannes Karstensen from GEOMAR is 2nd row, far right. (Photo by Emmerich Reize)
Watch a video of SeaCycler's Deployment in the Labrador Sea:
Video Credit: Johannes  Karstensen and Arne Bendinger (GEOMAR Helmholtz Centre for Ocean Research Kiel)