Office of Sustainability in the News
Read about the Office of Sustainability on campus in Dal News

Also check out the sustainability@Dal for regular updates.

Sustaining Success - May 17, 2018

Dalhousie celebrates Earth Day by presenting accomplishments in sustainability on campus throughout the year.

Celebrating Sustainability Success - May 5, 2017

Dalhousie is about to enter its third century next year- and ensuring the university is around for centuries to come means working to reduce its environmental footprint and support sustainable operations.

Green And Proud of It: Dalhousie Named One of Canada's Greenest Employers for 2017 - April 21, 2017

Break out the green streamers! (Just make sure they can be recycled once you're done.) For the second year,  Dalhousie has been named one of Canada's Greenest Employers.

Sustainability "STARS" - December 15, 2015

Dalhousie has been named a leader in two key categories in a new sustainability index that tracks the top-performing universities and colleges...

The Next Generation of Waste Management on Campus - September 1, 2015

On August 1, garbage collection across Halifax started to look a little bit different.

Saluting Sustainability Successes - May 15, 2015

If sustainability is a journey, Dal's Office of Sustainability is still making strides, year after year.

Sustainable Seafood, From Sea to Table - March 2, 2015

New partnerships bring more sustainable seafood to Halifax dining halls.

Dal Earns Gold "STARS" in Sustainability - February 12, 2015

Dal receives gold rating from the Association for the Advancement of Sustainability in Higher Education.

Ready, set... Reduce - Jan 23, 2015

Though many of us strive to make eco-changes in our everyday lives all the time, Dalhousie's official race to efficient energy begins this Friday.

Connected Cyclists: Dal Hosts its First Cycling Forum - October 2, 2014

The theme for Dalhousie's first annual Cycling Forum was connectivity.

An Earth Day Celebration - April 23, 2014

Dalhousie is planting 200 trees to replace 47 removed for construction.

Inside Dal's Sustainability Success: A look Back at Five exciting Years - April 22, 2014

Dal has long legacy of leadership in sustainability and environmental issues

Dal's Bright, Shining — and Efficient — Etar - November 1, 2013

 

Dalhousie's efficiency efforts have been celebrated by the province's efficiency experts.

Bring on the Rain - October 28, 2013

 

The Office of Sustainability recently partnered with Facilities Management and the Ecology Action Centre to build the garden.

A New Paper Policy for Dal - October 23, 2013    

 

One of the policy's pillars is a commitment to move Dalhousie to 100 per cent post-consumer paper as the base paper used across the university.

Read the rest @ DalNews >>

A Trest Track for New Bike Lanes - June 25, 2013


The Office of Sustainability hosts a Cycle Track Demonstation as part of Bike Week.


Dal Gets Help With Energy Efficiency from On-Site Energy Advisor - Mar 21, 2013


Glen MacDougal, On-Site Engergy Advisory from Efficiency Nova Scotia begins work to reduce Dal's eco-foot print.

Game on in Eco-Olympic Show Down - Mar 8, 2013


It's Eco-Olympic time again, Dalhousie residences are going head to head in a competition to reduce their energy consumption.


Easy Fleet: CarShareHFX Come to Dal- Feb 25, 2013


Dalhousie recently signed an agreement with Carshare Halifax allowing employees to use the Carshare fleet for work related travel.


Employee Transit Pass Program Gets into Gear, by Ryan McNutt - Nov 14, 2012


Today, Dalhousie and Halifax Regional Municipality's (HRM) SmartTrip initiative announced the launch of the EPass, a reduced-cost Metro Transit pass available to all permanent full-time and part-time employees, as well as associate employees.

Shedding Light on Campus' Darker Cornors, by Sher Scott - Oct 26, 2012


Campus is an ever-changing place. So to keep it safe after dark, Dal Security coordinates an annual fall "light walk" to proactively protect the university community.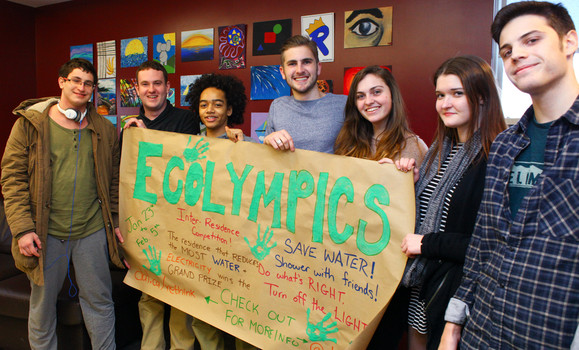 Bright Ideas, Big Savings, by Katie McDonald - Oct. 2, 2012


Dal's Office of Sustainability had the Student Union Building all lit up last Tuesday as it showcased the university's lighting retrofit project as well as a new program by Efficiency Nova Scotia intended to help students conserve energy and save money.

Hit the Streets and Join Dal in the Commuter Challenge, by Diane Connors - May 31, 2012


It's Dalhousie's second year participating in the challenge, which gets thousands of people across Canada out of their cars and onto the streets for seven days. 

Embarking on Lighting Retrofit, by Katelynn Northam - June 22, 2011

The Office of Sustainability, in collaboration with Facilities Management, are undertaking a project this year to upgrade all of the lights on campus, both inside and outside.


Dal Lauded for Energy Efficiency Initiatives, by Katie McDonald - June 22, 2011


Dal was one of 10 organizations celebrated for its excellence in promoting Energy Star products and initiatives at the 2011 Energy Star Market Transformation Awards held earlier this month in Ottawa.


Howe Hall Wins Eco-Olympics, by Trisha Dempsey - April 25, 2011

During the two-week challenge that ran March 14 to March 28, students in residence were encouraged to adopt more sustainable behavior and work to reduce their water and energy consumption.


The Scoop on the Loaded Ladle, by Julie Sobowale - April 11, 2011

The Loaded Ladle is a student-run food co-operative that serves meals from locally grown sources. The Ladle began this year when a few students from previous foodie groups joined together to offer new food options to students on campus.


Car Share Venture Launched, by Trisha Dempsey - March 25, 2011

Dalhousie will have access to two "WeCars"—available on campus for an hour's jaunt to the grocery store, a meeting out of town or a weekend getaway. Aside from the financial benefits and convenience, car share programs can help to reduce the number of cars owned and used daily.


Lights out on Saturday, by Ellen Denny - March 24, 2011

The basic premise of Earth Hour is turning off your lights for 60 minutes, but other environmentally conscious actions are encouraged, even if it's just taking the time to reflect on your own energy dependency and consumption.


Silly Sweaters, Serious Subject, by Ryan McNutt - February 16, 2011

This Thursday, Dalhousie's Office of Sustainability wants you to break out that sweater and turn down the thermostat just three degrees to help combat climate change. Dalhousie is one of five campuses the World Wildlife Fund has partnered with across Canada to promote National Sweater Day.

All Seasons Cycling, by Melissa Hennigar - December 6, 2010

Mr. Klein and Mr. Smith are Dalhousie students and recipients of Sustainability Awards from the Office of Sustainability for their commitment to cycling.

The No Impact Experiment, by Melissa Hennigar -October 26 2010

A group of University of King's College students decided to try to live impact free for one week. Organizer Daniel Brown describes the experiment as "environmental shock therapy that is meant to highlight our dependencies on unsustainable systems." Approximately 40 students took a pledge to live with no net impact for seven days.

Bicycle! by Melissa Hennigar - October 20 2010


Do you want to ride your bicycle? Now you can ride your bike where and when you like with the help of the Campus Bike Centre. Located at the Studley Gym, this small but mighty centre is working to make Dal a more bike-friendly spot.

The Greenest Building on Dal Campus

By Marilyn Smulders - September 8, 2010

"Dal's efforts at green building began with the Rowe Building in the 1990s," says Rochelle Owen, director of Dal's Office of Sustainability. "But here we're really stepping it up a notch and it's a part of larger, more cohesive effort."