Mi'kmaq History Month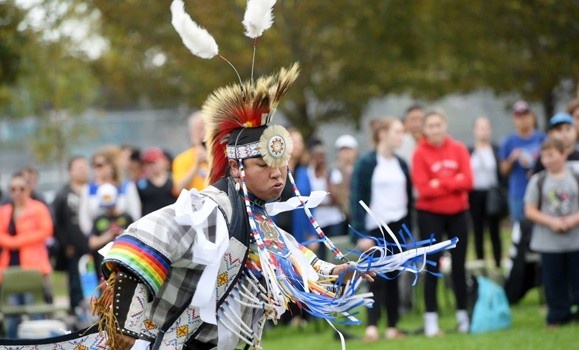 Wi'kipatmu'k Mi'kmawey/Honouring of the Mi'kmaw Way
The Creation of Mi'kmaq History Month
In 1993, Premier John Savage and Mi'kmaw Grand Chief Ben Sylliboy declared October as the official month to recognize and celebrate Mi'kmaw culture and heritage. Mi'kmaq History Month is celebrating its 24th-year and invites everyone to join in the celebration of Mi-kmaw culture and heritage.
Each October, community activities, events, sharing and showcasing the Mi'kmaw history take place across Nova Scotia. Everyone is encouraged and welcome to participate in Mi'kmaq History Month events.  
Treaty of 1752
In 1986, the then Grand Chief Donald Marshall Sr. proclaimed every October 1st as Treaty Day. It commemorates the key role of treaties in the relationship between the Nova Scotia Mi'kmaq and the Crown. The annual ceremony reaffirms the historic presence of the Mi'kmaw who have occupied the land for thousands of years. The Mi'kmaq Nation and the crown also exchange gifts to mark each October 1st. By celebrating Treaty Day, we are giving thanks to the Mi'kmaw and the Crown for signing treaties of peace and friendship. People continue to gather in Halifax, and their home communities, on October 1st to participate and enjoy various cultural events in celebration of Treaty Day. It is a reunion for many Mi'kmaq and a time for people to learn a part of Nova Scotia's 12,000 year-old history.
Source: www.mikmaqhistorymonth.ca
October 1 - Treaty Day Flag Raising City of Halifax
City of Halifax flag raising (in partnership with Treaty Day Committee)
Starts at- 11:30am
Location: Grand Oasis Stage
October 1 - Treaty Day Flag Raising Government House
Mi'kmaw flag raising at Government House at 8:30am (open to the public). An unveiling of the portrait of the late Grand Chief Gabriel Sylliboy (9:00am) and Treaty Day Awards (10:00am) will be accessible to the public by livestream.
October 4 - Sisters in Spirit Virtual Vigil
To mark the National Day of Action for Missing and Murdered Indigenous Women and Girls, Two Spirit, and Gender Diverse People, the Native Women's Association of Canada will hold a Sisters in Spirit Virtual Vigil to be broadcast on their Facebook page.