Events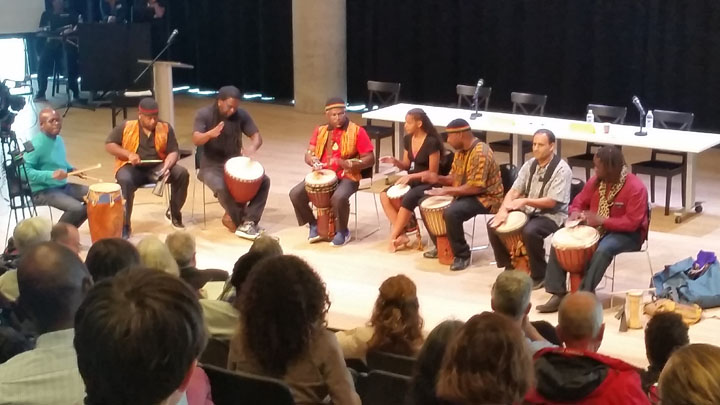 Over the Line:
A Conversation about Race, Place and the Environment
What would a different conversation about the relationship between race, place, and the environment in Aboriginal and African Nova Scotian communities look like?

Thursday 26 October: Keynote Lecture - 7 PM - 8:30 PM
Friday 27 October: Symposium - 9 AM-5 PM
George Lipsitz (Keynote Speaker), Professor, The Department of Black Studies, University of California, Santa Barbara, CA
Carolyn Finney, Professor, Department of Geography, University of Kentucky, Lexington, KY
Michael Mascarenhas, Professor, Science and Technology Studies, Rensselaer University, Troy, NY
Jonathan Beadle, Photographer & Environmental Activist, Pictou Landing First Nation, New Glasgow, NS
Tristan Cleveland, Urban Planner& Journalist, Metro Halifax, Halifax, Nova Scotia
Louise Delisle, Founder, South End Environmental Injustice Society & Playwright, Shelburne, NS
Meinhard Doelle, Professor, Schulich School of Law, Dalhousie University, Halifax, Nova Scotia
Vanessa Gray, Organizer, Aamjiwnaang and Sarnia Against Pipelines (ASAP), Sarnia, Ontario
Dorene Bernard

Deborah McGregor, Professor & Canada Research Chair in Indigenous Environmental Justice,
Osgood Hall Law School & Faculty of Environmental Studies, York University, Toronto, Ontario.
Raymond Sheppard, Mental Health Advocate & Mental Health / Addiction Counselor, Dartmouth, NS
Cheryl Teelucksingh, Professor, Department of Sociology, Ryerson University, Toronto, Ontario
Stephen Thomas, Energy Campaign Coordinator, Ecology Action Center, Halifax
Performances by
AbenaAmoako-Green (poet)
Richard Taylor

Umoja Cultural Diversity Drummers
CPHA Public Health 2017 Convention

ARCHIVE
Thursday, April 6 - Seminar
 2 pm, Collaborative Health & Education Bldg. Room 140
Graduate Seminar Series

 Scotland - New Scotland: Advances & dances in research, innovation & health system improvement for chronic disease.
Presenter: Dr. Renee Lyons, Professor Emeritus and Honourary Research Scholar with HPI as a part of the PhD Health Seminar Series

For more information contact: phdhealth@dal.ca
Speaker Profile:

Dr. Renee F. Lyons, PhD, Professor Emeritus
 School of Health and Human Performance, Dalhousie Senior Investigator (Emeritus)
 Lunenfeld-Tanebaum Research Institute, Sinai Health System, Toronto
 Professor (status), Institute of Health Performance, Management and Evaluation
 Dalla Lana School of Public Health, University of Toronto
Tuesday, March 7 - 6:00 – 7:30 PM
Room 105, Weldon Law Building, Dalhousie University, 6061 University Ave.
Pre-Reception from 5:30 – 6:00 — Light Refreshments Served

In Nova Scotia, Mi'kmaw and African Nova Scotian communities are threatened disproportionately by polluting industries and other environmental harms. How do communities organize to resist environmental racism, and how can law and policy help to secure communities' access to justice?
Please join the Marine & Environmental Law Institute and the Environmental Law Students' Society at the Schulich School of Law for a panel discussion featuring:
Dorene Bernard (Elder, Sipekne'katik First Nation)

Stuart C.B. Gilby (Lawyer, Burchells LLP)
Lisa Mitchell (Executive Director, East Coast Environmental Law Association)
Ingrid Waldron (Associate Professor, School of Nursing, Dalhousie University)
Tuesday, March 7 - Seminar - 12 pm
Community Health & Epidemiology Seminar Series
Room 409, Centre for Clinical Research, 5790 University Ave.
Topic: Income-related inequalities in health among Canadian Indigenous populations: 2001-2012.
Presenter: Mohammad Hajizadeh, PhD (Econ)
Min Hu, MSc; Amy Bombay, PhD; Yukiko Asada, PhD
Wednesday May 11, 19th - 7 pm

The Canadian Centre for Ethics in Public Affairs and The ENRICH Project are pleased to present Part 3 in a four-part series on Racism: White, Black, Indigenous, and Immigrant Perspectives.
RACISM: Immigrant Perspectives
Scotiabank Theatre, St Mary's Unviersity

May 24th 3 pm
Dentistry Room 4117
Innovation Exchange Series: Centre for Transformative Nursing and Health Research

"Understanding and Transforming Health Care Through Data"
Wednesday, May 25th - 7 pm
Johanna B Oosterveld Centre, 2103 Gottingen Street, Halifax
Neighbourhood Change in Halifax
Tuesday, April 19th - 12:00 noon

Mohammad Hajizadeh, Assistant Professor, School of Health Administration
Does Socioeconomic Status Affect Lengthy Wait Times In Canada? Evidence From Canadian Community Health Surveys

Community Health & Epidemiology - Seminar Series
Thursday April 14, 2016 - 12:30 to 3:30 pm
Join us for an interactive community consultation on housing models and policies in support of older LGBTQ populations in Nova Scotia.
Where: Northwood Penthouse, 2615 Northwood Terrace, Halifax, NS.
Speakers: Drs. Gambold and Gahagan from Dalhousie University.
 
Friday & Saturday March 11-12, 2016
4th Annual Crossroads Interdisciplinary Health Research Conference. Expanding the Horizons of Health
Dalhousie University, Halifax NS
March 11 & 12, 2016
Interdisciplinary Health Conference led by the grad students of the School of Health & Human Performance.  
Wednesday March 9. 6:30 pm
'Our Ancestors are in Our Land, Water and Air: A Two Eyed Seeing Approach to Researching Environmental and Health Concerns with Pictou Landing First Nation'
Part of the Indigenous Health Speaker Series
March 3, 2016. 5 - 7 pm
Health Care Team Addressing Poverty and the Determinants of Health. Dalhousie Global Health and the National Collaborating Centre for Determinants of Health invite you to this public lecture.
Dr. Ryan Meili is the Executive Director of Upstream and a family doctor in Saskatoon. Dr. Meili also works for the College of Medicine at the University of Saskatchewan as head of the Division of Social Accountability, where he's responsible for helping ensure that Saskatchewan's future doctors are equipped to meet the health needs of the diverse communities they will serve. Other guest speakers to be added.
March 2, 2016. 6:30 pm
Worlds Together: Indigenous Medicine and the Canadian Health Care System
Please join us for a panel event at the Halifax Central Library, March 2nd, 6:30pm. For more information, follow Indigenous Health Interest Group – Dalhousie on Facebook.
Keynote Speaker: Dr. Doris Mitchell is currently a full time family physician in a small rural community in Northern Ontario where she provides primary care, emergency and hospital care. She also works in two First Nations communities, one of which is her own First Nation community.

Panelists include: Cheyenne Mary & Dr. Chris Bourdon  
Monday February 29, 2016. 3:30 - 4:30 pm
Food for Thought: Sharing Youth Food Experiences in Nova Scotia
With a Knowledge Sharing Support Award from the Nova Scotia Health Research Foundation our team at the Applied Research Collaborations for Health led a knowledge sharing project to learn more about youth experiences with food in their communities.


Monday, February 29, 2016. 3 pm
MSSU is pleased to welcome Samantha Hajna to Halifax. During her stay, she has kindly offered MSSU a guest seminar:
Neighbourhood walkability and walking in Canadian adults: Do neighbourhoods really matter?


Location: Centre for Clinical Research, Room 409, 5790 university Avenue, Halifax

Samantha Hajna, MSc, PhD(c) Epidemiology - Department of Epidemiology, Biostatistics and Occupational Health, McGill University

Urban planners consider walkable neighbourhoods to be ones characterized by a variety of services and destinations easily accessed through well-connected street networks. Such walkable neighbourhoods tend to emerge in more densely populated areas where demand for services is high. Residents of more walkable neighbourhoods report higher levels of utilitarian walking (e.g., walking to work) compared to residents of less walkable neighbourhoods.
February 23, 2016. 12 noon
Location: CH&E Classroom, Room 409, Centre for Clinical Research, 5790 University Avenue

Community Health & Epidemiology Seminar Series
Building relevant knowledge to support healthy Nova Scotian children and youth

Jessie-Lee McIsaac, PhD
Postdoctoral Fellow and Research Associate, Applied Research Collaborations for Health
Associate Research Scholar, Healthy Populations institute (HPI)
School of Health and Human Performance, Dalhousie University
February 22, 9:00 am - Tuesday, 23 February, 4:00 pm
Location: Dalhousie University - McCain Building. 6135 University Ave
Spatial Analytics for Health Research using ArcGIS
February 24, 2016. 7 pm
Location: Paul O'Regan Hall, Halifax Central Library

The Canadian Centre for Ethics in Public Affairs and The ENRICH Project are pleased to present the second in a four-part series on Racism: White, Black, Indigenous and Immigrant Perspectives.

Black Perspectives

February 3, 2016. 6:30-8:30 pm
INDIGENOUS SPEAKER SERIES 2015-2016
The people who owned the North-West Territories:
Respect, nationhood, and the western origins of the Métis people

Have you ever wondered who the Métis people are? Did the Crown sign treaties with the Métis? What is the difference between the Métis as a people, and métis as a term denoting mixed-racedness? Come on out to this event, which promises to be thought-provoking and engaging.
Speaker: Dr. Adam Gaudry (Assistant Professor, University of Saskatchewan)
January 15, 2016:
Historical Trauma among Aboriginal Peoples: Implications for Improving Well-being
Presenter: Amy Bombay PhD
Part of Health Law Institute Seminar Series 2015-2016
November 20 -22, 2015
Symposium onEemergent Trends in Research with Vulnerable Young People 

Children & Youth in Challenging Contexts (CYCC) and AHPRC are co-hosts.
Contact cycle@dal.ca to signal your interest and get more informaiton.
October 2015
Societal Investments for Health Equity - Scotland, the UK, and Canada Compared: A public talk by Dr. John Frank
Co-sponsors: National Collaborating Centre for Determinants of Health, IWK Health Centre, AHPRC and Dalhousie University
Dr. Frank presented evidence of the impact of seven key societal investments - such as the investment in the reduction of childhood obesity and income guarantees for seniors. he discussed how the interventions result in more equitable health across socio-economic levels.
Dr Frank was joined by Dr Robert Stange, Chief Public Health Officer for nova Scotiato provide the nova Scotia context.