The IDEA Project
IDEA Buildings
The DESIGN Building includes the 450-seat Irving Oil Auditorium, a design commons featuring numerous bookable meeting rooms, and studio space for the Faculty of Architecture & Planning. 39,642 square feet
The Emera IDEA Building (Formerly the INNOVATION Building) houses workshops and prototyping labs for the Faculty of Engineering, and innovation studios focusing on hardware-based entrepreneurship. 51,703 square feet.
Watch a video about the concept.
Visit the Idea Buildings page for details.
Budget: $26M
Clean Tech Hub (renovation of F and P Buildings) 10,250 square feet
The "Clean Tech Hub" expands Dalhousie's existing research, commercialization, and innovation infrastructure facilities to include:
A modern bio-refinery pilot plant,
Advanced Analytical and Genomics Clean Water Technology Laboratory
Healthy Breath Air Technologies Laboratories.
Renovation includes energy saving retrofits to the exterior, HVAC, and lighting as well as life safety systems, accessibility, interior upgrades in certain areas, and electrical distribution system upgrades.
Budget: $16.65M
Vision : The Chemical Engineering Building (F Building) & A.E. Cameron Building (P Building) is undergoing renewal of the basic building infrastructure, such as electrical and HVAC systems, to support the renovation of various labs to expand and enhance research on clean energy technology. The Clean Tech Hub creates space for research and development and commercialization of innovative solutions to environmental challenges and to tap into the growing clean technology sector. It supports existing expertise and boost the university's capability to stimulate innovation in areas including clean water systems, tidal energy, bio-energy, energy storage, energy systems and energy efficiency.
Advanced Manufacturing Hub and Ocean Engineering Hub (renovation of C and C1 Buildings) 15,589 square feet
Advanced Manufacturing Hub and Ocean Engineering Hub (renovation of C and C1 Buildings) 15,589 square feet
The "Advanced Manufacturing Hub" will house infrastructure that embodies the complete spectrum of industrial processing sequences from raw material production through to the fabrication and analysis of engineered components.
The "Ocean Engineering Hub" includes applied research, commercialization and innovation activities of students and researchers in underwater sensors, robotics and autonomous underwater vehicles (AUVs).
Budget: $8.09M
Vision : The C Building is also called the Electrical Engineering Building and it is over 55 years old. This building has been renewed to provide necessary multi-purpose research spaces to turn it into the Advanced Manufacturing Hub. This will rejuvenate Dalhousie's ability to undertake world-leading applied research at the cutting edge of manufacturing including powder metallurgy and additive manufacturing. The hub will support significant industrial research partnerships such as those in place with Pratt and Whitney, Boeing and a host of Tier 1 manufacturers.
The C1 Building is also called the H. Theakston Building and is attached to the C Building. It's 48 years old and like the C Building has never received any major upgrades or renewal. A renewal provides new research and upgraded spaces, provide better and more efficient lighting and enhance HVAC and life safety items.
The Ocean Engineering Hub will be a key resource for a number of ocean-related research centers including the Centre for Ocean Ventures and Entrepreneurship (COVE) as well as an important link to ocean technology companies.
Renovation to D Building 64,945 square feet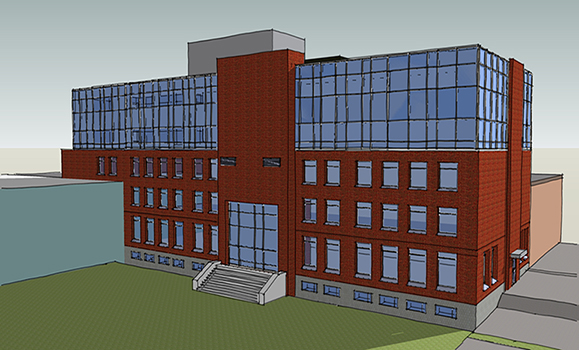 New cladding, roof and energy efficient windows to improve overall building efficiency.
Budget: $$7.53M
Vision : D Building is also known as the A.L. MacDonald building. A major element of this project is to improve the energy efficiency of the building exterior.
Sustainability
The IDEA Project also incudes major investment in Sustainability including
Renewable energy (solar PV, geothermal);
Water and energy efficiency (process water efficiency, rain water cistern);
Construction and demolition reuse;
Natural and urban environments (green roof);
Living building (sensors and meters);
Transportation (Green Corridor; electric vehicles)
GREEN CORRIDOR VISION:
Dalhousie University is implementing a "Green Corridor" on the Sexton Campus in Halifax.
The Green Corridor will be a 275 metre active transportation facility stretching from Spring Garden Road through to Morris Street on Dalhousie and HRM land. The Green Corridor will make a bi-directional connection between the Brunswick Street bike lane terminating at Spring Garden Road (planned) and the planned bike lane on Morris Street/University Avenue. The Green Corridor is envisioned as multi-modal and would accommodate pedestrian traffic as well as people riding bikes. As part of the corridor installation transportation counters will be installed and connected to the DalTRAC office for research and analysis. Design considerations also will focus on storm-water management and biodiversity goals as the entrances to the connection points.
GREEN CORRIDOR CONCEPT:
Dalhousie's Sexton campus is in the heart of downtown Halifax. It is a prime location for transit and active transportation use for commuting, cultural experiences, recreating and shopping by Dalhousie campus and community members. The Sexton campus lacks clear active transportation corridor (s). Cyclists and pedestrians walk on existing roadways and parking lots that cut through the campus competing with cars and crumbling and muddy surfaces.
Key community developments such as the Central Libraryare drawing more people to this area. Currently there is no active transportation corridor and conditions are sub-standard. Halifax is interested in a connection through the University campus to connect to their planned Brunswick and Morris cycling facilities.
The prime objectives for the Green Corridor are:
Create the continuity of active transportation facilities through the Sexton Campus recognizes the need for space for pedestrians first, bicycles and vehicles.
Foster a 'greening' of the corridor with soft landscaping at strategic gateways and intersection locations.
Preserve a mandatory vehicular corridor with proper turn around areas and maintain as much existing parking as possible
Enhance the visual continuity of the Halifax Central Library and Spring Garden Road
Enhance the entrance to campus from Morris Street
Create a continuation of the proposed HRM Bike Path
Align with the landscaping design of the new IDEA Building currently under construction on Sexton Campus.
Budget: $352,000
Construction start date: April 2018
Substantial Completion: August 2018
Architects: Ekistics
Construction firm:Ocean Construction
Technology Diversity Program, LaunchDal Collider
The IDEA Project also incudes major investment in the expansion of Dalhousie's Techonology Diversity Program, and the creation of the LaunchDal Collider.
Technology Diversity Programs – 6,000 square feet
Support and guidance for women, African Canadian and Indigenous students pursuing a degree in Engineering or Computer Science.
Budget: $ 1.5M
LaunchDal Collider 950 square feet
A new space designated for student teams, faculty members to collaborate on start-up projects in an immersion room–a practical working laboratory.
Budget: $ .6M