Carleton to Sexton District Heating Project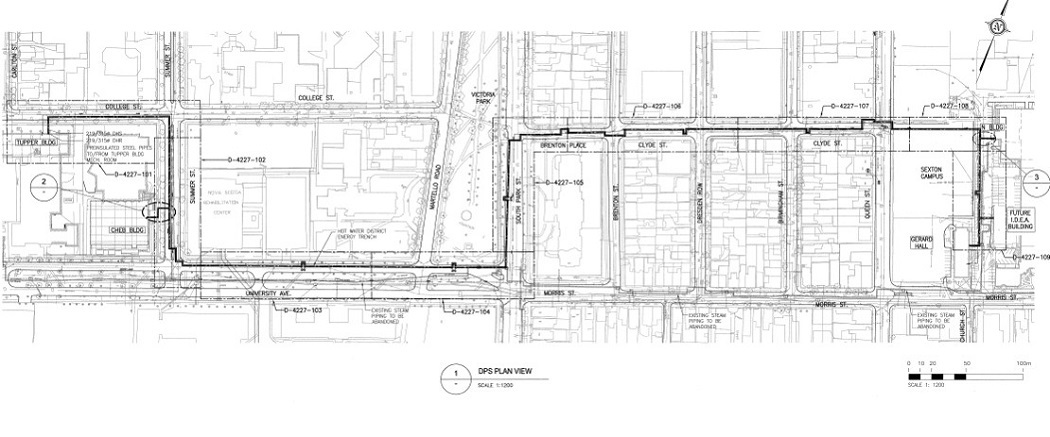 Approved route by the HRM for the replacement of the current steam line with hot water heating system
Concept
The Dalhousie Carleton to Sexton District Heating Project will replace the steam based district heating system (DES), from Carleton to Sexton Campus, to a district energy hot water line enabling the University to heat the campus with hot water rather than steam. This option provides the least costly and most efficient energy solution to replace the pipeline and meet the demands of the growing campus.
Project Overview
Location: Carleton to Sexton Campus (see map)
Size: 2.5 km of pipeline will be installed
Budget: 6.3M

Construction start date: May 2015

Construction completion date: Fall 2015
Construction firm: Dexter Construction
Project Delivery
In addition to Sexton Campus, the new heating system will provide services to Gerrard Hall along with the new IDEA Building and Collaborative Health Education Building (CHEB), with all the hot water produced from a new Steam Conversion Station to be located in the basement level of the Tupper Building located on Carleton Campus.
Approved by the city, the route as agreed with HRM for the construction of the new heating system is the following:
East along College Street
South along Summer Street
East along University Avenue
North along South Park Street
East along Brenton/Clyde Street
Through Sexton Campus to N‐Building
100 trench meter branch line to service Gerard Hall
5 trench meter branch line to service CHEB
5 trench meter branch line to service the new Engineering Building