For Students Living in Residence
COVID-19 Notice
While we make every effort to ensure the information on this page is up-to-date, details and restrictions may change quickly as part of our COVID-19 response. Please check back often and consult your Dalhousie email.
Restrictions to keep you safe
Lounges
Lounges have a posted maximum occupancy number, depending on the size of the lounge, that must be observed at all times. 
Masks
Masks are no longer required in residence hallways and common areas or in residence dining halls. However, when you leave your building, you may need your mask at your destination – whether it is a classroom, the gym, or the library.   

You are strongly encouraged to continue to wear masks, especially if you are experiencing cold and flu like symptoms. If a fellow resident chooses to wear a mask, this is a personal decision and does not imply that they are symptomatic. Each resident's choice to wear a mask should be respected. 
Restrictions
The following restrictions will be in place for residence for the Winter 2022 semester. These are designed to protect the health and wellness of all of our students. Please note that these may change from time to time to comply with current public health requirements:
Residents are not permitted to have outside guests in residence. Inter-residence guests are permitted (one at a time) during guest hours. Residents and their guests must adhere to the residence sign-in policies.
No alcohol or cannabis allowed in residence at any time for any reason. Anyone with a prescription for medical use cannabis should contact us immediately.
A maximum of five students in a room, including the resident, at all residences except LeMarchant Place, where the limit is 10 people in 3- or 4-bedroom suites.
You will be notified via your Dal email if these restrictions change.
Residence Community Living Guide
Our residences have an established set of rules and guidelines designed to create a living environment where everyone can feel safe, recognized, and supported as they pursue their academic goals.

Review the Residence Community Living Guide.

You are responsible for reading and understanding all of the rules that apply to living in residence. When you sign your residence agreement you specifically indicate that you are going to abide by the Residence Community Living Guide (which includes our Community Standards, the Residence Code of Conduct, and our Emergency Restrictions). Repeated or serious violations of the residence code of conduct could result in your immediate eviction from residence.
Prior to moving into residence, you will be required to complete a Brightspace module about the Residence Community Living Guide.
Move-in Details for Residents Who Need to Self-isolate
Due to the changes in public health restrictions based on vaccination status, self-isolation will not be offered on campus.
Please ensure you remain informed and follow the province's self-isolation requirements. These and other rules are subject to change at any time, so please consult the Nova Scotia Coronavirus website regularly.
You will not be permitted to check-in if any self-isolation requirements have not been met.
Residence Life Support & Changes
The goal of our Residence Life team is to enhance your experience and engage you in our Dalhousie campus culture. To do so, we have a number of different people on our team including professionals like Residence Life Managers and Dons, and student leaders like Residence Assistants, providing 24/7 support in our residence community.
Residence Life also organizes activities and events in residence. These often take place on Thursday, Friday, and Saturday nights.
Throughout your time in residence, you will always have the support of Residence Life and Dalhousie Student Health and Wellness.
How to contact ResLife
Halifax
reslife@dal.ca or 902-220-9038
Our Residence Life Managers:
Kewoba Carter – Shirreff Hall
Max Toulch – Risley Hall
Sarah Djuric – LMP, Glengary, and Grad House
Faiza Nauman – Howe Hall
Tanaka Shumba – Howe Hall
Truro
resdalac@dal.ca or 902-956-0750
Our Residence Life team:
Paul Coffin - ResLife Manager, all buildings
Ashley Coffin - Residence Life Don, Chapman House
Jo Castillo - Residence Life Don, Fraser House

Vicki Mackintosh - Residence Life Don, Trueman House
Dining Halls
Halifax Campus:
There are currently three dining halls on the Halifax campus:
Shirreff Hall
Howe Hall
Risley Hall - For residents of Risley Hall and LeMarchant Place
Our dining halls offer a large selection of delicious and nutritious options for all palettes and dietary needs. The menu changes each day, so be sure to check the daily menus at the Dalhousie Food Services website.
If you're curious about the nutritional content of your meals, you'll find nutritional information provided at the kiosks in all the dining halls. If necessary, you can talk to the dietitian at Food Services about designing a plan to accommodate your needs.
Truro Campus:
Jenkins Hall is open with a continuous dining meal plan - you may come and go as many times each day as you like - just use your DalCard.
Monday – Friday
7:30-9:30 a.m. Hot Breakfast
9:30-11 a.m. Continental Breakfast
11 a.m.-2 p.m. Hot Lunch
2-4:30 p.m. Sandwich & Salad Offerings
2-3:30 p.m. Short Order Grille
4:30-7:30 p.m. Hot Supper (Friday until 6:30 p.m. close)
7:30-9 p.m. Sandwich & Salad Offerings
7:30-8:30 p.m. Short Order Grille
Saturday & Sunday
9-11 a.m. Continental Breakfast
11-2 p.m. Hot Lunch
2-4:30 p.m. Sandwich & Salad Offerings
2-3:30 p.m. Short Order Grille
4:30-6:30 p.m. Hot Supper (Sunday until 7 p.m. close)
Visitors and Guests
Residents are not permitted to have outside guests in residence. Inter-residence guests are permitted (one at a time) during guest hours. Residents and their guests must adhere to the residence sign-in policies.
Enhanced Cleaning Protocols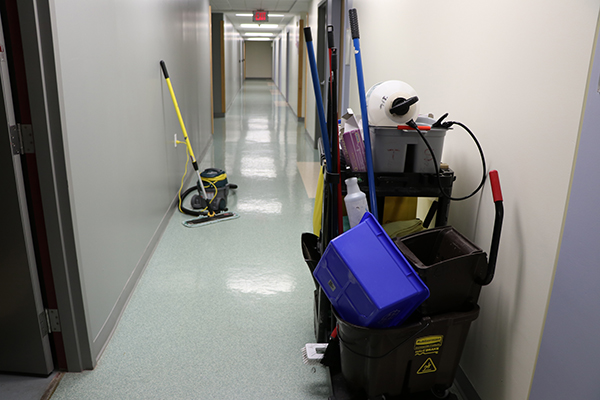 We pride ourselves in ensuring that our buildings are cleaned and disinfected thoroughly and regularly.
To ensure the health and safety of the residence community, and the university community as a whole, our Custodial Services team has developed a comprehensive cleaning plan to ensure all spaces are cleaned and disinfected regularly to prevent the spread of COVID-19.
The team is using a highly effective non-toxic ozonated water disinfectant to ensure disinfection of surfaces.
Maintenance Requests
If you need something in your room repaired, you will fill out a Maintenance Request Form. For more information on how to fill out these forms, visit the Cleaning, Garbage & Repairs pages for Halifax Campus or Truro Campus.
We ask that all students wear a mask when a maintenance worker comes to their room to do repair work. 
If 2 metres (6 feet) of physical distancing can be maintained, you may stay in your room while the work is being completed. If it cannot, you will be asked to stay outside of your room until the maintenance worker is finished.
If you have a synchronous class at that time, you may ask to set up another time for repair work (with the exception of emergency repairs). Please indicate your class schedule in your request.
Rules for Kitchen Use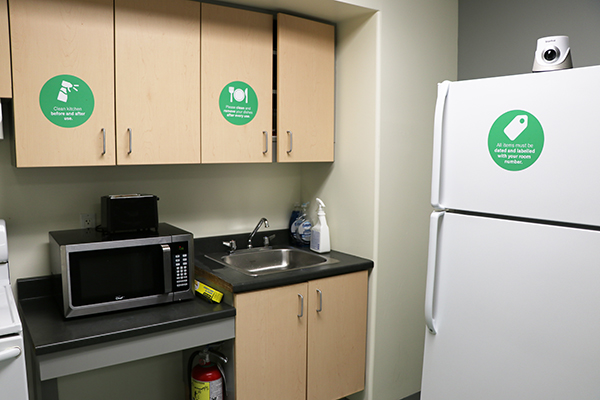 Rules for Kitchen Use
For the health and safety of our residents and staff, please follow these rules for using kitchens in residence:
Follow posted occupancy limits
Wipe down surfaces before and after use.
Whenever possible, store food in your room.
Limit and label items in the fridge.
Clean and remove dishes after every use.
Turn off oven and stove after use.
Shared Laundry Guidelines

Shared Laundry Guidelines
The virus that causes COVID-19 can live for hours to days on hard surfaces, so laundry machines, countertops, and furniture need to be sanitized frequently.
Below are some tips to ensure you keep yourself and others safe as you use the shared laundry rooms in residence.
Laundry rooms will have a posted occupancy limit that must be observed at all times, while wearing masks and maintaining physical distancing.
DOS:
Wash your hands before and after.
Wipe down controls and handles before and after use
Dry items at the highest temperature possible and dry completely.
Wash with HE soap and the warmest water possible. Do not overload the machine.
Disinfect your hamper before filling it with clean clothes.
Keep a 2m (6 ft) distance from others.
DON'TS
Don't shake dirty laundry before putting it in the machine.
Don't leave soiled clothing or baskets on top of the machines or tables.
Don't leave cleaning residues (like bleach) that could damage other people's clothing.
Don't leave dryer door open when not in use.
Don't forget to wash your hands!
Elevators

Elevators are limited to a maximum occupancy of four people at any time – with masks required.
What to do if you're feeling unwell
If you are feeling unwell, please isolate yourself from others immediately and contact the health resource listed below for more information and assessment.
Students:
We've entered a phase where individuals must assume more responsibility for protecting themselves and their fellow community members.
Please be aware that some members of your community have underlying conditions or may be immunocompromised. Additionally, the staff who keep the building clean, make repairs, and keep the meal hall operational, are valued members of the community. Your actions and behaviour impact them as well. Therefore, we strongly encourage you to do the following.
Limit your contact with others if you are experiencing symptoms. You can protect others by keeping your distance from them as much as possible.
Fill out the Self-isolation intake form if you are experiencing symptoms.
Avoid sitting with others in the meal hall if you are sick. This action helps protect your friends and the meal hall staff from infection. By filling out the Self-isolation intake form, meals will be prepared for you for pick-up.
Wear a mask in public areas if you feel unwell.
Self-isolate for 7 days if you test positive for COVID-19.
Follow the guidelines from the Nova Scotia Health Authority.
As we enter this new phase of living with COVID-19, you may feel anxious and concerned about the future. If you need to speak with someone, the following resources are available:
Please contact a member of the ResLife team to inform them that you're not feeling well.
You should then contact the Student Health & Wellness Centre.
Halifax: 2nd Floor LeMarchant Place, 1246 LeMarchant Street 902.494.2171
Truro: Dairy Building, 11 Sipu Awti 902.893.6300
You must contact them BEFORE entering the centre. No walk-ins will be accepted.
For after-hours help, please call 811. For emergencies at any time, call Dal Security at 902.494.4109 (Halifax) and 902.893.4190 (Truro).
Self Isolation in Residence
Students requiring self-isolation during the semester will do so in their residence rooms, with support from the Residence Life and Dalhousie Food Services teams. Continuing with our practice from the fall term, please note that double occupancy is not available. This is to allow for self-isolation in student rooms if needed, which is a practice consistent across the postsecondary sector in our province.
During your isolation period, you will have access to laundry and shared washrooms while adhering to strict protocols, which will be provided to you when you enter isolation.
Currently, Nova Scotia Public Health requires a full 7-day isolation period from the time you start to experience COVID-19 symptoms or the time you receive a positive COVID-19 rapid or PCR test result if you are asymptomatic. You are only able to leave isolation on day 8 if your symptoms are improving AND if you have not had a fever in the previous 24 hours.