For Students Living in Residence (Winter 2021)
Move-in Details
The Nova Scotia provincial government required anyone travelling from outside Nova Scotia or Prince Edward Island to self-isolate for 14 days upon their return.
For winter 2021, new residents may move to their permanent residence room after completing any required self-isolation (on or off campus). 
Move-in Details for Residents Who Need to Self-isolate
For residents who have applied to live in residence during the Winter semester, if you receive a room offer and will require self-isolation, more information will be sent to you on self-isolation options (as described below).  
Self-Isolation Information (Domestic Students)
We are offering an on-campus option for self-isolation to domestic students who have registered prior to arriving from outside Nova Scotia or Prince Edward Island. This must be booked in advance with the Residence Office. Contact residence@dal.ca if you have questions. 
Self-Isolation Information (International Students)
International students are required to contact an advisor with the International Centre to make arrangements for off-campus self-isolation.
For more information on self-isolation, review our Self‑Isolation Requirements: Holiday Break and Winter Term and the Self-Isolation Information pages. 
On-campus self-isolation check-in is at the Fountain House entrance of Howe Hall located next to the Dunn parking lot.
After the self-isolation period has been completed, you will be allowed to moved to your allocated residence room for the year.
Dining Halls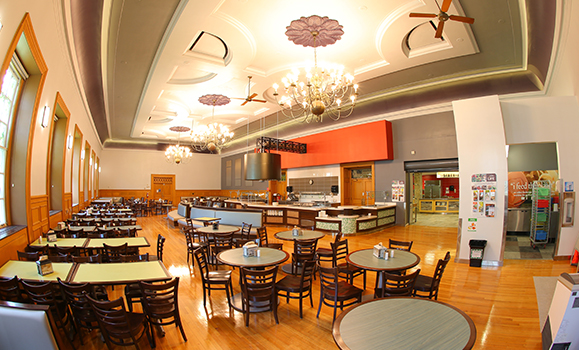 Halifax Campus:
To offer a safe and pleasant dining experience, there will be two dining halls open on the Halifax campus for the Winter 2021 term:
Shirreff Hall - for the exclusive use by residents of that building; and
Howe Hall - which will serve residents of Risley, LeMarchant Place and all other Halifax properties.
Both dining halls will feature a large selection of delicious and nutritious options for all palettes and dietary needs. The menu changes each day, so be sure to check the daily menus at the Dalhousie Food Services website.
If you're curious about the nutritional content of your meals, you'll find nutritional information provided at the kiosks in all the dining halls. If necessary, you can talk to the dietitian at Food Services about designing a plan to accommodate your needs.
The first meal served for the Winter term will be dinner on Monday, Jan. 4, starting at 4:30 p.m.
Truro Campus:
Jenkins Hall is open to serve you with reduced hours:
Monday to Friday:
Breakfast: 8-9 a.m. (Hot Monday/Wednesday/Friday. Continental Tuesday & Thursday)
Lunch: 12-1 p.m.
Supper: 5-6 p.m.
Saturday, Sunday & Holidays
Brunch: 11:30 a.m.-1 p.m.
Supper: 5-6 p.m.
Students requiring meals who cannot make these times, can contact the Truro Residence office at resdalac@dal.ca our office or the Chartwells' manager for meal options.
You may also fill out the Special Meal Request form to request a boxed meal.
Any dietary or allergy requirements or restrictions should be brought to the attention of the Chartwells' manager so they can ensure you receive food options that meet your needs.
Residence Life Support & Changes
The goal of our Residence Life team is to enhance your experience and engage you in our Dalhousie campus culture. To do so, we have a number of different people on our team, professionals like Residence Life Managers, and students like Residence Assistants, providing 24/7 support in our residence community.
Residence Life also organizes activities and events in residence to get students involved. These often take place on Thursday, Friday, and Saturday nights.
COVID-19 has significantly changed Dalhousie University, including our residence community. We have had to institute some policies and restrictions based on the instruction of the Nova Scotia Public Health authority and it's important you know those details.
Throughout your time in residence you will always have the support of Residence Life and Dalhousie Student Health and Wellness.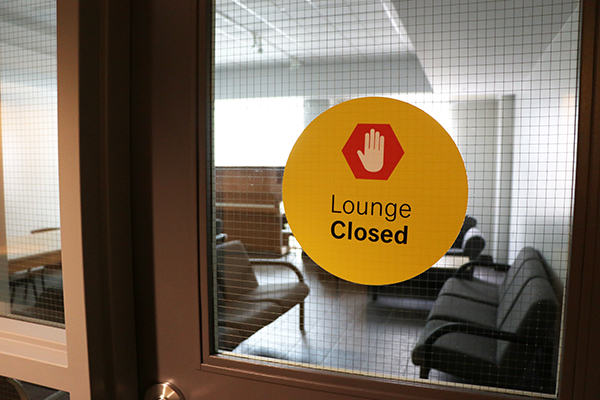 Lounges
All of our lounges are closed and will only be open for supervised events. Our dining halls and community kitchens will have COVID-19 informed protocols that may include single use only, take-out only, or socially distant seating. Also, note that in your offer letter it details what dining halls are open, and based on your assignment where you can eat.
Masks
Masks are required in residence when you are travelling anywhere outside of your own room.
Restrictions
The following restrictions will be in place for residence in the fall to prioritize the health and wellness of all of our students:
No guests from outside of your specific residence building until further notice. No exceptions. This includes swiping your access card and checking in with sign-in staff when entering residence.
No alcohol or cannabis allowed in residence at any time for any reason. Anyone with a prescription for medical use cannabis should contact us immediately.
Only three additional person allowed in your residence room at any time.
When or if this information changes you will be notified via email.
Residence Code of Conduct
As you may already know our residences have an established set of rules and guidelines for community living. This allows us to create a living environment where everyone can feel safe, recognized, and supported as they pursue their academic goals.
Review the Community Living Guide.
You are responsible for reading and understanding all of the rules that apply to living in residence. When you sign your residence agreement you specifically indicate that you are going to abide by the Residence Code of Conduct. Repeated violations of the residence code of conduct or serious violations of the residence code of conduct could result in your immediate eviction from residence.
Visitors and Guests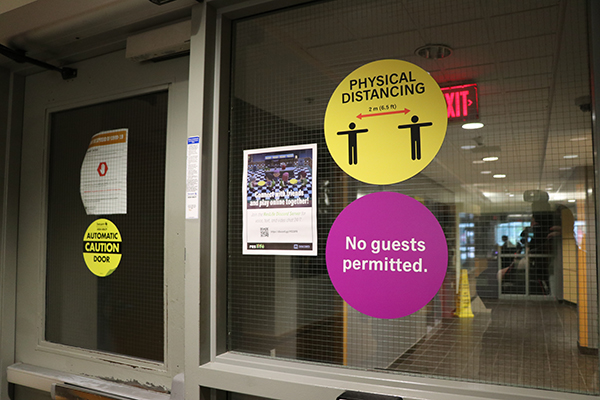 Due to the extraordinary circumstances, no visitors or guests are allowed at any time in residences until further notice. Signs have been posted on exterior doors to inform visitors that they are unable to enter. This is to ensure the health and safety of our residents who remain on campus.
Enhanced Cleaning Protocols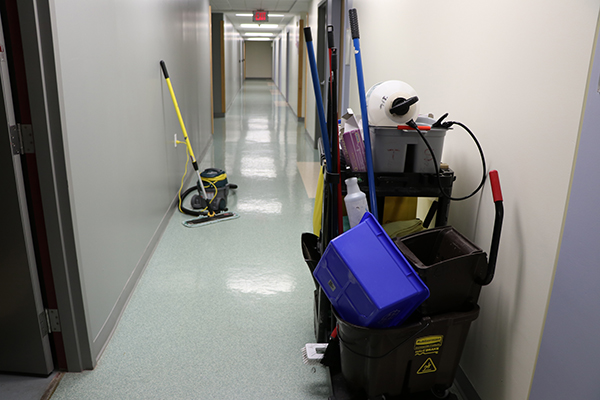 We're proud of the care and attention our custodial team has always given to ensure that our residences are kept clean. However, with the risk posed by COVID-19, we recognize that extra attention needs to be given to the cleanliness of our shared living areas.
To ensure the health and safety of the residence community and the university community as a whole, our Custodial Services team has developed a comprehensive cleaning plan to ensure all spaces are cleaned and disinfected regularly to prevent the spread of COVID-19.
Many of their cleaning protocols are listed on the Custodial Services page.
In residence specifically, cleaning includes:
Lobby – three times per day, with particular attention given to high- touch areas
Elevators – three times per day
Washrooms – Daily, with all touch points re-cleaned in the afternoon
Hallways – Daily, with all touch points cleaned on occupied floors
Showers – Touch points done daily and debris removed, full cleaning every second day
Kitchens – Daily, with all touch points re-cleaned in the afternoon
Touch points include doorknobs and handles, buttons, and fixture handles.
The team is using a highly effective non-toxic ozonated water disinfectant to ensure disinfection of surfaces.
Maintenance Requests
If you need something in your room repaired, you will fill out a Maintenance Request Form. For more information on how to fill out these forms, visit the Cleaning, Garbage & Repairs pages for Halifax Campus or Truro Campus.
We ask that all students wear a mask when a USP or maintenance worker comes to their room to do repair work. 
If 2 metres / 6 ft of physical distancing can be maintained, you may stay in your room while the work is being completed.  If it cannot, you will be asked to stay outside of your room until the USP or maintenance worker is finished.
If you have a synchronous class at that time, you may ask to set up another time for repair work (with the exception of emergency repairs). The Maintenance Request Form will be updated soon to allow you to specify times that do not work for you. 
Rules for Kitchen Use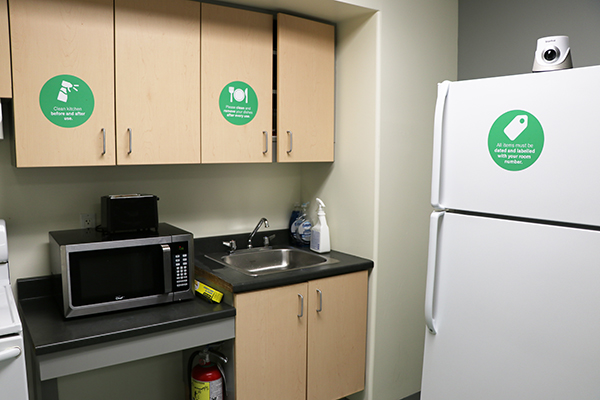 Rules for Kitchen Use
For the health and safety of our residents and staff, please follow these rules for using kitchens in residence:
Maximum TWO people in a kitchen at any time.
Wipe down surfaces before and after use.
Whenever possible, store food in your room.
Limit and label items in the fridge.
Clean and remove dishes after every use.
Turn off oven and stove after use.
Shared Laundry Guidelines

Shared Laundry Guidelines
The virus that causes COVID-19 can live for hours to days on hard surfaces, so laundry machines, countertops, and furniture need to be sanitized frequently.
Below are some tips to ensure you keep yourself and others safe as you use the shared laundry rooms in residence.
Laundry rooms are limited to TWO people at a time, wearing masks and maintaining physical distancing. 
DOS:
Wash your hands before and after.
Wipe down controls and handles before and after use
Dry items at the highest temperature possible and dry completely.
Wash with HE soap and the warmest water possible. Do not overload the machine.
Disinfect your hamper before filling it with clean clothes.
Keep a 2m (6 ft) distance from others.
DON'TS
Don't shake dirty laundry before putting it in the machine.
Don't leave soiled clothing or baskets on top of the machines or tables.
Don't leave cleaning residues (like bleach) that could damage other people's clothing.
Don't leave dryer door open when not in use.
Don't forget to wash your hands!
Elevators

To ensure safe social distancing, elevators are limited to two riders at any given time.
What to do if you're feeling unwell
If you are feeling unwell, please isolate yourself from others immediately and contact the health resource listed below for more information and assessment.
Students:
Please contact a member of the ResLife team (reslife@dal.ca or 902.220.9038) to inform them that you're not feeling well.
You should then contact the Student Health & Wellness Centre.
Halifax: 2nd Floor LeMarchant Place, 1246 LeMarchant Street  902.494.2171
Truro: Dairy Building, 11 Sipu Awti 902.893.6300
You must contact them BEFORE entering the centre. No walk-ins will be accepted.
For after-hours help, please call 811. For emergencies at any time, call Dal Security at 902.494.4109 (Halifax) and 902.893.4190 (Truro).
Staff:
Visit https://covid-self-assessment.novascotia.ca/en and follow the instructions provided. Inform your supervisor as soon as possible.