Pre‑arrival webinars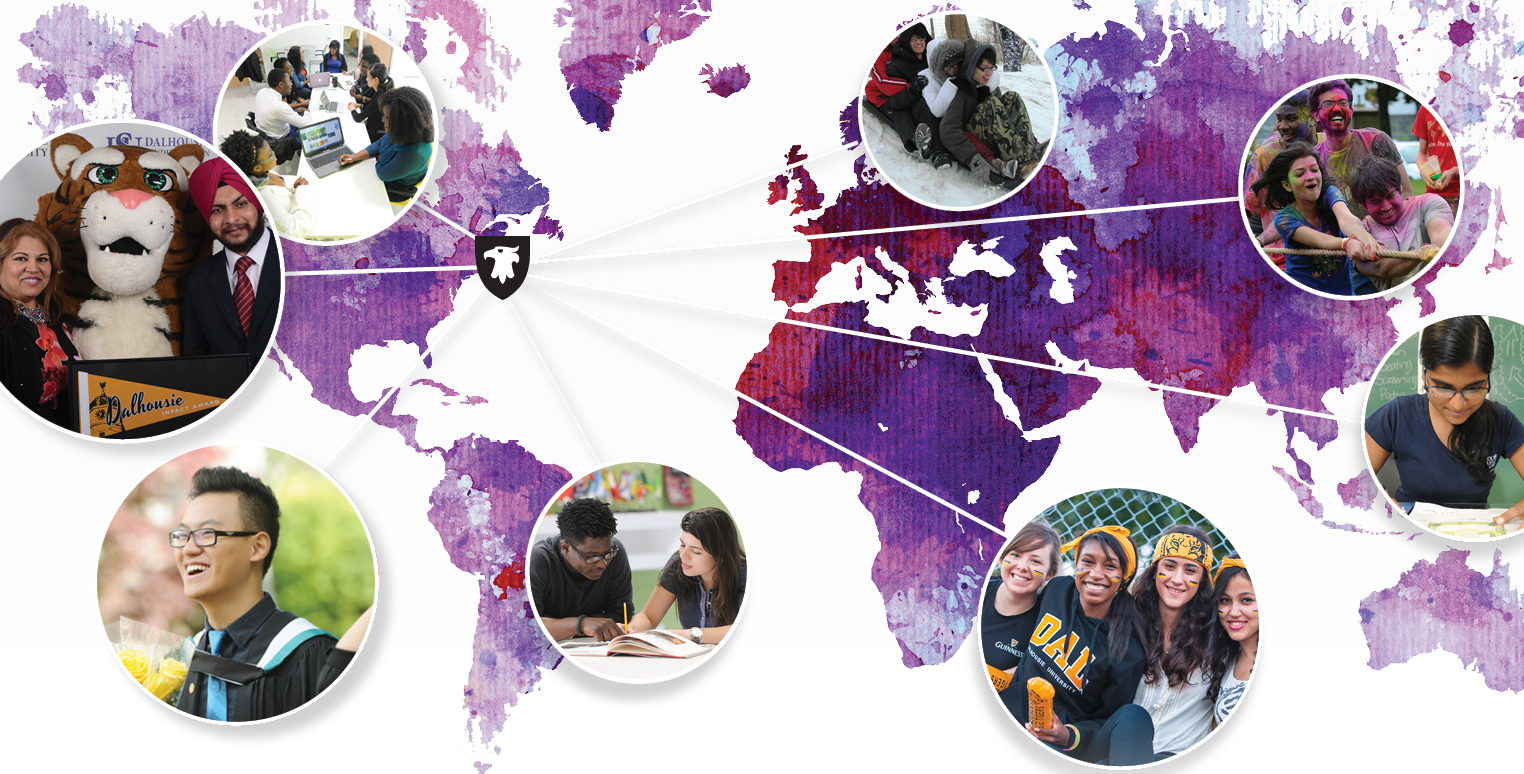 Global Connections (GC), provides a format for you to become familiar with Dalhousie, Halifax and Canada before you arrive. GC is a series of four, 30-40 minute pre-arrival webinars. 
A webinar is an online presentation that will allow you to hear advice from current Dalhousie students called Welcome Ambassadors. They will provide advice and answer new student questions on everything from life in Halifax (weather, making friends, where to eat) to life in Dalhousie (classes, school clubs, etc). Special guests will answer questions on visas, academic support, and more. You can also ask questions live in our live message chat.
How to access Global Connections
Step 1: Set up your Net ID and password
You will need to activate your Dalhousie email and password in order to use the online learning tool, Brightspace.
Tip: Write down your password or save it in an important place (eg. your phone) because you will need to use it to register for classes, view your fee payments, complete applications for Dalhousie residences and more!
Step 2: Log in to Brightspace
Brightspace can be found on the top right hand of the Dalhousie Main Page.
It is an online learning tool. Many of your future courses will be posted in Brightspace as well as the online orientation modules.
You should explore Brightspace and learn how to use it before classes begin in September
Step 3: Select Global Connections
Look at the section listing your courses
Select Global Connections: Pre arrival Webinars for International Students from the course list
Click on Course Content
Click on Webinar Topic (Housing and Arrival Info)
Click on Collaborate Ultra
Click on Join Room
If you are not able to join the webinar, please send an email to icvolunteer@dal.ca
WEBINAR DATES & TOPICS
VISA & PERMIT INFO
Available NOW! First aired on Friday, June 16, 2017 at 10am (ADT) -0300 UTC
LIVING IN HALIFAX
Available NOW! First aired on Friday, July 14, 2017 at 11am (ADT) -0300 UTC
HOUSING & ARRIVAL INFO
Currently Available. First aired on Friday, June 30, 2017 at 11am (ADT) -0300 UTC
STUDENT LIFE AT DALHOUSIE
Available NOW! First aired on Friday, July 28, 2017 at 11am (ADT) -0300 UTC

Connect with our Welcome Ambassadors: 
   

Name: Meng-Chiao (Angela) Tsai
Nationality: Taiwan
Languages Spoken: English, Mandarin and French
Faculty: Science

You can reach Angela at angela.tsai@dal.ca

My perfect DAL day would be: Waking up early for a swim at Dalplex before going to the lab to do some cool science and hang out with friends in the Tupper Building. After grabbing a frappuccino from Starbucks, I would go to the Dentistry office to catch up on some sleep. Last but not least, I would take a stroll around the Dalhousie Urban Garden for some relaxing sunlight and clean air before calling it a day.

 

   

Name: Hasan
Nationality: Jordan, Lebanon
Languages Spoken: Arabic and English
Faculty: Science

You can reach Hassan at hasan.sinan@dal.ca

My perfect DAL day would be: Heading to Pete's at the Student Union Building to grab a warm soup or build my own salad and then meeting up with my friends at the International Centre. It's a great place to socialize, do homework or even play on a musical keyboard! And with everyone being super friendly there, it really feels like my home away from home!

Name: Success Wokili
Nationality: Nigeria
Languages Spoken: English and Yoruba 
Faculty: Engineering

You can reach Success at success.wokili@dal.ca

My perfect DAL day would be: After a long day from school or series of midterms​, I would join my friends and head to a lounge in Lemarchant Place Residence to play some games, order, pizza and end with watching a movie.

Name: Jinrong Ge           
Nationality: Chinese
Languages Spoken: Chinese and English
Faculty: Management 

You can reach Jinrong at jinrong.ge@dal.ca

My perfect DAL day would be: Going to class with my friends, hangout in one of the common spaces after class, go out for a quick lunch, then hit the gym or play sports at the Dalplex. Have the rest of afternoon free, and spend the night in the library catching up some on work.

Name: Michelle Lincoln
Nationality: Canada
Languages Spoken: English, French, Spanish
Faculty: Health Professions

You can reach Michelle at michelle.lincoln@dal.ca

My perfect DAL day would be: I would start off with a short meditation in the Quiet Room in the LeMarchant Building. After that, I would probably do some studying in the LeMarchant Place Atrium before meeting up with my friends for class. The LeMarchant Atirum is a great study spot; it has lots of desks, outlets, and windows! I would end the day by grabbing a smoothie at Pete's and hanging out with my friends in one of the quads.