Natasha Hughes
MPA Candidate 2016
Hometown
Mahone Bay, Nova Scotia
Degrees
Bachelor of Arts (Honours) International Relations, Mount Allison University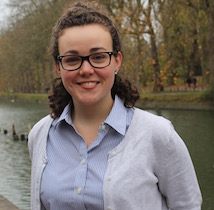 How did Dalhousie's MPA program get on your radar?
I was interested in the connection between governance from the community level to the international level and wanted to complete a professional degree. I attended an information session where I met Dr. Robert Moody, Director of the School of Public Administration. He emphasized that opportunities to develop personally and professionally abound within the program and that it prepares students for post-program work in the public, private and voluntary sectors.
What has been most valuable about the MPA program so far?
The MPA program provides so many opportunities to develop professional skills through coursework, student leadership, the student-organized conference, the professional development certificate, the mentorship program and the internship. These components of the program develop valuable professional competencies that prepare graduates to be successful in the workplace. I have also taken advantage of the exceptional opportunity to participate in the exchange program, completing my first term of my second year at Sciences Po Lille in France. It has been an incredible cross-cultural experience in which I work with diverse people from around the world.
Where did you do your internship? What did you learn?
I worked as the Project Intern at the Canadian Coast Guard College (Department of Fisheries and Oceans) in the International Training Department in Sydney, NS. This internship was a great opportunity to apply the knowledge and skills I had acquired during the first year of the MPA as well as develop as a public servant and learn about the federal government. I was able to enhance my knowledge of organizational behaviour, financial management, research methods, human resources and work with multiple actors within and outside of Canada.