Geordie Miller
Killam Doctoral Scholar
Contact information
Email: gr303696@dal.ca
Why Dal?
The English Department produces first-rate scholarship in my major research field, American literature and culture. And Halifax has an enviable arts community, not to mention just enough rain to spare my hapless softball team from taking the field on a regular basis.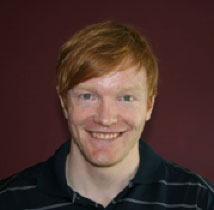 What inspires you?

The pile of books on my desk and bedside table that are waiting to be read; more sincerely, the many that won't get read, but whose presence attests to a desire to know what necessarily continues to elude me. Wait, is that an excuse?
Favourite novels
Infinite Jest, Autobiography of Red, Invisible Man, In Search of Lost Time, Lolita
Teaching experience
ENGL 4221: The Neoliberal Novel (Instructor)
ENGL 2232: Contemporary Science Fiction (Instructor)
ENGL 3062: American Literature 1865-1914 (Instructor)
ENGL 1000: Introduction to Literature (TA)
ENGL 1010: Introduction to Prose and Fiction (TA)
ENGL 3002: Contemporary Critical Theory (TA)
ENGL 1300: Introduction to Film (TA)
CPST 2000: Technical Communications (TA)
COMM 1701: Business Communications: Written/Oral (Marker)
INFO 1002: Effective Written Communication (Marker)
Publications
"'Shifting Ground:' Breaking (from) Baudrillard's 'Code' in Autobiography of Red." Canadian Literature 210/211 (Winter 2012): 152-67.

"To the Bone: The Instrumental Activism of Dionne Brand's Ossuaries." Public Poetics. Wildfred Laurier UP: forthcoming.

"Who, Whom? The Negative Cosmopolitan Case against Corporate Philanthropy." Negative Cosmopolitanisms. McGill-Queen's UP (forthcoming).

Missive. Halifax: Invisible Ink Publishing (forthcoming).

"Then and Then." The Coast. Holiday Fiction Special. 20 December 2012: 13.

"A Partial List of Everything I can Ever Remember Losing." Rememberer. Ed. Jenner Brooke-Berger. Halifax: Invisible Ink Publishing, 2010.
Awards & honours
2012-2014 – Killam Predoctoral Scholarship

2013 – James DeMille Short Story Prize, Department of English, Dalhousie University

2010-2012 – SSHRC Doctoral Fellowship

2009-2011 – Faculty of Graduate Studies Scholarship, Dalhousie University
Conferences
"Unlearning Class: A Hologram for the King as a 'Neoliberal Novel.'" Canadian Association of American Studies Conferences. University of Waterloo. 24-27 October 2013.

"Death-by-acceptance': David Foster Wallace, Imposing Genius." American Literature Association. Boston. 23-26 May 2013.

"Placing Charlie Kaufman's Synecdoche, New York: Beyond Richard Flordia's 'Creative City.' Negative Cosmopolitanisms Conference. University of Alberta. 11-13 October 2012.

"To the Bone: Instrumental Aesthetics in Dionne Brand's Ossuaries." Public Poetics Conference. Mount Allison University. 20-23 September 2012.

"Going Back to the Territory: The Cultural Frontier in Invisible Man and Erasure." ACCUTE Conference. Wilfred Laurier University and the University of Waterloo. 26-29 May 2012.

"Finite Freedom, Infinite Jest, and the Moral Genius of David Foster Wallace." American Comparative Literature Association Annual Meeting. Brown University. 29 March – 1 April 2012.

"Venturing Capital: MacArthur Fellowships and the Circuits of Genius." Canadian Asosciation of American Studies Conferences. Carleton University. 3-6 November 2011.

"Reframing Anne Carson's Classicism: The Deference Stesichoros Makes." ACCUTE Conference. University of New Brunswick and St. Thomas University. 28-31 May 2011.

"Hegel and Idea of Weltliteratur." American Comparative Literature Association Annual Meeting. Simon Fraser University. 31 March – 3 April 2011.

"A Political Rant: Partisan 'Party Crashers' and Symbolic Collisions." Rocky Mountain Modern Languages Association Convention. University of New Mexico. 14-17 October 2010.

"Failing Better: The Question Concerning Critical Readings of Technology in Player Piano." Future Theory, Present Praxis Conference. Guelph University. 26 February 2010.

"Absenting 'The Familiar' National History in Le Fanu." Drawing a Blank Conference. University of Western Ontario. 22-24 March 2007.