Welcome to Dalhousie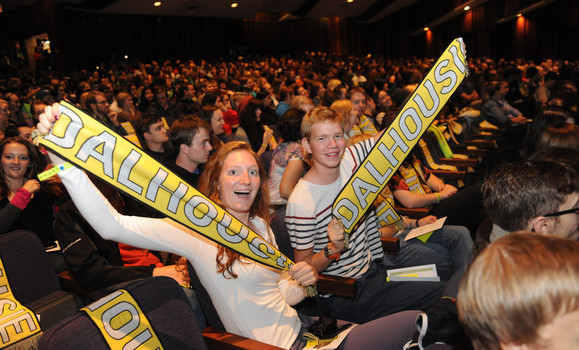 Dalhousie's Welcome to Dal Induction Ceremony is a unique celebration and tradition that welcomes new students and faculty to their/your new living and learning community. 
New members to the Dal community will be welcomed by Interim University President Teri Balser and Dalhousie Student Union President Aisha Abawajy. New students are invited to stand and take the Dalhousie University Pledge, a commitment to uphold the values foundational to being a member of the Dalhousie community, as you receive your black and gold Dalhousie scarf.   
Welcome to Dal - Induction Ceremony for Truro students
1:00pm - Sat Aug 31
Alumni Theatre 
Welcome to Dal - Induction Ceremonies for Halifax students
6:00pm - Mon Sep 2
OR
6:45pm - Mon Sep 2
Rebecca Cohn Auditorium   
New Student Pledge
I promise to uphold and protect the integrity, good character and scholarly legacy as well as the culture of respect and good citizenship at Dalhousie University.  
Faculty, Staff and Student Leader Pledge
Today, as each of you stand, you commit yourselves to the academic success of students in the lifelong learning process.
Will you, as Dalhousie University faculty, staff and student leaders, promise to provide students with an enriched learning experience; with academic challenge through active and collaborative interactions; and with a supportive and engaging campus environment? 
Please respond 'I Will'.