Carol Lillian Richards

Spring 2017 Honorary Degree Recipient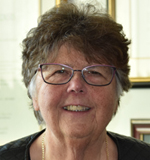 Doctor of Laws (honoris causa)
Dr. Carol Richards has always been ahead of her time. One of the first physiotherapists in Canada to earn a doctorate, she led the charge to position physiotherapy as a valid contributor to basic and clinical research, greatly advancing the field as an academic discipline and improving the lives of stroke survivors in Canada and worldwide.
Dr. Richards has a BSc in Physical Therapy from McGill University, an MSc in Rehabilitation Science from the University of Saskatchewan and a PhD from McGill in Experimental Surgery. She was founding director of two Québec rehabilitation agencies: the Québec Rehabilitation Research Network (REPAR) and the Centre for Interdisciplinary Research in Rehabilitation and Social Integration (CIRRIS). Her work has revolutionized the way patients and families are treated, placing knowledge translation at the heart of stroke care research in Canada.
Today, she is a Professor at Université Laval, researcher at CIRRIS and the Québec Rehabilitation Institute and holds the Université Laval Research Chair in Cerebral Palsy. She is a past Canada Research Chair in Rehabilitation. Among her many honours are the Queen Elizabeth II Diamond Jubilee Medal, the Edith Aston Memorial Lectureship at McGill in 2013 and the exceptional contribution award from the Quebec Foundation for Heart and Stroke. She is a Fellow of the Canadian Academy of Health Sciences, an Officer of the Order of Canada and holds honorary degrees from the Universities of Ottawa and Sherbrooke.