Sheila Watt‑Cloutier

May 2015 Honorary Degree Recipient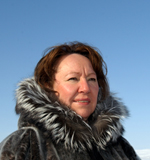 Doctor of Laws (honoris causa)
Born in Kuujjuaq, Nunavik, in northern Quebec, Sheila Watt-Cloutier has been a political representative for Inuit around the world. She was elected President of the Inuit Circumpolar Council (ICC) Canada in 1995 and re‑elected in 1998, and played a critical role as spokesperson for a coalition of northern Indigenous Peoples in the negotiations leading to the 2001 Stockholm Convention banning the generation and use of persistent organic pollutants contaminating the Arctic food web. In 2002, Ms. Watt-Cloutier was elected International Chair of the ICC.
Ms. Watt-Cloutier's groundbreaking 2005 petition to the Inter-American Commission on Human Rights focused on the violation of Inuit human rights resulting from climate change. She testified before the Commission during the first-ever hearing on the links between climate change, human life and human rights. Sheila Watt-Cloutier has been recognized worldwide for her work in shaping research and policy that considers the impacts of climate change within a human rights framework. Her list of awards and honours includes the U.N.'s Mahbub ul Haq Human Development Award, a Nobel Peace Prize nomination and 16 honorary degrees. She was made an Officer in the Order of Canada in 2006 and appeared on a Canadian stamp in 2012.
Sheila Watt-Cloutier lives in Iqaluit, Nunavut. She stays connected to her passion for social and environmental justice through activism and advocacy work. Her book The Right to be Cold was published in 2013, and weaves historical traumas and current issues such as climate change, leadership and sustainability in the Arctic into her personal story.