Richard Alexander Murray

May 2015 Honorary Degree Recipient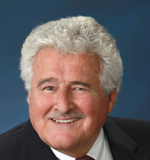 Doctor of Laws (honoris causa)
Richard Alexander Murray's relationship with Dalhousie goes back 50 years. He earned a Diploma in Engineering and a Bachelor of Science in Engineering in the mid-1960s from what was then called the Nova Scotia Technical College, and is now Dalhousie's Faculty of Engineering. He has gone on to become an outstanding engineer, industry leader, mentor to young engineers, successful entrepreneur and philanthropist.
Early in his career, Mr. Murray spent 11 years as a civil engineer in Jamaica, returning to Canada in the 1970s to build the company we know today as R.A. Murray International Limited, an award-winning firm based in Halifax that provides engineering, general contracting, material procurement, and logistical services all over the world. R.A. Murray International specializes in the design, building and financing of highway bridges; and the sale and transport of construction aggregates.
One of Mr. Murray's most impressive accomplishments was his work for the Jamaica Bridges Development Program from 2007 to 2011. His company designed and built 17 bridges plus connector roads across Jamaica. They also strengthened local communities -- reconstructing schools, repairing police stations, supporting local employees and their families to further their education, and donating to charities.
In keeping with his philosophy of giving back, Mr. Murray and his wife Melda endowed a $1-million scholarship fund in 2012. The Richard and Melda Murray Scholarships bring Jamaican students to study engineering at Dalhousie. The Murrays' hope is to train a new generation of engineers who will build the future of Jamaica.