Kevin G. Lynch

May 2015 Honorary Degree Recipient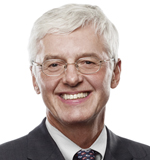 Doctor of Laws (honoris causa)
With his leadership in public, private and university sector roles, Kevin Lynch has established himself as one of Canada's premier economic thinkers. His ideas have contributed to the nation's economic prosperity and influenced financial decision-makers across the world.
Dr. Lynch is currently Vice-Chair of BMO Financial Group, where he advises the company on global strategy. He is also Chancellor of the University of King's College and Chair of the Board of Governors at the University of Waterloo. To each of these positions he brings insight from his successful years of service in government.
Dr. Lynch has been a senior leader for several federal governments. He has served as Deputy Minister of Industry and Deputy Minister of Finance. His investment in the knowledge economy has helped make Canada the top G-8 country in funding for university research. He was a key contributor to five consecutive budget surpluses, and his work has made Canadian businesses more competitive internationally.
Appointed as Clerk of the Privy Council, Secretary to the Cabinet and Head of the Public Service in 2006, he launched Public Service Renewal, a major revitalization of the nation's public service sector.
Dr. Lynch's international experience includes executive positions at the International Monetary Fund and the Institute for International Finance. He is equally committed to boosting the economy of Atlantic Canada. He has co-chaired 4Front Atlantic, a conference of the region's most influential business leaders, and inspired Dalhousie's Faculty of Management to identify Promoting Regional Prosperity as one of its strategic pillars. He regularly shares his ideas and insights through media op-eds and speaking engagements.