John H. Noseworthy, MD

May 2015 Honorary Degree Recipient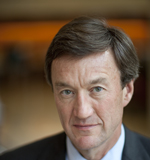 Doctor of Laws (honoris causa)
Dr. John Noseworthy is a neurologist, researcher, international authority on multiple sclerosis and holder of one of the most prestigious health care positions in the world. He has been President and Chief Executive Officer of Mayo Clinic in Rochester, Minnesota, a not-for-profit medical organization operating in six states, since 2009. More than a million people from 150 countries come to Mayo for care each year. During his time as CEO, Dr. Noseworthy and his team have confirmed Mayo Clinic's standing as a trusted resource for patients and their families, and extended Mayo's mission to include new ways of reaching patients and sharing expertise. He remains a Professor of Neurology in the Mayo Clinic College of Medicine.
Dr. Noseworthy has improved the lives of countless people through his multiple sclerosis research; is the author of more than 150 research papers, chapters, and editorials; has written several books; and served as editor-in-chief for Neurology, the official journal of the American Academy of Neurology. In 2005, Dr. Noseworthy received the Alumnus of the Year award from the Dalhousie Medical Alumni Association and in 2012 was awarded an Honorary Doctor of Science degree from Western University. He is also a Health Governor of the World Economic Forum.
Born in Massachusetts, Dr. Noseworthy earned both his undergraduate and medical degrees from Dalhousie, graduating in 1975 with his MD. He went on to residencies at Dalhousie and the University of Western Ontario, and neurology fellowships with the Royal College of Physicians and Surgeons of Canada, Harvard Medical School, and Massachusetts General Hospital. He joined Mayo Clinic in 1990.