Richard J. Currie

May 2010 Honorary Degree Recipient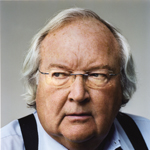 Doctor of Laws (honoris causa)
In our fragile post-recession economy, the world could certainly use more leaders like Richard J. Currie, a man with vision, foresight, patience and a strong grasp on the realities of business.
Mr. Currie is one of the most accomplished businessmen in Canadian history, having led corporate giants like Loblaw Companies Limited, George Weston Limited and Bell Canada Enterprises. He has transformed struggling companies into tremendous success stories, and achieved a reputation as an ethical businessman and a generous philanthropist.
Richard Currie is a true east-coaster. Born and raised in New Brunswick, he graduated from UNB before coming to Halifax to study chemical engineering at the former Technical University of Nova Scotia, now part of Dalhousie.
He traces much of his success to lessons learned early in his career, while working at Atlantic Sugar Refineries in the 1960s. Though he shaped the refinery into a successful business, Mr. Currie once told Canadian Business Online that running a process plant is like "pushing a great big green button on Sunday night and a great big red button on Friday night. It eventually loses its challenge."
Once the challenge of Atlantic Sugar had faded, Mr. Currie pursued an MBA from Harvard University. After graduation, he joined the American consulting firm, McKinsey and Co.
It was at McKinsey, assessing his own business strength against others, that Richard Currie learned two valuable lessons:  "Don't move too fast; and no one is as smart as all of us."
That's the knowledge Mr. Currie took with him to his next position with Loblaw Companies Limited.  Within four years, Richard Currie was president of Loblaw – a position he held for 25 years. He took his time developing the company and building its team. Under his stewardship, Loblaw's market value soared from $40 million to more than $14 billion by the time Mr. Currie resigned in 2002. The company is now Canada's largest food distributor.
As if leading Loblaw wasn't enough, Mr. Currie also served as president of Loblaw's parent company, George Weston Limited, from 1996 to 2002. During those years, Weston saw a seven-fold share price increase from $16 to $124 per share, and tremendous growth in equity: from $2 billion to $17 billion.
In April of 2002, the same year he resigned from Loblaw, Mr. Currie was appointed Chairman of Bell Canada Enterprises, Canada's most widely-held company, a role he held until 2009.
Richard Currie is admired not only for his corporate success but also for his realistic and humble view of business. In 2005, he told a reporter: "Most of the issues that have arisen in the last 10 years have arisen because of this intense pressure for quarter-by-quarter increases in earnings. It's inconsistent with reality," he explained. "But if the rewards systems are set on that, then people begin to march to that drummer. That's when you get corruption of the process."
Though Mr. Currie is no longer actively managing companies, his influence is far-reaching. In 2009, he was named Ivey Business Leader of the Year for his contributions to Canadian business. At the time, Carol Stephenson, Dean of the Ivey School of Business at the University of Western Ontario, said of Mr. Currie: "It's fair to say that every Canadian has been touched in some way by his contributions to the business world."
Mr. Currie has been Chancellor of the University of New Brunswick since 2003, where he endowed valuable entrance scholarships. He has served on the boards of many educational, charitable and cultural organizations and has been a generous contributor to post-secondary education. In 2003 he helped establish a chair in Canadian Business History at the University of Toronto, the first of its kind in Canada. A year later, he established the Blake-Kirkpatrick Scholarships in memory of his grandmothers.
It is not surprising that Mr. Currie has received many of the highest awards presented by both the Canadian food industry and the American supermarket industry. In 2001 he was elected Canada's Outstanding CEO of the Year. He's been inducted into the Hall of Fame for both Canadian Business and New Brunswick Business. In 2005 he received the Lifetime Achievement Award from the Retail Council of Canada and was named "one of Canada's Ten Greatest Chief Executives of All-Time" by the Globe and Mail. Richard Currie is truly deserving of recognition.
For his contributions and leadership in business, philanthropy and academia in Canada, I ask you, Mr. Chancellor, on behalf of the Senate, to bestow upon Richard J. Currie the degree of Doctor of Letters, honoris causa.